Discussing General "Government" Motors (GM) is a polarizing, heated topic from not only a financial perspective but also from a political viewpoint. For these reasons I have tended to avoid writing about the company but I believe investors may have a lucrative potential investment on their hands. If you have been standing on the sidelines avoiding industrial-type stocks I hope to open your eyes. Before I jump into the investment hypothesis it is useful to start with a very abbreviated overview of GM.
(click to enlarge)

Click to enlarge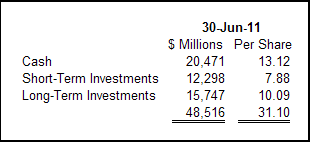 General Motors is the second largest automaker by volume with 8.4 million motor vehicles produced in 2010. After a proud 100 year history GM became a casualty of the Great Recession and was forced into bankruptcy reorganization in 2009. As part of the auto bailout the United States government acquired a significant equity position in GM and approximately one-quarter of GM's equity is owned by the US government today. As part of the bankruptcy all of GM's shareholders were wiped out but GM went public in late 2010. Are you doubtful that the largest IPO in United States history has become a hidden gem? I was skeptical as well but when GM is down over 45% year-to-date and oil prices have pulled back I grew interested.
As you know GM, Ford (F), and most other companies tied to the auto industry are quite vulnerable to a weakened economy. Consequentially, you may be asking yourself why I am about to recommend further research into GM. So buckle your seatbelt and prepare for three reasons why General Motors appears to be an attractive investment.
Adjusted Cash Per-Share > Market Value:
The number one reason why GM caught my eye as a potential investment was its robust balance sheet. Yes, you read that correctly – the new GM is on much stronger financial footing than its defunct predecessor. The company's recent marketing plan proclaims that this is the New GM and this time I actually believe it.
General Motors currently has $48.5 billion in adjusted cash (the sum of cash, short-term, and long-term investments) which translates to $31.10 on a per-share basis. In contrast, GM is currently trading at $20.18, or a 54% discount to its cash. When a company has a greater book value than market value it is a signal that the company might be undervalued; therefore, when a company has a greater adjusted cash value it is an even stronger indication.
This growing cash pile can potentially allow GM to return funds to shareholders, which should hopefully compel the stock price higher. At the very least I consider the downside to be limited. If you do not have faith in the adjusted cash concept, 65% of GM's market capitalization still consists of cash and almost 95% consists of cash and short-term investments.
PE Ratio At Significant Discount:
GM's PE of 4.3 is one of the lowest out of any company that I follow. For comparison, the historical PE ratio for the S&P 500 tends to stay in the range of ten to twenty. High flying companies like Amazon (AMZN) can have PEs that touch triple digits while even low growth companies like AT&T (T) have PEs that are practically double that of GM's PE. To continue with the point I raised above, GM appears to be trading at such a discount that most of the downside is limited.
Taxpayers Are Aligned With The Tax Collectors
The United States government successfully divested a significant portion of its GM investment but it is still a major stakeholder with 33% ownership. To be made whole on its $30B investment the US government needs for GM to rise to approximately $43 simply to breakeven. I do not see GM doubling to this level for the foreseeable future but I relish the fact that the government has some skin in the game and a vested interest in seeing GM's stock succeed. Furthermore, GM's CEO Dan Akerson is not pleased with the stock's price and appears to have a shareholder orientation that is refreshing from the company.
But All Is Not Well…
Before I close, I must point out that all is not rosy at GM. To be frank, the pension obligations are just scary. By some estimates the pension deficit could be $35 billion and is only likely to rise with the stock market falling. Pensions and labor related issues will always be a concern for investors but I believe that the worst is in the rear view mirror.
Disclosure: Disclosure: Author is long T and may initiate a long position in GM in the next seventy-two hours.