GT Advanced Technologies (GTAT) Oct. 12, $7.28 (mid-day).
Stock Characteristics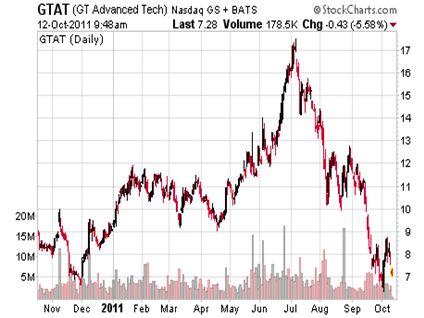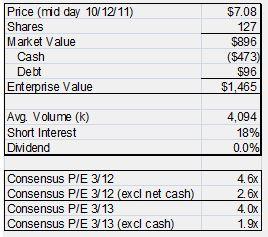 GTAT has leading technology in two growing industries (solar and LED), currently mired in a slump. This has taken a big toll on the stock... pulling it down from a peak above $17 in early July, to its current price under $8 (more than cutting the stock in half). Selling equipment is a volatile business that can have big swings in revenue, but GTAT has built up a significant backlog of orders that I expect will lead to less volatility than the market is worried about. As GTAT continues to deliver on its guidance and the market regains its comfort that sales are not about to 'fall off a cliff', I expect the stock to recover. However, there are real concerns here and much question as to how much revenue the company will be generating in calendar 2012/2013 in a bad macro economy. Hhowever I feel the risk / reward at this stage is favorable.
What The Company Does
GTAT manufactures equipment used to manufacture solar cells and LED sapphire.

Within the solar market, GTAT sells Polysilicon Production Reactors (used to make polysilicon) and PV Crystallization Growth Furnaces (used to make multicrystalline ingots), both part of the manufacturing chain for PV solar cells (Polysilicon expected to be 20% of this year's revenues, and PV 52%).

Within the LED market, GTAT sells equipment, as well as the sapphire material made inhouse with its proprietary equipment. The equipment is used to make sapphire, which is then used to make LED chips further down the manufacturing chain. (LED is expected to be 28% of this year's revenue.)
Industry Background
Despite a slowdown occurring in the solar industry, industry experts still expect it to be a growing industry in the long term.
LED demand is just now beginning. I expect it to be one of the strongest growing industries over the next 5-10 years.
(Click to expand)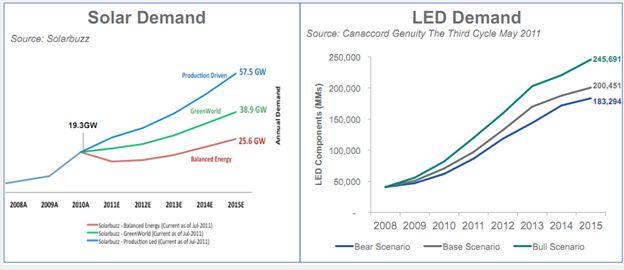 Why is Stock So Cheap?
It seems that the market expects the earnings power of GTAT to fall considerably. This concern stems from the likely slowdown in the solar industry, as governments around the world rein in subsidies. Meanwhile, the LED industry has not yet taken off. I believe there exists more optimism about the LED industry, but GTAT is also somewhat new in the LED industry, and I believe the market often lumps it with other solar names in trading.

Today's weakness seems to be driven by Jefferies launching on GTAT with an underperform.
So Why Aren't I Running for the Hills?
The two keys why I like GTAT, but wouldn't invest in another solar cell name:
GTAT is an arms-supplier, while most publicly traded solar names manufacture solar cells. These companies suffer from price erosion and over supply of capacity as new entrants enter the industry. However, GTAT is selling the equipment to these new entrants and has significant market share due to its technology (40-60% estimated market share). In addition, it recently acquired Confluence, a new technology for the solar industry, which will allow it to maintain this strength.
GTAT's entry into the LED lighting industry through its acquisition of Crystal Systems. The LED lighting industry is just beginning. Each year the pricing falls and efficiency of bulbs rises, opening up new niche lighting markets. The industry potential is huge, and GTAT will again be an arms-supplier allowing new entrants to the market.
GTAT also said 90% of its March 2011 year guidance is already booked, and it hasn't seen any signs of cancellations, according to the August 4, 2011 conference call)
So Where Do I think the Stock Could Go?
I'm more concerned about the solar side of the business, than the LED side. Valuation is a bit difficult as one could model revenue being all over the place. The analyst community is expecting sales to rise 17% in the March 2012 year and 16% in March 2013 year. I like to do sensitivity analyses to get a range of price targets.

With all the pessimism and concern in the stock market and macro economy today, I will use a pessimistic and conservative valuation based on the March '11 year already past. In this year the company generated $1.24 in EPS. At a conservative 7-8x P/E multiple (excluding net cash), I get a base conservative price target of $8.70-$10.

A more base case valuation based on the March '12 year and consensus $1.65 EPS and 7-8x P/E multiple (excluding net cash), I get a base conservative price target of $14.50-16.
Why I Like It
Sentiment is terrible and the price has collapsed.
Way to play the LED industry, which I expect to be one of the fastest-growing industries over the next 5-10 years.
GTAT is an potential acquisition candidate.

Disclosure: I am long GTAT.

Disclaimer: You should not treat any opinion expressed as a specific inducement to make a particular investment or follow a particular strategy, but only as an expression of the author's opinion. The author does not guarantee any specific outcome or profit. Although the author believes the information and data presented is reliable, he is not in a position to confirm the completeness, genuineness or accuracy of such information and data. While the author believes in the viewpoint he has expressed, his statements and opinions are subject to change without notice.