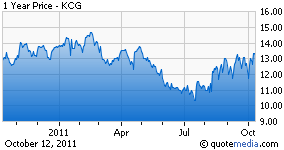 Traders on Wall Street were dusting off resumes in response to lackluster equity volume in the first three quarters. But that changed in August when worries over European debt spiked volatility. Volume has since been robust, and that's good news for Knight Capital Group (NYSE:
KCG
).
All the volatility inspired volume helped Knight's August U.S. equity share volume climb to 4.3 billion, up 12.5% from July. And that will mean good things for quarterly sales and earnings, given 80% of Knight's revenue still comes from equity trading.
The company has been working hard to diversify into other asset classes. By expanding fixed income and currency operations, Knight hopes to better offset cyclical and secular volume slowdowns. So far, the strategy seems to be helping.
Currency trading at its Hotspot FX arm climbed to average daily notional dollars of $63 billion in August. That was good for a 1.5% gain from July and a 103.7% gain from last year.
Its fixed income business is also growing this year, thanks to Urban Financial, which the company acquired in 2010. Urban is quickly carving out scale in reverse mortgage securitization, an industry offering opportunity as 40% of the market, previously controlled by Bank of America (NYSE:
BAC
) and Wells Fargo (NYSE:
WFC
), comes up for grabs as those two exit to focus on core business.
The addition of Urban helped Q2 fixed income revenue increase by 46% to $88.4 million. This drove pre-tax income to $13.9 million on the quarter, a vast improvement of last year's $0.9 million. Pre-tax margins, similarly, expanded nicely to 16% from 1%.
But, make no mistake, Knight remains a company tied to equity trading volume. It's the market share leader in NYSE, Nasdaq and ETF trading, holding 16.2%, 17.5% and 15.5% share, respectively. The recent surge in market action suggests its earnings, scheduled to be reported on October 20th, will come in strong.
This should bolster its already strong balance sheet. At the end of Q2, the company was sitting on $470.6 million in cash and equivalents. That works out to about $4.75 per share, not bad for a company trading at $13.40.
Its balance sheet strength also supports a strong buyback program. At quarter's end, $182.6 million of its existing buyback authorization remained. Margins will also see improvement thanks to the company's taking clearing in-house.
Analysts are moving up their expectations ahead of the report. Current year forecasts have risen to $1.10 from $0.95 60 days ago. Apparently CEO Thomas Joyce also believes results will improve. He bought 10,000 shares at $11.18 a share back in August; his first at the market purchase since fall 2009. With the stock recently recovering resistance at its 200 DMA, over five days to cover remaining short and a forward PE of less than 10, a positive earnings surprise could help the stock trade nicely higher.
Disclosure: I am long BAC, WFC.