Big Blue - International Business Machines (NYSE:IBM) -- has been around for a long time and just keeps reinventing itself to keep up with providing whatever businesses need. They see the future in cloud computing and data analytics and are proactive in their R&D. A look at the Barchart provided graph of the weekly trading activity vs. the 20, 50 and 100 week moving averages over the last 3 1/2 years hardly shows a slowing recession has been here: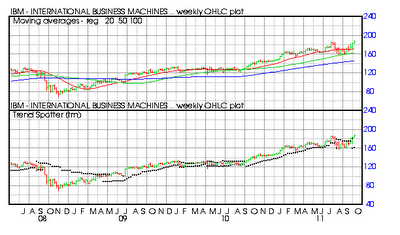 International Business Machines Corporation provides information technology (IT) products and services worldwide. Its Global Technology Services segment provides IT infrastructure and business process services, including strategic outsourcing, process, integrated technology, and maintenance services, as well as technology-based support services.
The company's Global Business Services segment offers consulting and systems integration, and application management services. Its Software segment offers middleware and operating systems software, such as WebSphere software to integrate and manage business processes; information management software for database and enterprise content management, information integration, data warehousing, business analytics and intelligence, performance management, and predictive analytics; Tivoli software for identity management, data security, storage management, and datacenter automation; Lotus software for collaboration, messaging, and social networking; rational software to support software development for IT and embedded systems; business intelligence software, which provides querying and forecasting tools; SPSS predictive analytics software to predict outcomes and act on that insight; and operating systems software.
Its Systems and Technology segment provides computing and storage solutions, including servers, disk and tape storage systems and software, point-of-sale retail systems, and microelectronics.
The company's Global Financing segment provides lease and loan financing to end users and internal clients; commercial financing to dealers and remarketers of IT products; and remanufacturing and remarketing services. It serves financial services, public, industrial, distribution, communications, and general business sectors. The company was formerly known as Computing-Tabulating-Recording Co. and changed its name to International Business Machines Corporation in 1924. IBM was founded in 1910 and is based in Armonk, New York.
Factors to consider:
Barchart technical indicators:
100% Barchart price momentum technical buy signal
Trend Spotter technical buy signal
Trading above its 20, 50 and 100 day moving average
14 new highs and up 15.31% in the last 20 sessions
Relative Strength Index 67.55% and rising
Barchart computes a technical support level at 184.63
Recently traded at 186.90 with a 50 day moving average of 171.14
Fundamental factors:
The company has an integrated vertical business plan of hardware, software, advisory services and financing
A++ financial strength
Wall Street brokerage analysts look for revenues to increase by 7.80% this year followed by another 3.90% next year
Earning estimates are more aggressive with an increase of 15.58% this year, 10.90% next year and expected to continue at an annual rate of increase of 11.83% for the next 5 years
The consensus opinions resulted in analysts issuing 7 strong buy, 8 buy, 11 hold and no under perform recommendations
Earnings predictability has been extremely good so these numbers will probably be met
The stock price has remained very stable despite the economic recession
General investor interest:
The individual investor has been a fan of his stock for many years and 4,254 readers of Motley Fool have ventured opinions on this stock
The readers giving an opinion voted 90% that the stock will beat the market
The more experienced All Stars are slightly more optimistic with a 94% vote for the same result
Fool notes that all 30 of the articles written by Wall Street columnists have been favorable
The 1.61% dividend seems reasonably safe especially since it stays around 20% of expected earnings
Competitors and sector leaders:
IBM is up 34% for the past year, which is better than most of its competitors with Hewlett-Packard (NYSE:
HPQ
) down 37%, Microsoft (NASDAQ:
MSFT
) up 9% and Accenture (NYSE:
ACN
) up 26%: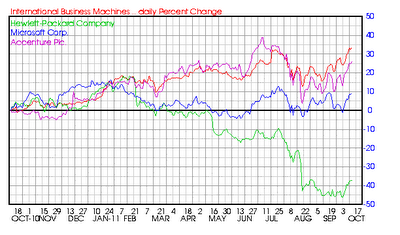 IBM is also the stock price leader in the SIC 3570 - Computer and Office Equipment sector, being up 50% in the last 3 1/2 years which is much better than Lexmark (NYSE:LXK) down 17% and Hewlett-Packard (HPQ) down 45% for the same period: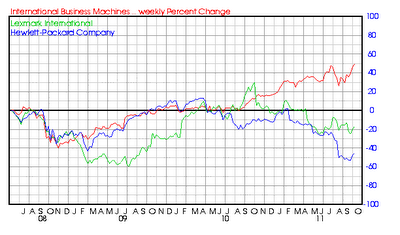 Summary: IBM, or Big Blue as it's been called for years, is one of those stocks with staying power. You might not get rich but will probably never go broke owning it. Look for slow steady total return in the 10% range annually. Good conservative play, but aggressive growth investors might look elsewhere.
Disclosure: I have no positions in any stocks mentioned, and no plans to initiate any positions within the next 72 hours.