EasyLink Services (NASDAQ:ESIC) is in the businesses of supply chain messaging and on demand messaging. It closed Wednesday at $5.12 and has had a nice pop since releasing its fourth quarter earnings. I have written about ESIC in the past because it is a nice illustration of the relevance of interest rates to stock market valuations. About a year ago, ESIC acquired an operation, which at the time was roughly the size of ESIC itself. It financed the acquisition with debt and proceeded to combine the two businesses. As I have indicated in previous articles, acquisitions of this type are accretive to earnings as long as earnings yield (the inverse of the price earnings ratio) is greater than the interest rate paid on the debt. The lower the interest rate, the higher the price earnings ratio can be without a negative effect on earnings.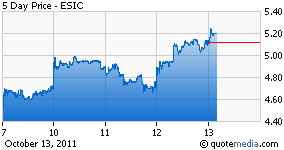 Things have been working well for ESIC. Earnings are coming in at attractive levels and with high levels of depreciation and amortization, cash flow is gushing. I like to look at sequential balance sheet numbers and ESIC's numbers are very strong. I put a great deal of emphasis on the calculation of "net debt" (total debt minus balance sheet cash) and ESIC has been reducing net debt at the rate of $8 or $9 million per quarter. With a market cap of $162.57 million, this would suggest that if enterprise value stays the same, market cap with replace debt at the rate of roughly $35 million per year, which would produce annual appreciation in excess of 20%. Of course, as debt is paid down, interest expense declines as well so that this estimate may be conservative because earnings and cash flow will tend to increase sequentially as the company carries less and less debt.
ESIC's year-over-year numbers are not very meaningful because a year ago (before the acquisition) it was a much smaller company. I calculated sequential quarterly numbers and the jury is still out about whether this company can achieve substantial top-line growth in this economy. The company has announced the signing of a number of impressive new customers and that should give the top line a tail wind. The third quarter showed an uptick but the fourth quarter showed a modest decline. ESIC has made it clear that the fourth quarter is virtually always the slowest due to a fall off in business activity over the summer. It will be interesting to watch the top line over the next quarter or two and see whether this company can add top-line growth to the other reasons for buying the stock. The company's businesses enjoy high levels of operating leverage so that top-line growth will also drive bottom-line growth.
It is very hard nowadays to look into the future and see anything other than fog - occasionally there is a hint of a "light at the end of the tunnel" but sometimes I am afraid that it is either a parabolic mirror or, worse yet, a freight train loaded with anthrax heading straight for us. Looking a couple of years out, I see headlines reading "Referendum of entire population of San Marino approves ECB plan to bail out Greece, Portugal, Ireland, Italy, Spain, Belgium, France, and Slovakia by a vote of 12 to 7." At least by then Europe will be a much smaller percentage of the World's GDP. Anyhow, I think ESIC will have paid off its debt, eliminated interest expense and trade in low double digits. Alternatively, it will do another acquisition and we will have to digest the information that emerges from the combined entity over a few quarters.
These guys have a great track record at implementing these things so that the right acquisition could lead to an ever more optimistic projection on the share price.



Disclosure: I am long ESIC.