When most investors hear the words "electrical components" and "construction" in the same sentence, they usually sneer and chuckle under their breath. They picture of rows and rows of home foreclosures and residential new construction continues to resemble an aging prizefighter down for the count.
Thomas & Betts [(TNB) $44] is often described as such – an electrical component manufacturing serving the construction market. Revenue for TNB should be $2.25 billion this year. TNB provides 80% of the non-wire products that moves electricity from the power generating plant to the outlet that fires up your computer.
However, residential construction represents only 4% of revenue while commercial construction kicks in 37%. Utility and industrial/manufacturing clients make up the balance of revenue at 24% and 35%, respectively.

Thomas & Betts has a rich history dating back to 1898 when two engineers, Mr. Thomas and Mr. Betts, founded an electrical conduit wholesale business to supply the initial electrification of New York City. TNB has been expanding its product offerings to the electrical wholesale trade and has grown to be a leading manufacturer in the supply chain.

The company is segregated into three business groups: Electrical Products, Steel Structures, and HVAC. The Electrical segment is the largest with $1.7 bil in revenue in 2010, or 84%. TNB inventories thousands of SKUs and utilizes a total installed cost approach with its customers. TNB has thousands of patents on products that may be more expensive to purchase but offer a lower installed and life-cycle cost. The company's focal point for its wholesale clients is its logistics center in Missouri, and its pull-through, or vertical, marketing.

These approaches have developed a loyal distribution network and allows TNB to generate a strong margin.

In addition, TNB's competitive stance positively influenced revenue. The construction segment of Electric Products declined in 2010 by only -3.0% in the face of a -13.0% industry decline in overall non-residential construction spending.

Steel Structures generated 11% of revenue in 2010, or $220 million. Steel structures include its leading position in mono-tubing for street light and traffic poles, and higher voltage electric transmission structures with a capacity up to 750v. The contracts associated with Steel Structures are typically much longer in manufacturing time than Electrical Products. TNB stands to benefit from an expansion and upgrade of the power grid. Historically, the supply of steel structures to the utility market has been fragmented, and TNB has a smaller market share. After decades of virtual neglect, increases in electrical infrastructure capital spending by utilities will not only provide more opportunity for TNB to organically grow this business, but for management to find timely acquisitions as well. There will be most likely be a consolidation in this industry as a means for larger companies to bulk up for years of above average client investments.

HVAC (heating, ventilating, and air conditioning) generate 5% of sales in 2010, or about $100 million. TNB offers a full line of modular components, mainly focused on designs that require higher amounts of outside air to meet indoor air quality standards. As a small part of TNB, the business could be sold to offset a larger acquisition in its two core businesses.

Over the years, TNB has expanded through acquisitions in addition to steady organic expansion. For example, acquisitions accounted for $125 million of the $250 million in 2010 revenue growth, and accounted for $50 million of the $130 million in revenue growth for the first half of 2011.

Thomas & Betts has been conservatively managed. Since 2005, 42% of cash flow has been used for acquisitions, 40% for share repurchase/debt reduction, and 18% for capital expenditures. Projected 2011 year-end cash balance should be about equal to Dec 2010, at $456 million, versus long-term debt of $430 million. TNB generates about $250 to $280 million in annual cash flow. There are 53 million shares outstanding and the company has a market cap of $2.3 billion. TNB pays no dividend.

Recently, the company forecast earnings for 2011 between $3.20 and $3.35 per share. Consensus is for $4.00 in 2012 and for earnings growth in the 15% range. Return on invested capital has a 5-year average of 10.5%. Acquisitions along with growth in the utility and industrial businesses will offset continued weakness in residential construction. If construction spending reaches a bottom in 2012 or 2013, TNB is well positioned to take advantage of the turnaround.

TNB continues to find timely acquisitions in niche markets. While the company is a small player within the $50 billion electrical component market, management identifies profitable markets where it can excel. For instance, TNB holds first place with a 60% market share of underground electrical components to utility customers and a 30% market share in the mono-pole business.

One area of concern is also an area of opportunity – international sales. North America accounts for 81% of revenue with Europe accounting for 12% and 7% for all other countries combined. Some of TNB's peers are experiencing higher growth due to their international presence, especially in emerging markets. Management should continue to expand through acquiring overseas firms in similar businesses. The balance sheet is strong and future stable cash flow could be leveraged to fund acquisitions of upwards of $1 billion.

TNB is a late-cycle company with a traditional PE range of 6 at the bottom of the cycle and 17 at the top, with an average about 13 to 15. TNB is currently valued at 13x anticipated 2011 earnings and 11x anticipated 2012 earnings. It is quite conceivable for TNB to trade at PE of 15x 2012 yearnings, or a stock price of around $60. This would equate to a 36% capital gain over the next 18 to 24 months.

5-year chart TNB - (click charts to enlarge):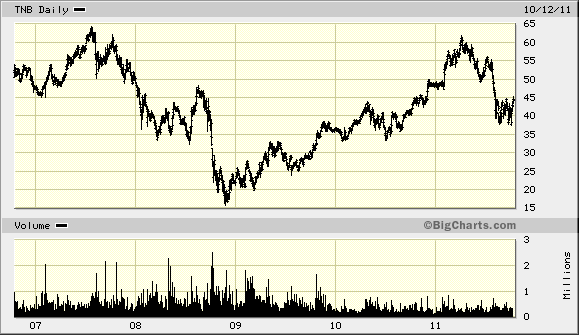 Click to enlarge
5-year chart TNB vs Russell 2000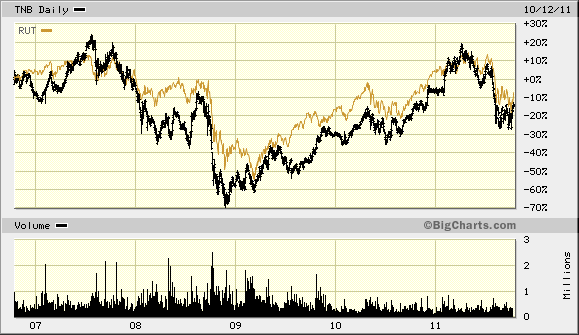 Click to enlarge
3-yearr chart TNB vs competitors Cooper Industries (CBE), Hubbell (
HUB.B
), Molex (NASDAQ:
MOLX
) and Amphenol (NYSE:
APH
):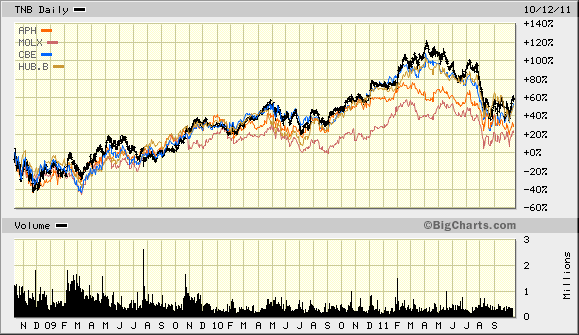 Click to enlarge
More information can be found at TNB's latest
investor presentation
.

Disclosure:
I am long
TNB
.
Disclaimer:
As always, investors should conduct their own due diligence, should develop their own understanding of these potential opportunities, and should determine how it may fit their current financial situation.