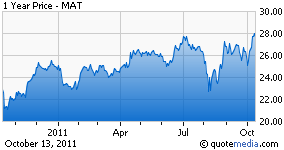 The world's largest manufacturer of toys, Mattel Inc. (NASDAQ:MAT), is slated to release its third quarter 2011 results on Friday, October 14, before the opening bell. The current Zacks Consensus Estimate for the third quarter is pegged at 86 cents per share, representing an annualized growth of 11.7%. The Zacks Consensus Sales estimate for the third quarter is $1,962 million.
With respect to earnings surprises over the trailing four quarters, Mattel witnessed significant upside from approximately flat to positive 43.75%. The average earnings surprise was positive 16.64%. This implies that the company has surpassed the Zacks Consensus Estimate by the same magnitude over the last four quarters.
Previous Quarter Recap
Mattel reported second quarter 2011 earnings of 23 cents per share, significantly above the Zacks Consensus Estimate of 16 cents and year ago quarter earnings of 14 cents per share.
During the quarter, net sales were $1,161.7 million, up 14% year over year and also ahead of the Zacks Consensus Estimate of $1,101.0 million. The company witnessed strong sales driven by brands including Barbie and Other Girl Brands as well as robust sales arising from the success of film Cars 2.
Worldwide gross sales for the Mattel Girls and Boys Brands business unit were up 22% year over year to $795.6 million. Worldwide gross sales for Barbie (up 12%), Other Girls Brand (up 29%) and Entertainment business (up 41%) also witnessed significant upside. However, worldwide gross sales for the company's core brand Hot Wheels dropped 2%. Fisher-Price Brands sales also jumped 4% to $400.0 million while the American Girl line grew 13% to $66.4 million.
Operating income expanded 57% to $109.3 million and operating margin expanded 260 bps to 9.4% due to lower other selling and administrative expenses (down 280 bps).
Agreement Of Analysts
Revision trends in the last 30 days were skewed slightly toward the negative side for the third quarter, with two out of 14 analysts covering the stock decreasing the estimate and none moving in the opposite direction. In the last seven days, one analyst reduced the estimate, thus providing a skeptical outlook.
For both fiscal 2011 and 2012, estimates were slashed by three out of 15 analysts and hiked by none over the last 30 days. In the last seven days, two analysts reduced the estimates but none raised the same, thus indicating a cautious outlook.
The analysts remain pessimistic based on the prevailing uncertain economic conditions, weak consumer spending resulting from high levels of unemployment and slow economic growth, cautious retail inventory and input cost inflation. Moreover, uncertainty prevails regarding its ongoing litigation with MGA entertainment. Mattel received an unfavorable ruling in its litigation with MGA in April, where the former will have to pay $309.8 million (in August) to MGA. The judgment is currently being appealed by Mattel.
Magnitude Of Estimate Revisions
Over the past 30 days, Mattel's estimates for the upcoming quarter did not budge. Therefore, analysts expect the company to report in line. The Zacks Consensus Estimate for 2011 dropped by 2 cents to $2.14 and by 3 cents to $2.35 for 2012 in the last 30 days.
The Zacks Consensus Estimates for 2011 and 2012 reflect year-over-year growth of 15.05% and 9.72%, respectively.
Mattel At Neutral
We expect Mattel to report third quarter 2011 results in line with the Zacks Consensus Estimate.
We have a Neutral rating on Mattel given its industry leading position, strong balance sheet and benefits of its cost containment initiatives. The company primarily focuses on top-line growth, margin expansion, building new franchises, optimizing entertainment partnerships, international expansion and effective cash deployment, which bode well with the investors. The company also remains committed to maintaining its long-term gross margin target of 50% and operating margin range of 15%–20%.
However, we remain cautious on the stock based on challenging economic conditions, volatility in consumer demand, higher manufacturing costs, and the ongoing litigation with MGA over the rights to the Bratz dolls. In addition, competition from private label toys and video game industry and unfavorable currency exchange rates continue to remain headwinds.
One of Mattel's primary competitors, Hasbro Inc. (NASDAQ:HAS) will release its third quarter 2011 results on October 17, 2011.