Many shoppers look to Costco Wholesale Corp (NASDAQ:COST) to stretch their consumer dollar but is its stock a bargain? I've read comparative data about the typical members' income and learned that Costco shoppers have a higher annual income than BJ's and Sam's. This allows for a higher quality and higher priced inventory and the ability to be more flexible in passing on inventory price increases to their members. As this graph provided by Barchart of yearly stock price vs the 20, 50 and 100 day moving averages shows the stock has had a good year up almost 31%: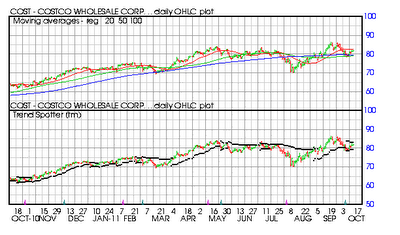 Costco Wholesale Corporation (COST) operates membership warehouses that offer a selection of branded and private label products in a range of merchandise categories in no-frills, self-service warehouse facilities. The company's product categories include candy, snack foods, tobacco, alcoholic and non-alcoholic beverages, and cleaning and institutional supplies; appliances, electronics, health and beauty aids, hardware, office supplies, garden and patio, sporting goods, toys, seasonal items, and automotive supplies; dry and institutionally packaged foods; apparel, domestics, jewelry, house wares, media, home furnishings, cameras, and small appliances; meat, bakery, deli, and produce; and gas stations, pharmacy, food court, optical, one-hour photo, hearing aid, and travel. It also provides business and gold star (individual) membership services.
As of April 26, 2011, the company operated 581 warehouses, including 425 in the United States and Puerto Rico, 80 in Canada, 22 in the United Kingdom, 7 in Korea, 6 in Taiwan, 8 in Japan, 1 in Australia, and 32 in Mexico. It also has Costco Online, an electronic commerce Web site, at costco.com in the United States and at costco.ca in Canada. The company was formerly known as Costco Companies, Inc. and changed its name to Costco Wholesale Corporation in August 1999. Costco Wholesale Corporation was founded in 1976 and is based in Issaquah, Washington. ( Yahoo Finance profile)
Factors to consider:
Barchart technical indicators:
Barchart uses various methods of technical analysis of price movements from 7 day to 6 months to form opinions on the price trend - the sell signals are getting weaker and the buy signals are getting stronger
40% Barchart technical buy signal which is strengthening
Trend Spotter buy signal
Trading above its 20, 50 and 100 day moving averages
The price has moved higher in 3 of the last 5 trading sessions and is up 3.10% in the last week
Up 30.51% in the last year
Relative Strength Index is 52.64
Barchart computes a technical support level at 81.15
Recently traded at 81.65 with a 50 day moving average of 79.12
Fundamental factors:
Wall Street brokerage analysts project sales to be up 8.80% this year and another 7.00% next year
Earnings are estimated to increase by 17.00% this year, and additional 14.80% next year and continue at an annual rate of 13.34% for at least the next 5 years
Consensus estimates resulted in analysts releasing 8 strong buy, 6 buy, 10 hold and 2 under perform recommendations - there were no sell recommendations
Same store sales are up and more importantly the amount of the average transaction was up
Food and sundry sales have been strong but the chain has shown a weakness in electronics sales.
On a personal note I recently comparison shopped for a computer and found the prices of the same item lower at Wal-Mart, Best Buy and Staples with no membership fee required. I went to the service desk and asked if they would match the price. I was told that they do not match prices of other stores.
Financial Strength A+
Has a high earnings predictability rating
The present P/E ratio is about 50% higher than the rest of the market
General investor interest:
There is a high interest in the company as measured by the 4,210 readers of Motley Fool that venture an opinion on this stock
The general reader voted 78% that the stock will beat the market
The All Stars who are more savvy and experienced voted 83% for the same result
For new investments I normally like to see the votes above 90%
Fool follows Wall Street columnists and 31 of the last 33 articles have been positive
Competitors and sector leaders:
COST's stock price has outperformed its major competitors over the last 5 years with Costco up 64%, Target (NYSE:
TGT
) down 2% and Wal-Mart up 14%: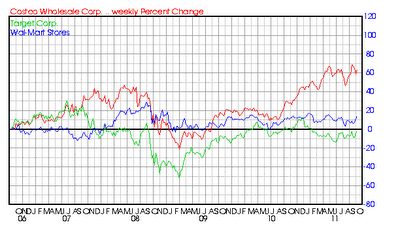 Costco is a members of the SIC 5331 Retail - Variety Store sector and some of the members have had great years with Dollar Tree (NASDAQ:DLTR) up 81%, Dollar General (NYSE:DG) up 34%, Family Dollar (NYSE:FDO) up 16% and Big Lots (NYSE:BIG) down 2% -- I left out 99 Cent Only (NYSE:NDN) from the comparison on purpose due to recent price momentum caused by rumors that the company may be taken private: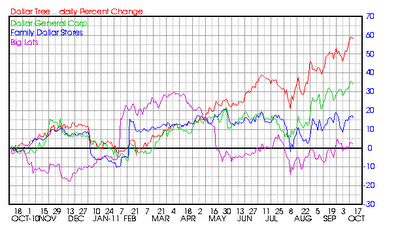 Summary: Personally I like looking at the numbers of increasing sales and earnings. I like the Costco numbers but note that the sales and earnings growth trend seems to be fully realized in the 50% higher than market P/E ratio. If you have this stock I'd continue to hold it but if you are looking for a place to invest new money I'd look for a company with better sales and earnings projections and a bargain P/E ratio. Over the next 5 years in think investors will still see an annual total return in the range of 6% - 9%.
Disclosure: I have no positions in any stocks mentioned, and no plans to initiate any positions within the next 72 hours.