This young rally attempt has a much better chance of succeeding now that it is showing signs of a long-side bias. Here are the significant events: Monday the market gapped up, absorbing the substantial supply seen in Friday's reversal day. Monday's volume wasn't compelling but then Tuesday held the gains—more positive. Then Wednesday the market gapped up again—this time on stronger volume. It is also October, which historically has a reputation for launching successful uptrends. So Tuesday I decided to get back in the game and initiate some small long positions.
Should this uptrend continue, I will wade in deeper. But, as always, I am taking it day by day. The market is still fraught with risk and driven by news of the day. It should be handled carefully. I remain concerned about the excessive choppiness and see no reason why it would dissipate.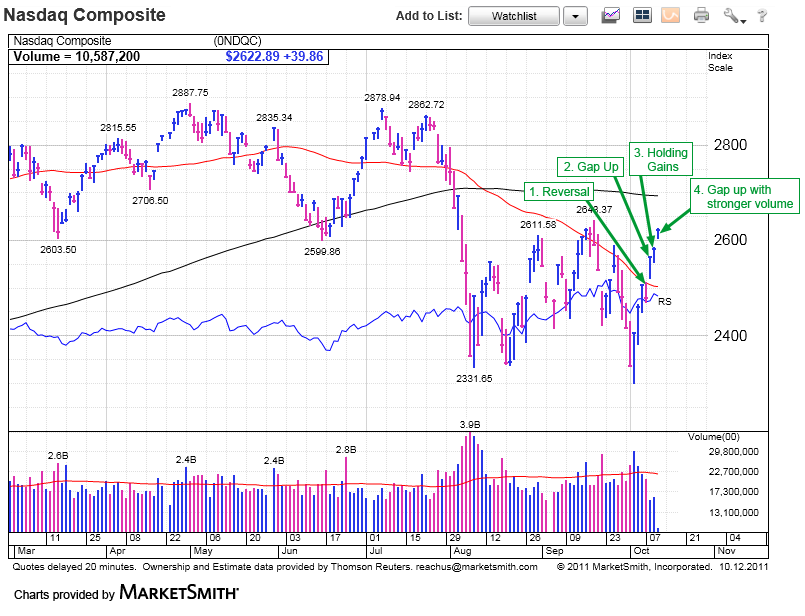 click to enlarge
The institutions are going back to many of the well-known prior leaders like Amazon (NASDAQ:AMZN), Deckers Outdoor (NASDAQ:DECK), Tempur Pedic International (NYSE:TPX), Tractor Supply Company (NASDAQ:TSCO), Ulta Salon (NASDAQ:ULTA), and Whole Foods Market (NASDAQ:WFM). Many of those leaders are around their 50-day moving averages—a somewhat constructive sign. Those leaders that are well off their highs are more suspect.
August 15, 2011 reported the biggest bi-weekly increase in NYSE short interest since the S&P's low in March of 2009. This would suggest a pervasive atmosphere of negativity, possibly a good contrarian indicator. Another data point to remember is that the major indexes are back up to their prior levels of resistance, where they have had trouble before.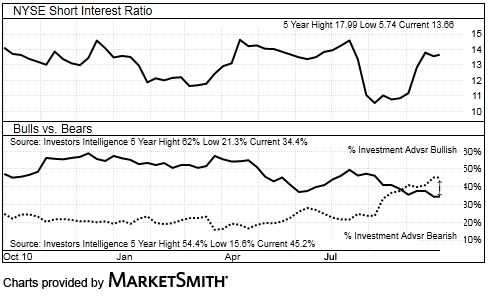 As if all that weren't confusing enough, earnings season is once again upon us. The last two earnings seasons saw most companies posting great numbers, yet stocks did not respond accordingly—potentially setting up the market this time to go the opposite way and go higher. The market moves to disappoint the masses.
All said and done, investors should review the data points on both sides of the analysis and notice a subtle long-side bias to the current market action. Novice investors may want to get their feet wet. More experienced investors may want to wade in and keep their profit expectations low. For those who do wade in, make positions show a profit before adding and moving in deeper. Monitoring your stock charts closely for breakout failures should get you out before market weakness develops. Also consider balancing out risk by adding a few less aggressive, more conservative stocks to the portfolio.
In short, keep losses small and go for base hits. Since 2000, erring on the side of caution has been the best course of action. Remain patient and disciplined. There is no rush to own a lot of stocks here. If this rally is real, we will all have plenty of opportunities in the next few weeks.
Disclosure: I have no positions in any stocks mentioned, but may initiate a long position in AMZN, DECK, TPX, TSCO, ULTA, WFM over the next 72 hours.
Additional disclosure: This information is compiled to assist you in your study of the securities; however, nothing contained herein is to be construed as a recommendation to buy or sell any securities. W. Scott O'Neil, and/or employees of MarketSmith, Incorporated, or its affiliates may now or in the future hold positions in the companies discussed in this article.