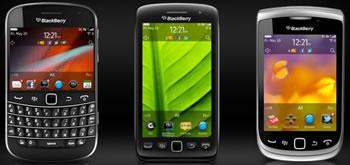 BlackBerry services returned to normal Thursday, Research in Motion (RIMM) said, following four days of outages around the world.
This is the latest in a string of bad news for the smart phone maker following a slew of disappointing quarterly earnings, and the beginnings of shareholder dissatisfaction at the company's direction. Last year, the company was under pressure from countries in the Middle East and India to allow access to its BBM messaging service.
RIM shares were down 1.97% at $23.42 in New York and down 1.94% at C$23.81 in Toronto Thursday afternoon.
RIM's co-CEOs — Mike Lazaridis and Jim Balsillie — participated in a conference call Thursday to quell handset owner concerns about the biggest outage in the Waterloo, Ontario-based company's history.
"All the services are back up globally. We are and will take every action feasible to address this quickly, efficiently and to minimize the risk of something of this magnitude happening again," Lazaridis said.
Lazaridis also sought to calm users in a recorded message that appeared on online video site YouTube earlier Thursday.
The service outages began in Europe, then spread to the Middle East, Africa and hit Canada on Wednesday.
Parts of South America, as well as Asian markets including Hong Kong, Japan, Singapore and India, were also affected. RIM has about 70 million BlackBerry subscribers around the world.
In the conference call, co-CEO Jim Balsillie assured handset owners that the outages had nothing to do with the company scaling back its workforce. RIM announced 2,000 job cuts in July. The company also saw the departure of key staff members to rivals.
The four-day outage may have dented RIM's reputation for reliability and could give consumers and businesses another reason to switch to Apple (NASDAQ:AAPL) or Android devices, which uses software developed by Google (NASDAQ:GOOG).
Earlier this week, Toronto-based institutional investor Jaguar Financial Corp. renewed its call for a shakeup of RIM's management and either the sale or break-up of the company.
Chairman and chief executive of Jaguar, Vic Alboini, said a total of 12 institutional shareholders are calling for changes at the company. Together they own about 8% of RIM's stock.
Once a market leader, the BlackBerry has been relegated to number "3" in terms of market share behind Apple's iPhone and Google's Android phones.
Investors have noted that in the time it took RIM to deliver its PlayBook tablet, Apple was able to deliver two versions of its iPad tablet to the market, with unabashed success. However, since the death of Apple's former CEO and co-founder Steve Jobs, many have called into question the company's ability to continue as an innovator and game-changer without Jobs' unique vision.
Last month, RIM posted poor second quarter results that came in well below Street estimates. For the three months that ended August 27, RIM's profits were $329 million, or $0.63 per share, down 59% from $797 million, or $1.46 per share, a year ago.
Adjusted for a one-time $90 million charge related to the company's reorganization plan announced in July, profits were $419 million, or $0.80 per share, still well below the 88 cents per share expected by analysts.
Disclosure: None