Athenahealth (NASDAQ:ATHN) provides cloud-based practice management services for physicians. Athenahealth aids doctors in getting paid more often and faster. Athenahealth keeps up-to-date on insurance rules so medical claims have fewer problems when submitted to insurance companies -- enabling doctors to get paid quicker.
Todd Park and Jonathan Bush founded Athenahealth after purchasing a medical practice in California. After realizing the difficulties in getting paid by insurance companies and not finding an available solution, they started Athenahealth. Jonathan Bush, Chairman, CEO and President of the company, is the first cousin of former President George W. Bush.
Athenahealth's quarterly earnings report and conference call are quickly approaching, Thursday, October 2011 after market close and Friday, October 21, 2001 at 8am, respectively.
The company indicated its strategic goal is to achieve 30% annual growth and in its previous quarterly earnings report/conference call, the company indicated it increased revenue 33% year-to-year. The company also announced it was acquiring Proxsys, a company providing revenue cycle services and technology for hospital systems. The company is expecting to generate $4 million to $5 million additional revenue via the acquisition of Proxys.
Athenahealth also increased its gross margin from 60.7% to 64.4% over the same quarter from the previous year, which is good indicator the company is performing well.
In early 2010, the company changed to a new CFO, Timothy Adams, and the new CFO discovered some accounting issues and as a result the company restated previous earnings lower which caused the company's stock price to drop significantly. Restating earnings did not have an effect on cash flows, but the company was amortizing some costs over a year instead of over multiple years, which inflated previous earnings. I guess the moral to the story here is when there's a CFO change at a company, it's probably time to take some preemptive measures to protect an investment in the company.
Athenahealth's stock has been on quite a run over the last four months, with a price increase in the neighborhood of 75% as shown below: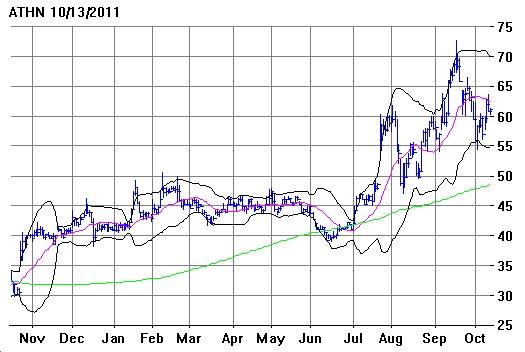 The company's P/E ratio of 107 puts the stock in the very expensive category. With Athenahealth's premium P/E ratio, any bad news related to the company could cause the company's stock price to drop significantly. Bad news might see Athenahealth's stock price quickly drop to one of its previous support levels around $40 or $50, or even lower.
An upcoming earnings report for a high P/E company like Athenahealth could cause some discomfort for some investors due to not knowing whether the company will report news that is good, bad or otherwise. So what's a current investor in Athenahealth to do?
Well, an investor in Athenahealth might consider entering a collar position for the company. A collar position is entered by selling a call option against a purchased or existing stock and then using some of the proceeds from selling the call option to purchase a put option. The put option provides insurance against a dramatic drop in the price of the stock.
Using PowerOptions search utility, a collar position was found for Athenahealth with a potential return of 2.4% and a maximum potential loss of 6.1%. The time frame for realizing the potential return for the collar position is 37 days. The specific positions for entering the collar include selling a 2011 November 60 call option and purchasing a 2011 November 55 put option. If the price of ATHN is above the $60 strike of the call option at options expiration in November, the position will return 2.4%. And, if the price of the stock were to dramatically drop, the maximum loss for the position would be 6.1%. A profit/loss graph for the collar position is shown below: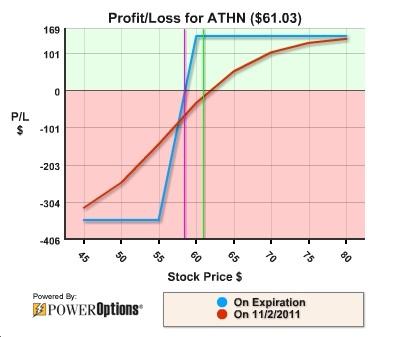 What's even worse about quarterly earnings reports/conference calls is occasionally companies pre-announce estimated earnings, potentially catching investors off-guard, so sometimes its better to protect an investment earlier rather than later. Additionally, Athenahealth has set the bar pretty high, it might be difficult for the company to continue to meet its growth expectations, and a measure of caution may be in order.
Disclosure: I have no positions in any stocks mentioned, and no plans to initiate any positions within the next 72 hours.