The fashion specialty retailer Nordstrom (NYSE:JWN) recently reported impressive growth. With accelerating comps, the luxury company outperformed all department stores by 530 basis points in August. High-margin chic products in the handbag and designer segments experienced particularly strong growth, indicating the retailer's comparative resiliency to macro stagnation. If history is any guide, the stock will provide a nice hedge against a double dip: since 2008, Nordstrom grew shareholder value by ~36% while Macy's (NYSE:M) and Kohl's (NYSE:KSS) grew by only ~6% and ~8%, respectively. During the same time period, competitors Saks Incorporated (NYSE:SKS) and JCPenney (NYSE:JCP) lost ~55% and ~33% of shareholder value. Nordstrom's conservative guidance coupled with strong fundamentals provide the explanation for this comparative success.
On one level, the relatively high disposable income of Nordstrom's consumers make demand less volatile. Strong repeat sales and ever-improving customer service further stabilize the business. In the long-term, the retailer is also committed to speeding up the check-out process through technology enhancements. Towards that end, 6K mobile POS devices will be employed during Anniversary sales. Management is also looking to redesign its online presence and, in June, it improved its mobile website while competitors fail to keep up. Below are the highlights of 2Q11 results mentioned by the President of Nordstrom:
We had good results across the board. It was a strong quarter for the company and continues the consistent gains we've had now for almost 2 years. Additionally, we're encouraged by the many opportunities in front of us to grow the business and better serve the customer...

Our Anniversary Sale was a significant factor in both our July and second quarter results. We're pleased to report that this year's event was the best yet in the history of our company...

Our results for the Anniversary Sale and the quarter reflect our customers' demand for newness… We're in a good inventory position coming out of the Anniversary Sale. Because of our solid planning and consistent track record of staying disciplined, we're able to flow in fresh, new merchandise and achieve record high inventory turns…

Direct is our fastest-growing part of the business, which is reflective of how customers increasingly want to shop. Additionally, a significant amount of future growth will come from online. Our strong capital position allows us to make the necessary investments to stay relevant with our customers. We are already seeing results from these efforts and believe they will be beneficial down the road as well. Over the coming months, we'll be adding more features and functionality to better meet our customer's expectations online. We're excited about how our e-commerce efforts can contribute to the total business and help improve the overall customer experience.
In addition to sustainably focusing on the next era of retailing (online), Nordstrom is also improving its current well-known operations. The Rack business continues to beat expectations in its relentless growth. At the same time, inventory controls are keeping margins in check, which will allow the retailer to maintain high profitability following a recession, should one occur. My model forecasts cost of goods increasing 9.4% to $6.5B in 2012, but then falling significantly thereafter to around 4% in the following three years.
While Kohl's is more undervalued on a multiples basis (trading at 9.7x forward earnings versus 14x for Nordstrom), the latter is structurally more exposed to secular growth in the high-margin areas. In terms of SSS growth, Nordstrom will also perform fairly well.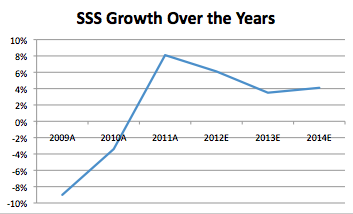 With 207 United States stores (about a fifth compared to competitors), Nordstrom also is an attractive investment in terms of expansion potential. Although supply is currently kept limited to maintain high prices, in time, Nordstrom will have to branch out into new markets, attracting new demographics. It sells everything from shoes to apparel to cosmetics and beauty products, thus allowing for broad marketing appeal. The recent acquisition of HauteLook, a luxury designer brand, adds to this portfolio and will be greatly beneficial for the improving online segment.
Consensus estimates for EPS are that it will grow by 13.5% to $3.12 in 2012 and then by 14.7% and 13.4% in the following two years. I anticipate revenue growing by 13.4% to $11B and then by around 2.6% in the following two years. Due to the above fundaments, in my view, Nordstrom will outperform its market and grow shareholder value roughly in line with Kohl's.
To read my bullish report on Kohl's, click here. For my bearish report on JCPenney, click here.

Disclosure: I have no positions in any stocks mentioned, and no plans to initiate any positions within the next 72 hours.