Investors shaken by the Eurozone debt crisis and the volatility in stocks continue to flood into bond exchange traded funds.
However, those who recently piled into U.S. Treasury ETFs have been hit by the rally in bond yields, which has pushed prices lower.
"Year to date, taxable-bond ETFs have enjoyed the lion's share of inflows," investment researcher Morningstar said in its September flow wrap.
The taxable-bond category gathered the most inflows for the second straight month, raking in $5 billion in September after August's $4.3 billion intake, according to Morningstar.
The largest contributors here were Vanguard Short-Term Bond ETF (NYSEARCA:BSV), SPDR Barclays Capital High Yield (NYSEARCA:JNK), iShares Barclays Aggregate Bond (NYSEARCA:AGG) and iShares Barclays 7-10 Year Treasury (NYSEARCA:IEF). [ETF Spotlight: BSV]
Conversely, bond ETFs that saw the largest outflows in September were SPDR Barclays Capital 1-3 Month T-Bill (NYSEARCA:BIL), iShares Barclays Short Treasury Bond (NYSEARCA:SHV), WisdomTree Asia Local Debt ETF (NYSEARCA:ALD) and WisdomTree Emerging Markets Local Debt (NYSEARCA:ELD).
Taxable-bond ETFs saw net inflows of $27.9 billion year to date through September, according to Morningstar, and are the best-selling category in 2011 among the major asset classes.
However, in mutual funds, the taxable-bond category reversed to huge outflows in the latest week's data as Treasury yields rise. Taxable-bond outflows in mutual funds totaled $6.2 billion for the week ended Oct. 5, according to the Investment Company Institute.
iShares Barclays 7-10 Year Treasury ETF

click to enlarge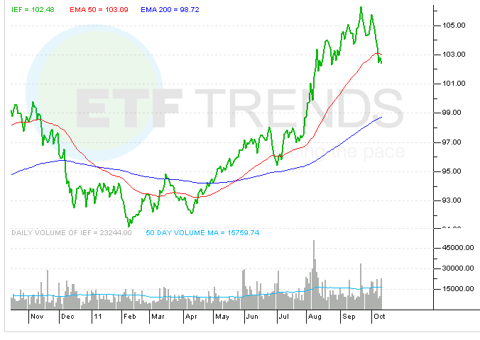 Click to enlarge
Disclosure: None