The S&P 500 Index (NYSEARCA:SPY)has been stuck in a range since the 5th of August, which is frustrating for most retail investors because it's easy to make money as the broader market advances. There is nothing quite like a bull market to make geniuses out of all of us. Being stuck in a range is like having your sails up in a becalmed ocean. You hope that at some point the wind will pick up and you'll make some headway, but day after day your portfolio just sits there. It's like watching grass grow. Although it's fairly unexciting there are some things happening under the surface of this market that point to better days ahead in the not too distant future.
First of all, after a seasonal late July sell-off, the market has actually been building a base for over 2 months, clearly seen in the chart below [click to enlarge].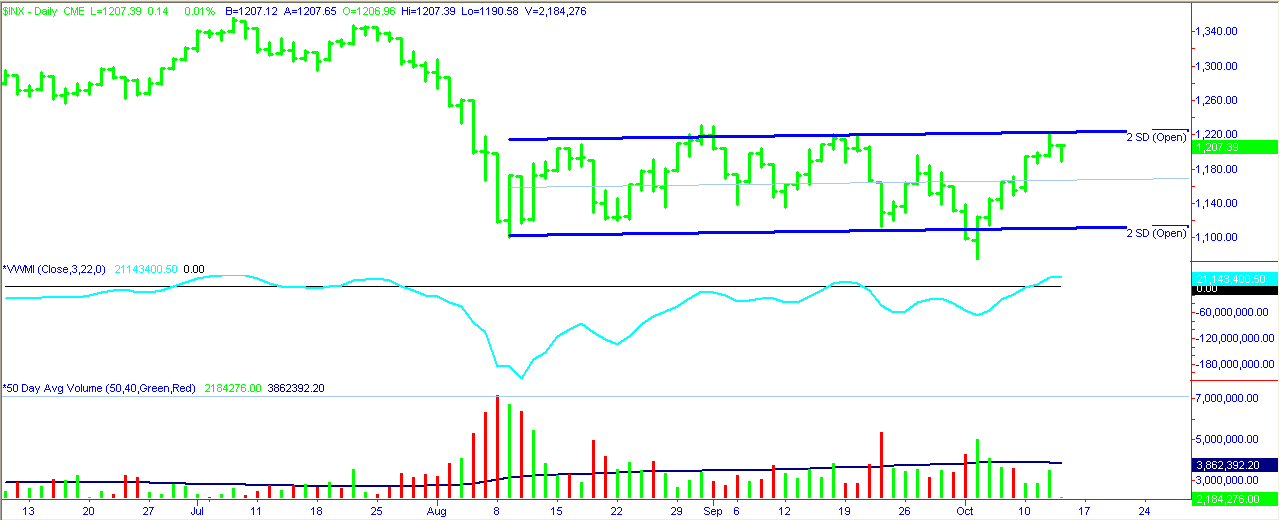 The fact that the market did not sell off more than it did in spite of all of the economic news, problems in Europe and slowing earnings projections, is rather bullish. Also, carefully note how the volume momentum, shown as the middle indicator on the chart, recently crossed above zero. Volume momentum has been slowly improving over the last couple of weeks as the index has ranged around. So clearly new money is flowing into the market, just not by the bucketful yet.
There is always the possibility that new selling volume could drive the S&P 500 Index below the 1100 level, putting in a new low, but the fact that the market has waffled around in the range it's been stuck in for over 2 months points to the fact that this is a low risk time to start adding money back into the market in anticipation of a year-end rally.
Disclosure: I have no positions in any stocks mentioned, and no plans to initiate any positions within the next 72 hours.