By Chris McKhann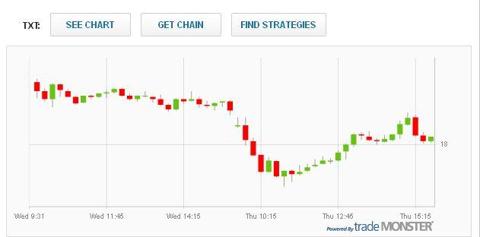 Shares of Textron (NYSE:TXT) are giving up gains today, but the big option trade appears to be betting that volatility will subside.
TXT is down 2.84 percent to $17.78 in midday trading. The aircraft manufacturer has bumped up against resistance around $19 a couple of times during the last three months. It has been trending higher from a 52-week low of $14.66 set in late August after coming down from at 52-week high above $28 in February.
The option volume in TXT is 3 times the daily average, with almost all of the action in a November combination trade. optionMONSTER systems show that 8,000 each of the 18 calls and puts changed hands, the big blocks for $1.20 and $1.43 respectively. These types of trades are very often conversions, with one side bought and the other sold to create a synthetic stock position.
In this case, however, it appears that both sides of the trade were sold in a short straddle. That strategy would take in $2.63 and profit if TXT is within its range as November expiration approaches. Short straddles are used when traders think the stock will be range-bound and/or when they believe that actual volatility of the stock will be less than that implied by the options.