By Justin Dove
On Tuesday, the U.S. Energy Information Agency (EIA) released a report about the sharp increase in Ohio shale drilling permits. Steve McDonald recently wrote about the land value increases occurring in the region.
As seen in the graph below, there were 20 times the permits granted in just September of 2011 as in the full year of 2010.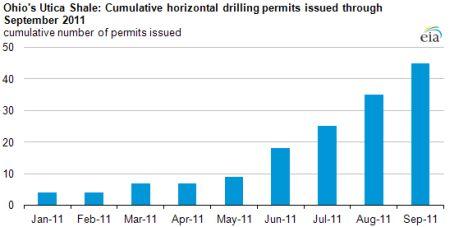 (Courtesy: EIA, ODNR)
Chesapeake Energy (NYSE: CHK) is leading the charge, with Chevron (NYSE: CVX) and Hess (NYSE: HES) recently investing heavily in the region, as well.
"We're quite confident about the [Utica] play," Chesapeake CEO Aubrey McClendon told analysts on the company's second-quarter earnings call.
Chesapeake Energy Holds Lion's Share of Utica Drilling Permits
Chesapeake must be confident, considering the investment it made in the region. As seen in the latest report from the Ohio Department of Natural Resources (ODNR), Chesapeake Energy holds the vast majority of drilling permits in the region.
Other permit holders include:
EnerVest Energy, which has four permits, is a subsidiary of EV Energy Partners (Nasdaq: EVEP).
Anadarko Petroleum Corporation (NYSE: APC) currently has six permits.
CONSOL Energy (NYSE: CNX) currently holds three permits.
While those companies are the furthest along in the region, many other companies are in the preliminary stages of developing land in eastern Ohio, including:
Gulfport Energy Corp. (Nasdaq: GPOR)
Devon Energy Corp. (NYSE: DVN)
Rex Energy Corp. (Nasdaq: REXX)
Petroleum Development Corp. (Nasdaq: PETD)
Carrizo Oil & Gas (Nasdaq: CRZO)
Range Resources Corp. (NYSE: RRC)
Possible Utica Shale Pipelines and Processing
As seen in the graph below, oil and gas production in Ohio is currently level, if not falling.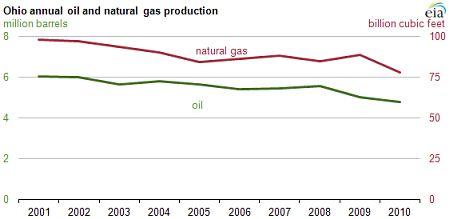 While Marathon (NYSE: MRO) can handle most of the petroleum extracted from Utica, currently there isn't much infrastructure for the large increases in shale and other liquids, such as ethane, butane, etc.
As production rises outside of Marcellus' boundaries, there must be infrastructure in place to process all the new shale and liquids being produced. Below is a diagram of where the two formations intersect.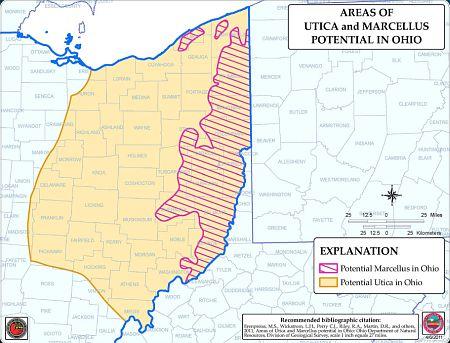 (Courtesy: ODNR)
Dominion Resources (NYSE: D) announced in August that it was building a shale processing plant in West Virginia to process shale from the Marcellus and Utica wells. Its plant should be at full speed in December of 2012.
This week, Enterprise Products Partners (NYSE: EPD) announced that it was seeking partners for a proposed ethane pipeline from Utica and Marcellus to an ethane hub in Texas. Ethane is used mainly for making plastics.
Questions Remain About Shale Drilling…
Questions remain about shale drilling and its effects on the environment, however, Ohio's Department of Natural Resources seems intent on giving away permits at a feverish pace. Strong attention from high-profile companies such as Chesapeake, Chevron and Hess is also a good sign.
As the EIA reported, Pennsylvania increased its natural gas production from 288 billion cubic feet (bcf) in 2009 to an estimated one trillion cubic feet by the end of 2011.
A similar growth pattern could happen in the next few years in Ohio. Some of these companies may experience rapid growth. Stay tuned to news for more pipeline and production companies looking to process and transport shale oil and gas from Utica. There should be more as production increases.
Disclosure: Investment U expressly forbids its writers from having a financial interest in any security they recommend to our subscribers. All employees and agents of Investment U (and affiliated companies) must wait 24 hours after an initial trade recommendation is published on online - or 72 hours after a direct mail publication is sent - before acting on that recommendation.