Thursday, Commerce Bancshares Inc.'s (NASDAQ:CBSH) price fell by over 3.8%. What's the matter? The Q3 results of FY2011 are out and unfortunately, it fell short of the Wall Street expectations.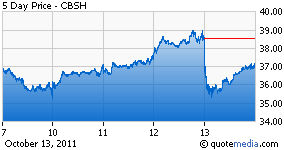 Commerce Bancshares is a US$3bn worth company, and operates in over 360 locations all throughout Illinois, Missouri, Kansas, Colorado and Oklahoma. But for some time, the company has been going through a tough period of weakening demand of loans and declining interest rates. This has resulted in the decrease in the net income to $158.6 million from $159.4 million in the same quarter year ago.
"However, loan demand remained weak, and, coupled with record low interest rates, interest margins were pressured," Chairman and CEO, David Kemper said.
Let's now look into the Q3 2011 report.
Non-accrual loans have gone down to $76 million this quarter, against $79.7 million previous quarter this year and $89.6 million same quarter year ago. Now, we cannot say that this is positive, especially if the amount of loans drawn has gone down severely.
Foreclosed real estate has gone up by $262,000 from the previous quarter and up by over $11.3 million from the same quarter year ago. Wow! That's not something I would like to see. It goes on to say how people are not being able to pay off their debts, leading to increased foreclosures. This is neither good for the bank nor for the economy. And this leads us to think that the decrease in non-accrual loans is actually due to poor purchasing power and weakening loan demand.
The striking part of the quarterly report is the decline in the loan loss provisions as Kemper said, "We are pleased to report a 16.9% increase in net income in the third quarter of 2011 compared with the same period last year. This growth in net income was primarily the result of a $10.4 million decline in our provision for loan losses coupled with flat expenses. Compared to the same period in the previous year, bankcard and trust fees grew 11.7% and 9.6%, respectively. Deposits increased to $16.0 billion this quarter, however, loan demand remained weak and, coupled with record low interest rates, interest margins were pressured."
If there are decrease loan assets, it would inadvertently lead to lesser loan provisions, and that's how the increased net income resulted. I am not convinced at all!
Let's now look at the 2010 annual report.
In the last three years, net interest income has gone up to $646 million in 2010 from $593 million in 2008. Likewise, loan loss provisions have also gone over the last three years by $8 million. And this might be due to the decrease in the loan assets.
In 2008, the total amount of loans, including loans held for sale, was worth around $11.6 billion, which dropped to around $9.47 billion in 2010.
Although deposits have shown increase by almost $2.8 billion in the last couple of years, I would not be happy with that since the availability of capital has not been utilized properly, shows in the slight increase of the non-interest income.
But, something must be noted here. It's total debt to equity stands at 48.98x, compared to 168.01x of Wells Fargo, 217.13x of US Bancorp and 354.73x of Bank of America. Even QCR Holdings has a total debt to equity of around 250x. So, can we say Commerce Bancorp will probably take in further leverage in the future and that will help in the turnaround of the company? It must be taken into account that the banking and finance sector is going a bit down at the moment. Maybe after the 2012 election, we can take some firm decision, after watching a few subsequent quarters.
So, my common sense says hold shares of CBSH for now.
Disclosure: I have no positions in any stocks mentioned, and no plans to initiate any positions within the next 72 hours.