Fact or Fiction
Trading too much? Trying to bottom fish? Here is what the media are telling us lately:
Greece will default on its sovereign debt, Spain, Italy, and now Slovakia to follow. Moody's and S&P downgrade Greek bonds to junk status – Italy is downgraded by Moody's. The European financial system is on the verge of collapse. The bubble has finally burst in gold. The Chairman of the Federal Reserve Bank will fight until the last dollar to prevent a "bear market." Interest rates to remain close to zero at least through 2013. It's official, the S&P 500 (NYSEARCA:
SPY
) is in a bear market. Commodity markets tumble – call off the inflation threat – but wait maybe there is inflation, or is it deflation? Was that
the
bottom or just another low?
What is fact and what is fiction? It is difficult to differentiate the daily dose of media experts filling the airwaves telling us exactly why the markets are higher or lower. Are investors fearful or jubilant? Market indexes are rising and falling up to 5% in a single day – moves of 1% or 2% are becoming common. Truth be known, unless you are a very nimble day trader attempting to trade the volatility often results in losing money.
Consider this interesting statistic complied and published by the New York Stock Exchange:
The annualized turnover for the month of August 2011 on the NYSE was 122%.
At this pace all the outstanding shares of NYSE traded issues would change hands 1.22 times every 12 months (at the pace set in August).

The implied holding period based on this high rate of turnover is less than 10 months for NYSE traded stocks.
The dollar value lost in the Crash of 1929 was $23 billion. The dollar value lost in the dot.com market crash of 2000 – 2002 was estimated at $5 trillion. The market value lost on September 29, 2008, in just one day, was $1.2 trillion. The subprime debacle triggered the market collapse and recession of 2007-2009 when the DJIA lost over 50% dropping from 14,164.43 to 6599.44 from October 2007, to March 2009, as compared with its 80% loss during the crash and Great Depression of 1930s.
Market volatility has undoubtedly contributed to the inability of investors to hold a position for longer than 10 months. Emotions play a significant role as well. Panic selling increases as investors move out of stocks and into cash. As many wait for the next bottom to find the optimal entry level, which in turn creates on some levels panic buying as the market reverses and indexes surge higher, ultimately resulting in additional rounds of panic selling and higher losses. It might be prudent to take notice that most survival guides list as the number one rule to follow, Don't Panic! This is sound advice but much easier said than done. As a market maker on the trading floors of several exchanges I found it interesting that the more successful traders were the ones who had the ability to stand in the middle of a chaotic trading pit and take advantage of the panic taking place around them. I learned that opportunities were obvious and readily available to those who didn't panic.
The question then becomes one of seeing and reacting to opportunities and not whether the markets have bottomed or topped. Rarely do both opportunities and a market top or bottom present themselves at the same moment in time. To quote Walter Schloss "
Timidity prompted by past failures causes investors to miss the most important bull markets."
Here is one thing I believe will not happen quickly - a global economic recovery, a 180 degree about face. While this is desirable and would propel a major bull market the damage done to the U.S. economy and the economies of the E.U., Russia, and Asia won't magically change overnight. It will take months if not years to put solutions in place and see substantial results. Granted there are a myriad of reasons that the global financial markets could and should move lower. In fact a strong argument for a bear market picking up steam with prices accelerating to the downside is readily available from various respected sources.
However, saying the above does not discount or preclude that pockets of opportunity will present themselves while the global economic mess finds its equilibrium and permanent solutions are put into place. Taking advantage of these opportunities may not be as visible or attractive to most investors.
Understanding which sector(s) are going to provide opportunities or where money is moving from/to has reached crisis levels for some, which doesn't lend itself to an atmosphere where making solid well grounded investment choices take place. This is why we turn to investment advisors, financial planners, analysts and web sites such as Seeking Alpha that provide a large volume of balanced opinion and analysis on a daily basis.
The broader markets remain volatile and subject to corrective forces. Since the titans I discuss below can be found within the DJIA, S&P 500 and NASDAQ Composite (NASDAQ:
QQQ
), additional downside is likely. Lower prices therefore are likely and this is when I would be looking to add to and build additional positions.
Choosing Companies That Dominate
Companies that dominate their market (sectors,) generate huge cash flows and payout regular dividends are very often overlooked. Why? I believe because most feel that trading ranges appear bound and their dividends might be on the small side (3% or less).
This, however, is a mistake. Take a look at
Intel (NASDAQ:INTC)
and
Microsoft
(
MSFT)
for example. Titans within their sectors both generate huge cash flows and have increased their dividend payouts over the past 2 years.
Intel:
Current dividend payout is more than 5.5% (roughly a 16% per year growth rate). That would suggest a 10% yield over original cost in +/- four years.

Current Market Cap is $122.2 billion

Total Assets (TTM) is $66.1 billion

Total Liabilities (TTM) is $17.2 billion
(Click charts to expand)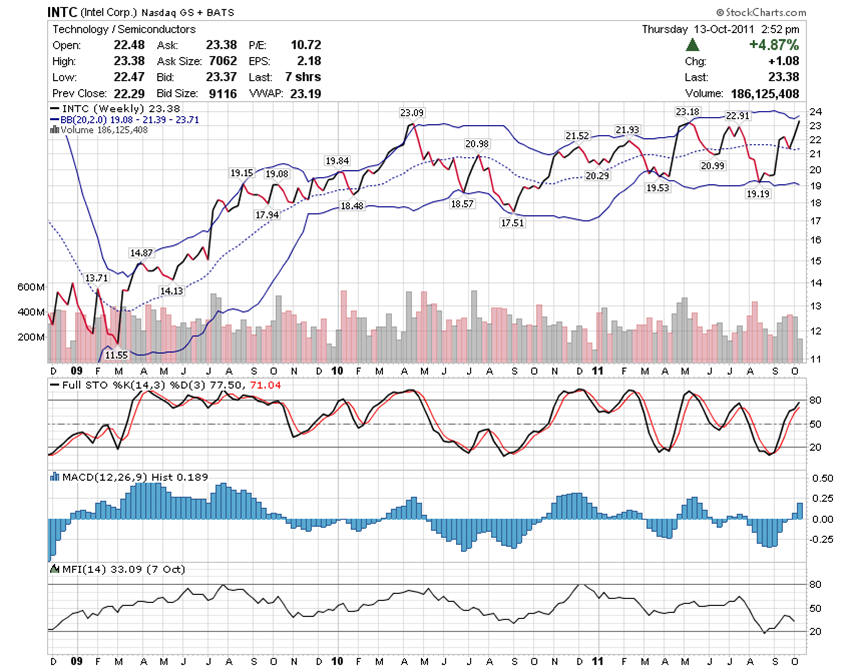 The technical picture for INTC suggests that a correction is likely. Prices have pushed against resistance at the top Bollinger band, the stochastic oscillator while still showing upward momentum and strength is about to push into overbought readings. The MACD is neutral and while showing some confirmation of the current price advance is not jumping toward overbought – which lends support to a corrective phase taking place. The Money Flow Indicator (oscillator) has actually turned lower, which also lends stronger support to a corrective phase.
Microsoft
cleanly owns approximately 90% of the global software market and while there have been many attempts to knock MSFT out of this position all have failed thus far. Is it farfetched to think it will change anytime soon? I don't think so. Check this out:
MSFT has maintained a 10% growth rate for the past 10 years

MSFT generates approximately $25 billion in cash

MSFT's balance sheet shows $50 billion in cash and less than $12 billion in debt

MSFT trades at 7.6 times EV/FCF (Enterprise Value to Free Cash Flow) and still trades in a tight 52-week range.

MSFT increased its dividend by 25% this year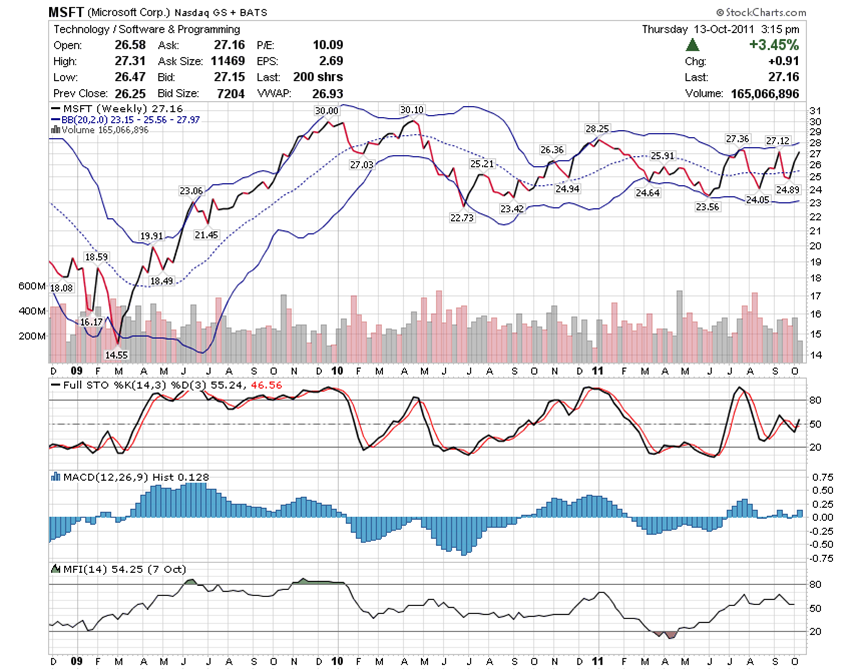 The technical picture for MSFT remains strong. The last 12 months have produced a tight trading range between 22 and 28. This may continue while the broader markets ebb and flow through advances and declines. Support for a stronger advance in MSFT are the current levels of the stochastic oscillator, MACD and MFI oscillator. All three are basically at neutral readings. The stochastic oscillator is pointing higher, which lends support to a break above 28 occurring. The MACD while unimpressive has plenty of upside room before MSFT would be overbought (on a weekly basis). Any broader market decline though, will include MSFT and in my opinion would provide some excellent entry levels to start or add to positions.
Wal Mart (NYSE:WMT) –
Ever wonder why Wal Mart's earnings can throw the market into a buying or selling panic? Check out its supply chain. According to Revere Data WMT currently has 199 companies that supply to Wal Mart. I've ranked them by market cap and included the top 25 below.
| | | | |
| --- | --- | --- | --- |
| | | | |
| | The Procter & Gamble Company | | |
| | | | |
| | | | |
| | | | |
| | | | |
| | | | |
| | | | |
| | Mead Johnson Nutrition CO | | |
| | | | |
| | | | |
| | | | |
| | | | |
| | | | |
| | | | |
| | | | |
| | | | |
| | Dr Pepper Snapple Group Inc. | | |
| | | | |
| | | | |
| | | | |
| | | | |
| | Church & Dwight Co., Inc. | | |
| | | | |
| | McCormick & Company, Incorporated | | |
| | | | |
| | | | |
Wal Mart is clearly a titan within its sector(s). In fact I'll go out on the limb and say the Wal Mart is an international titan since the company operates
numerous formats of retail stores, restaurants, Sam's Clubs and online retail operations outside the United States and Puerto Rico.
Total Assets of $193.6 billion (includes current, property, plants, and equipment (PPE net), goodwill & tangibles)

Total Liabilities of $125.7 billion

Dividend yield of 2.64%

P/E of 11.65 (TTM)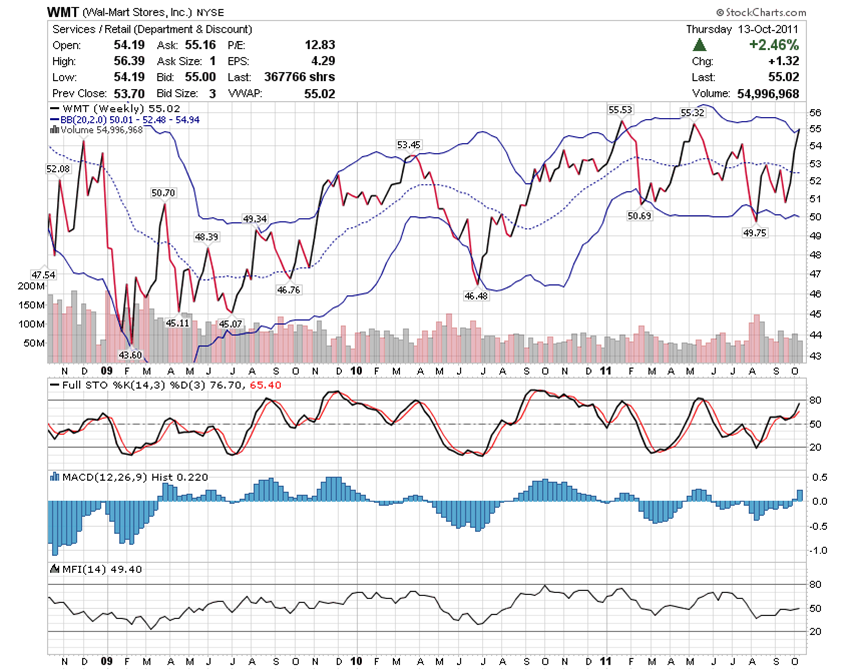 The technical picture for WMT suggests additional upside should occur (look for a smaller corrective phase to kick in from current levels with prices likely holding above 53). Currently prices are pushing up against resistance along the top Bollinger band, but the overall picture looks good for a continued advance and break upward toward 60. The MACD and MFI are both more neutral while the stochastic oscillator is approaching overbought but has additional upside room as well. Near term a small corrective phase may kick in before a more sustained break above resistance occurs. As with INTC and MSFT – Wal Mart is a part of the DJIA and S&P 500 – and thus will be under the influences of the broader market as well.
Traders may also want to check out:
During the market crash of 2008/2009 the leveraged traders and emotional bound investors ended up being hurt the most. I am not advocating that folks ignore as a whole, market forces that happen for solid and apparent reasons. There will be times when reallocating one's portfolio will be the wise thing to do. But currently as unknown and unnerving as the global economies can be, basing investment decisions on fear and greed will only lead to loss. Fight fear with knowledge – ascertain what is underneath the market moves. Is it deflationary or inflationary in nature?
Investors who focus on the intrinsic value of their holdings can use a market downturn to rebalance their portfolio, accept or accrue tax losses but stay invested. Please don't misunderstand either. Getting out of stocks that are overpriced and vulnerable, Netflix (NASDAQ:NFLX) comes to mind as the most recent example, is likely always the right thing to do. But it is the dominating market titans that should be held when the market is whipping around and churning up fear at every turn.
Bear and bull markets are temporary phenomenon. Understanding that and knowing where to turn for safe haven(s) is imperative in achieving long-term capital appreciation. I'll finish with a Peter Lynch (famed investor) quote:
"The key to getting rich in stocks is not getting scared out of them."