American Tower (NYSE:AMT) is in the communications business. The company owns and operates 38,000 communication sites in the U.S., Brazil, Chile, Colombian, Ghana, India, Mexico, Peru and South America. The company leases these sites out to communication companies like Verizon (NYSE:VZ), AT&T (NYSE:T), Sprint (NYSE:S) and T-Mobile.
American Tower takes advantage of being able to host communication equipment from multiple companies in order to efficiently and economically provide its product to its customers. Its much cheaper for American Tower to host communication equipment from multiple vendors than it is for a single communication company (e.g. Verizon) to purchase a site and host its equipment on the site. American Tower's strategy not only reduces the cost, but also reduces the number of communication towers required to service an area, as the various communication companies' equipment can all share the same site.
American Tower owns so much real estate, the company is planning on converting to a Real Estate Investment Trust (REIT). REITs typically own hard assets such as land and buildings, which describes American Tower, so converting to a REIT makes sense on the cover. REITs provide a nice tax advantage, as the company doesn't have to pay taxes on the dividends paid to shareholders, but in order to qualify as a REIT, a company must pay out 90% of its earnings to its shareholders in dividends. This way the shareholders of the company are not taxed double as is the case for a conventional corporation.
American Tower has received approval from the U.S. Securities and Exchange Commission (SEC) to convert to a REIT, so it looks like American Tower can proceed with the change.
American Tower is in a real sweet spot right now, as the wireless communication companies are rapidly expanding in order to meet the bandwidth requirements of its customers. The new smart phones, tablets, etc. use a lot of communication bandwidth and the companies have to add new equipment to meet the demand. As a result, the communication companies are putting more and more equipment at American Tower's communication sites and American Tower is receiving more and more revenue.
On a negative note, there is some consolidation in the wireless communication industry with AT&T (T) planning on purchasing T-Mobile which may present a problem for American Tower. American Tower has 3100 communication sites with both AT&T and T-Mobile equipment, so after AT&T purchases T-Mobile, the redundant equipment may be removed thereby hitting American Tower in the pocket book. And, there could be more consolidation in the future, so American Tower may face additional hits in the pocket book with further industry consolidation. It would not be out of the question to see Sprint eventually go the way of T-Mobile.
On a potentially negative note, the company recently priced a $500 million debit offering at 5.9% which more expensive than its previous debit offering, so the outlook for the company might not be as rosy as painted, or it could just be related to the macroenvironment associated with sovereign debt problems in the global economy.
In its most recent conference call, American Tower raised its revenue outlook for the year. The company has made several recent acquisitions in Latin American, Europe, Middle East and Africa and the company indicated it is planning on further diversifying its portfolio of communication sites across those companies.
The company grew revenue 27% year-to-year and indicated the bulk of the revenue increase is being driven by AT&T and Verizon. The company further indicated it is seeing a lot of demand in Latin America as a result of increased interest associated with third generation wireless communications technology (3G) spectrum auctions and increased demand in the U.S as a result of fourth generation wireless communications technology (4G) build-out.
American Tower's earnings release and conference call are coming up quickly with the earnings release scheduled for Tuesday 7 a.m. EST November 1, 2011 and the conference call to follow at 8 a.m.
American Towers' stock price has performed very well over the last year-and-half with a return of around 40% as shown below: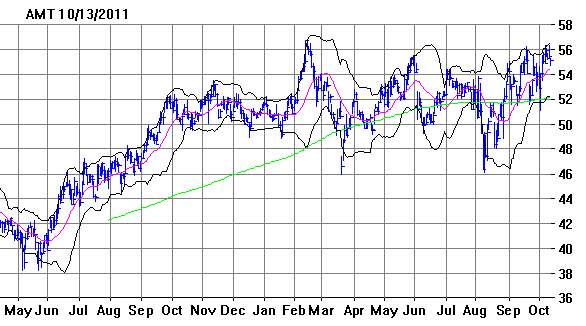 Click to enlarge
(Click to enlarge)
Yet, the company's stock price is fairly expensive with a P/E ratio of 58. The company's stock has been in a trading range over the last six months or so with a support level of around $46 and a resistance level around $56, which is where the stock is currently trading.
With an expensive price, stuck in a trading range and the potential for a pocket book hit from the AT&T/T-Mobile consolidation, American Tower's stock price could be stuck in a trading range for a while, or could even take a hit if there were some more consolidation in the wireless communications industry.
What's a current investor in American Tower to do at this juncture?
Well, an investor might consider in entering a collar position for American Tower. A collar position has a potential return even if the price of AMT does not change over the next few weeks and also has protection against a significant drop in the price of the stock. A collar is entered by selling a call option against a purchased stock or an existing stock and using some of the proceeds from selling the call option to purchase a put option.
Using PowerOptions search capability, a collar was found for American Tower with a potential return of 2.2% and a maximum potential loss of 10.8%. The sold call option for the position is a 2011 November 55 and the purchase put option is a 2011 November 48. The time frame for realizing the potential return is 37 days. At expiration, if the price of AMT is greater than the 55 strike price of the call option, the position will return 2.2%. And, if the price of AMT drops significantly, the maximum loss is 10.8%. A profit/loss graph for the collar position is shown below: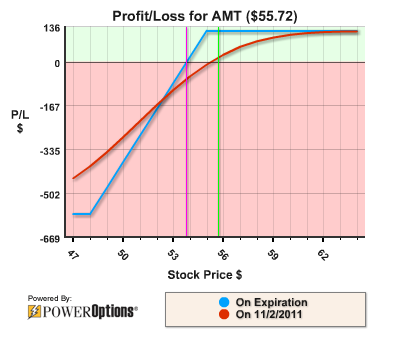 One of the best features for a collar position, is the investor can still take advantage of any dividends paid by American Tower, as the investor is long the stock.
Disclosure: I have no positions in any stocks mentioned, and no plans to initiate any positions within the next 72 hours.