When I wrote about Apple (AAPL) two weeks ago, I did emphasize that I was Impressed about the company's fundamentals, as the company enjoys a sustainable competitive advantage in two of the hottest areas of mobile devices -- mobile phones and tablets. I also emphasized that the company displays a strong operations statement, an outstanding balance sheet, and a near perfect chart. I was concerned, however, about the company's momentum that seems to be fading away, especially after the launch of its iPhone 4s model — That's why I did recommend that investor avoid the stock.
| | |
| --- | --- |
| Operating Margin | 30.43% |
| Quarterly Revenue Growth | 82% |
| Quarterly earnings growth | 124.70 |
| P/E | 16 |
| Total Cash | $28.40B |
| Operating cash flow | $32.78B |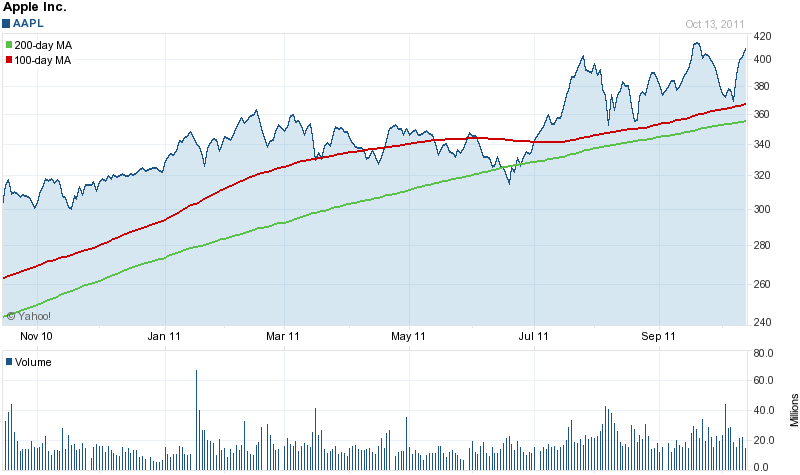 Click to enlarge
(Click to enlarge)
In the last week, however, the momentum seems to be coming back for four reasons:
1. The iPhone 4S is receiving a much better than expected reception by Apple fans, as, perhaps, it is considered the last company gadget to be touched by the magic of Steve Jobs.
2. Competition from Nokia (NOK) to Research in Motion (RIMM) to Hewlett-Packard (HPQ) -- that has tried to challenge Apple have been trashed — RIMM had a big flop with service outages and product delays.
3. A blockbuster report form Google (GOOG is expected to hype investor expectations, especially as we move towards the last quarter of the year, usually the strongest period for high-techs.
4. Friday's better than expected retail sales report diminishes the risk of a shot-fall in consumer demand for mobile gadgets.
The bottom line: Momentum for Apple is coming back. Short-term investors and traders may want to buy the stock, even after its current run up.
Disclosure: I have no positions in any stocks mentioned, but may initiate a long position in AAPL over the next 72 hours. Active trader, may switch positions at every time.