Investors are looking for stocks in the medical sector and I have some good feelings about Intuitive Surgical (NASDAQ:ISRG) The stock has done nicely this year and is up YTD almost 50.24%. The company has plans to enter the emerging market nations as those countries begin to upgrade their medical facilities. The stock has faired well during the recent market dip as this one-year price graph provided by Barchart shows:
Click to enlarge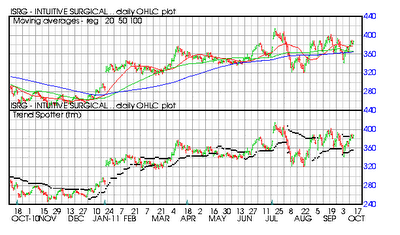 Intuitive Surgical designs, manufactures and markets da Vinci surgical systems for various surgical procedures, including urologic, gynecologic, cardiothoracic, general and head and neck surgeries. Its da Vinci surgical system consists of a surgeon's' console or consoles, a patient-side cart, a 3-D vision system, and proprietary 'wristed' instruments. The company''s da Vinci surgical system translates the surgeon''s natural hand movements on instrument controls at the console into corresponding micro-movements of instruments positioned inside the patient through small puncture incisions, or ports.
It also manufactures a range of EndoWrist instruments, which incorporate wrist joints for natural dexterity for various surgical procedures. Its EndoWrist instruments consist of forceps, scissors, electrocautery, scalpels and other surgical tools.
In addition, it sells various vision and accessory products for use in conjunction with the da Vinci Surgical System as surgical procedures are performed. The company''s accessory products include sterile drapes used to ensure a sterile field during surgery; vision products, such as replacement 3-D stereo endoscopes, camera heads, light guides, and other items. It markets its products through sales representatives in the United States, and through sales representatives and distributors in international markets. The company was founded in 1995 and is headquartered in Sunnyvale, California. (Yahoo Finance profile)
Factors To Consider
Barchart technical indicators:
80% Barchart overall technical buy signal
Trend Spotter technical buy signal
Trades above its 20, 50 and 100 day moving average
4 new highs and up 2.07% in the last month and is up 50.24% YTD
Relative Strength Index 56.90% and rising
Barchart computes a technical support level at 379.93
Recently traded at 391.29 with a 50 day moving average of 365.94
Fundamental factors:
Wall Street brokerage analysts think revenue will increase by 20.30% this year and another 16.60% next year
Earnings estimates are equally rosy with an increase of 21.00% expected this year, followed by an additional increase of 17.70% next year. Earnings increases are expected at the annual rate of 18.62% over the next five years
These consensus numbers resulted in two strong buy, five buy, 11 hold and only one under perform - I think the under perform is due to the P/R of 35.82 which is about 2 1/2 time the P/E of the market
Note that the median P/E of this stock is 48
The company enjoys an A+ financial strength rating
As previously mentioned the company sees growth in the emerging markets nations as they try to bring surgical facilities up to modern standards
Although its major products are the installation of surgical stations the company has seen exceptional growth in replacements and surgical accessories which is repeat revenue
General investor interest:
This is one of the most widely followed stocks on Motley Fool with 4,107 readers expressing an opinion on this issue
The readers voted 95% that the stock will beat the market
The more experienced and savvy All Stars vote 97% for the same result
Fool notes that all 13 articles by the Wall Street columnists they follow have been positive
Competitors and sector leaders:
Over the past five years ISGR is up 295% beating out its two major competitors of Hitachi (HIT) down 12% and Toshiba (
OTCPK:TOSBF
) down 36% for the same period:
Click to enlarge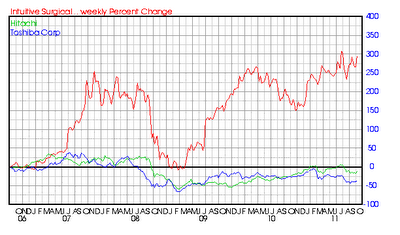 Sector leaders - ISRG is a member of the SIC 3842 Orthopedic, Prosthetic and Surgical Appliances sector and some other stocks in the same sector you might want to consider are up for the year like Mako Surgical (NASDAQ:MAKO) up 325%, Hansen Medical up 79%, RTI Biologics (NASDAQ:RTIX) up 41% and Wright Medical (NASDAQ:WMGI) up 25%:
Click to enlarge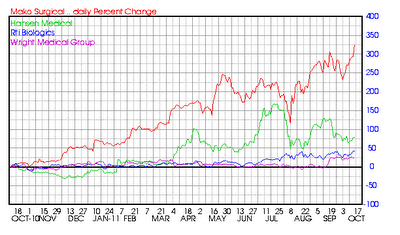 Summary: I like Intuitive Surgical because it fits the criteria I look for in my portfolio. The stock is presently having positive price momentum. Analysts are projecting double digit growth in both revenue and earnings. The stock is widely followed and gets positive recommendations from both the professional and individual investors. Because of the high P/E ratio revenue and earnings surprises can effect the stock quickly so stop losses should always be kept current.
Disclosure: I have no positions in any stocks mentioned, and no plans to initiate any positions within the next 72 hours.