Earlier this week, I wrote an article on five companies that are well off their 52-week highs, but which I felt were still good investments with a lot of upside.
For this article, I will go over two companies where I don't see a recovery in their stock price anytime soon, despite the fact that they are near their 52-week lows. The stocks should be good short positions or opportunities for buying put options. Let's get to the list.
First Solar, Inc. (NASDAQ:FSLR)
To say it has been a bad year for solar stocks would be an understatement. From Chinese solar companies to American-based ones, they have all been completely hammered.
I actually like two Chinese solar companies that, while heavily beaten down, are actually more stable than most out there. [See the article I wrote about Yingli Green Energy (NYSE:YGE) and Trina Solar (NYSE:TSL)].
The Solyndra loan disaster and bankruptcy has really put solar stocks into the spotlight lately, but not for any good reasons. Besides the Solyndra fiasco, there is also the bankruptcy of Evergreen Solar (OTC:ESLRQ) on August 15th, 2011.
The sentiment on solar stocks is so bad right now that I caution anyone who wants to invest in them to do their homework on what companies are stable and which are not. This brings me to First Solar (FSLR). Like all solar stocks, First Solar has been absolutely clobbered. It is currently trading at $56.85/share. Its 52-week price range is $53.05 - $175.45. Their market capitalization is down to a scary $4.9 billion.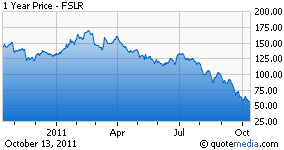 While it looks tempting to buy First Solar (FSLR) because of its depleted price, don't be fooled into thinking this is a value play. As of right now, there is just too much negative publicity with solar stocks.
Disappointingly, there is really nothing going right for solar energy in the United States right now. Back in 2008, hopes were a lot higher for solar. A lot of talk by politicians a few years ago was just that: talk. Nothing of any real substance has materialized.
In due time, maybe some solar energy stocks (the ones that survive) could turn out to provide some very nice returns for an investor. Until that time comes, I think there is significant downside risk.
I would not consider entering a bullish position in First Solar until the stock price dips into the $23-$25 range, which is where I feel the value would be at. This could happen a lot sooner than many people think. Until then, I will be purchasing January 2012 $40 strike put options.
Research In Motion (RIMM)
Like Palm did, Research In Motion (RIMM) sat on its technology and took for granted its consumer base, figuring the consumer's brand loyalty to them would win out over their competitors.
It's been so long since any real positive news came from this company that I've lost all ability trying to justify or recommend buying it.
Research In Motion is currently at $23.61/share. The 52-week range is $19.29 - $70.54. RIMM has a market capitalization of $12.2 billion. The stock has been in a downward spiral since 2008, and the days of massive growth for the company are long over. Take a look at this 5-year chart: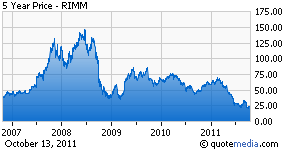 There has been a lot of debate as to where this stock is going in the future. While some remain bullish on it, the overall market sentiment is not very good.
To put it simply, Apple (NASDAQ:AAPL) stole its lunch. I think the rise and success of Apple's iPhone really caught Research In Motion by surprise, and that's the problem. Research In Motion co-CEOs Michael Lazardidis and Jim Balsillie have really dropped the ball in terms of forecasting what technology people wanted in their smartphones. This co-CEO arrangement has infuriated both analysts and investors alike.
Along with lagging sales on smartphones, Research In Motion's tablet, called the PlayBook, has been a huge disappointment. Those who make a bullish case for Research In Motion shares state that sales are still robust. The problem with this explanation is that all of the growth is completely gone in this company. What products or technology has Research In Motion succeeded in since the BlackBerry smartphones appeared? The answer is that there aren't any.
Recently, Forbes ran that put a valuation of RIMM's patents at just $2.5 billion. Considering that Google (NASDAQ:GOOG) bought Motorola Mobility (NYSE:MMI) for $12 billion (mostly for the patents), this is a very low valuation that would affect the amount another company would be willing to pay for Research In Motion's patents or the company.
More problems seem to keep coming for RIMM. Over the past week, there were massive BlackBerry outages that spread across five continents.
Unfortunately, Research In Motion has made a bad situation worse. Loyalty for their brand was fading to begin with, and the response to the BlackBerry outages certainly didn't get it more sympathy from consumers. It's been one bad public-relations nightmare after another for RIMM.
My guess is that Research In Motion will be trading in the $15-$17 range by early 2012. At that point, things can get really ugly for the company. While there is huge pressure on the stock currently, if it dips to the teens it could really go in free-fall mode.
I will be purchasing some June 2012 $19 strike put options for what I anticipate will be a sharp drop in the coming months. Research In Motion is really starting to look like Palm's distant cousin these days.

Disclosure: I will be purchasing put option contracts on both RIMM and FSLR