For all the concern over consumer confidence, Europe, and the U.S. economy, corporate results have been holding up remarkably well for most companies. Some companies are even able to post record profits and revenues in this environment. But, some companies still trade at a huge discount to their peers, and their growth prospects, despite posting record profits. We have found such a company, and we think it's discount will soon disappear. But, savvy investors will do well to get in ahead of everyone else.
CSX Corp. (NYSE:CSX) is one of America's leading railroads, shipping enormous amounts of goods coast to coast. As such, CSX has a very good feel for the state of the economy, both here at home and to an extent, the global economy. CSX has sold off of its July highs on undue fears about a collapse in profits, which is simply not in the cards.

Click to enlarge
(Click to enlarge)
Though CSX last reported in July, data and management have not raised alarm bells for the current quarter. On the last conference call, CCO (Chief Commercial Officer) Clarence Gooden noted that "looking ahead, discussions with our customers and key leading indicators suggest continued growth in the markets we serve throughout 2011 and beyond. With that as a backdrop, CSX's volume growth will continue to outpace both gross domestic product and industrial production. As such, the volume outlook is favorable across all 3 major markets: intermodal, merchandise and coal." Investors are concerned that industrial earnings will be decimated as the economy lurches back and forth. CSX is telling you that it does not see it that way. In fact, intermodal volumes rose 2.4% year-over-year in the most recent week.
In late September, railroad stocks fell due to comments from Walter Energy (NYSE:WLT) and Alpha Natural Resources (ANR). Both blamed mining delays for their forecasts. Yet, management of both Union Pacific (NYSE:UNP) and Norfolk Southern (NYSE:NSC) said that they are not seeing drops in coal shipments. Walter and Alpha Natural are blaming industry conditions for company-specific issues, needlessly dragging down related stocks such as CSX.
On the conference call, analysts pressed CSX on its optimistic projections for the second half of the year. But CSX held its ground, backing up its forecasts with data that has held true int the past. Clarence Gooden, responding to an analyst's question, stated that "we feel very positive about the economy going forward...we think that auto production, particularly in the second half of the year will be stronger than it was in the first half of the year, both due to demand and due to the impact of the Japanese tsunami going away...we expect both heavy fertilizer shipments this fall as well as some of the, as you know, the record grain crops that are coming in. So we think all of that forbodes a good economy." At CSX, management has stated that employment growth will lag volume growth, thus boosting operating margins. CSX has stated that its goal is to have the operating ratio rise to 65% by no later than 2015.
CSX does have a balance sheet weaker than most of the companies we recommend. Of those, many have no debt whatsoever, or have debt covered by their cash on the balance sheet, CSX has $7.4 billion in net debt. Its debt is rated BBB by S&P, with a positive outlook, Baa3 at Moody's, with a positive outlook, and BBB by Fitch, with a positive outlook. S&P and Fitch recently raised their outlooks based on demand growth, stronger economic conditions, and CSX's record profitability. We think the debt is more than manageable, as CSX's cash flows are growing at an average of 10.2% annually. That allows for the debt to be paid off, for investments in the business, and raising the dividend at an annualized pace of 34.5% (according to Schwab). CSX now yields 2.31%, and we expect the dividend to rise much higher.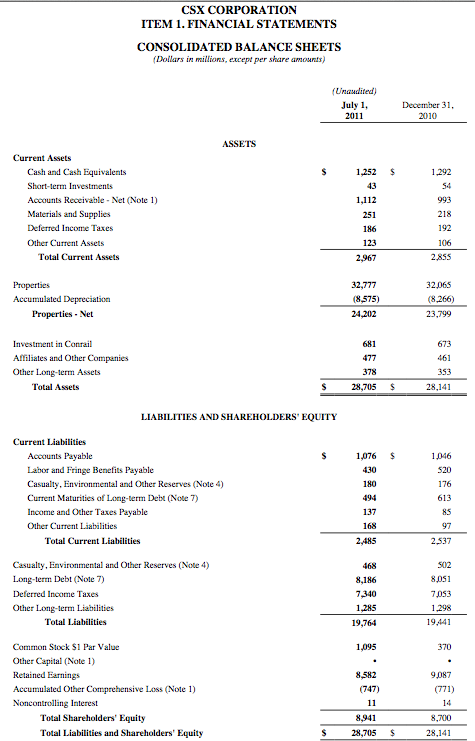 Click to enlarge
(Click to enlarge)
CSX trades at a discount to its peers, and its fundamentals. At a P/E of 13.36 and a forward P/E of 10.6, CSX is undervalued. It trades at a PEG ratio of 0.84. UBS, in maintaining a buy rating on CSX to a price target of $31, noted that "CSX s relative valuation to its peer group tends to be cyclical, with higher highs and lower lows, but the current 20% 2012 P/E discount to its comps looks absurd to us. Add the facts that CSX has stronger and more consistent pricing, the best management track record over the last seven years, and the most aggressive margin targets, and the result looks like a compelling opportunity on both a relative and absolute basis." CSX is cheaper than its peers, and yet it runs the business far better than its competitors. These 2 factors will be reconciled sooner or later, and we suggest getting into the stock before they do.
CSX is not only a leading railroad, but also a leading economic indicator. And CSX is saying that the economy will have no adverse impact on their results. Analysts agree. UBS sees the stock at $31, Argus sees it at $30, and S&P sees it at $27. The Reuters average target is $27.15, representing upside of 30% from current levels. If CSX can post record profits in such an environment, just imagine what it can do when the economy is fully recovered. CSX says that it is "how tomorrow moves." Given CSX's fundamentals and valuation, we say that it is time to move CSX into your portfolio.
Disclosure: I have no positions in any stocks mentioned, but may initiate a long position in CSX over the next 72 hours.