On October 11, 2011 in the article, "Investing In Cloud Computing Without Getting Rained On," I showed how an investor could invest in cloud computing with Rackspace (RAX) and be protected from a significant drop in the price of the stock by using a collar.
For a collar investment, a call option is sold against a stock and the proceeds from selling the call option are used to buy a put option for insurance for protection against a large drop in the price of the stock.
On October 13, 2011, Scott Goldman, an analyst with Goldman Sachs, upped his rating on Rackspace to buy from hold with a price target of $54. Following the upgrade and the bullish mood of the market, the company's stock has increased to the $40 range as shown below: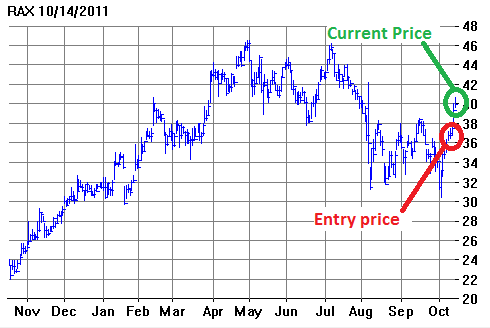 The 2011 October call option for the collar had a strike price of $37 and with the increase in the price of RAX, the time value for the call option has decreased to around 0.3% as shown by the PowerOptions option chain shown below:
Since the time value for the call option is of such a small value, either rolling the position or exiting the position should be considered, as there is very little profit left to be realized from the initial position. Time value represents the premium an investor would pay over the current exercise or intrinsic value. Holding a collar with very little time value in the call option is not wise, as the position has very little profit left to be realized, yet the position can still realize a loss if the price of the stock were to drop. The initial collar position had a net time value of around 2.5%, so we have basically made about as much profit for the collar position as possible at this point.
A knock of the collar position is its capped or limited upside, but by managing the collar, the upside can be increased by rolling. For example, the 2011 October 37 call option could be rolled to a 2011 October 40 call option with a time value of 2.4% as shown by the option chain shown above. Taking into account the 0.3% time value for the current position, the net time value for rolling is on the order of 2.1%. Since the initial potential return was 2.5%, the aggregate potential return for the new position is around 4.6%.
We would keep the initial 2011 October 33 put option for protection. To roll the position would require a net debit of around $2.35, so we are increasing the amount of capital invested in the collar position. We're also increasing the maximum risk of the collar position from the 8% for the initial position to around 12% for the new position. The maximum risk for the new position could also be reduced by rolling the put option by settling for less potential return.