My favorite monthly economic report is back, the September 2011 Retail Sales Report. I have been anxiously awaiting this month's report and I'm pleased to announce it is a nice surprise, as the worries about the Debt Ceiling Crisis are fading.
Many were concerned that the economic shock caused by the politicians' impasse over raising the debt ceiling would lead to the dreaded spiral down; nervous consumers spend less, leading to lower sales among companies, which thus to reduced employment hours and hiring. This causes less spending and starts the process all over again. August's employment and retail sales definitely showed weakness, but thankfully, not total collapse, so I was optimistic that this month's report would see improvement and the potentially recessionary cycle would be broken by the potentially powerful U.S. consumer. And it looks like it has!
Overall retail sales increased an impressive +1.1% for the month, and that's on top of an upwardly revised August of +0.3%. Excluding the volative Auto category, we got +0.6% for Sept and a revised +0.5% for Aug. These are robust statistics and as I say every month, the consumer is the key at this point to the economic recovery. If they keep spending, employment will inevitably increase, and the virtuous cycle that runs opposite to what I described above will continue.
Let's take a look at the individual numbers for some clues about the economy and investment ideas.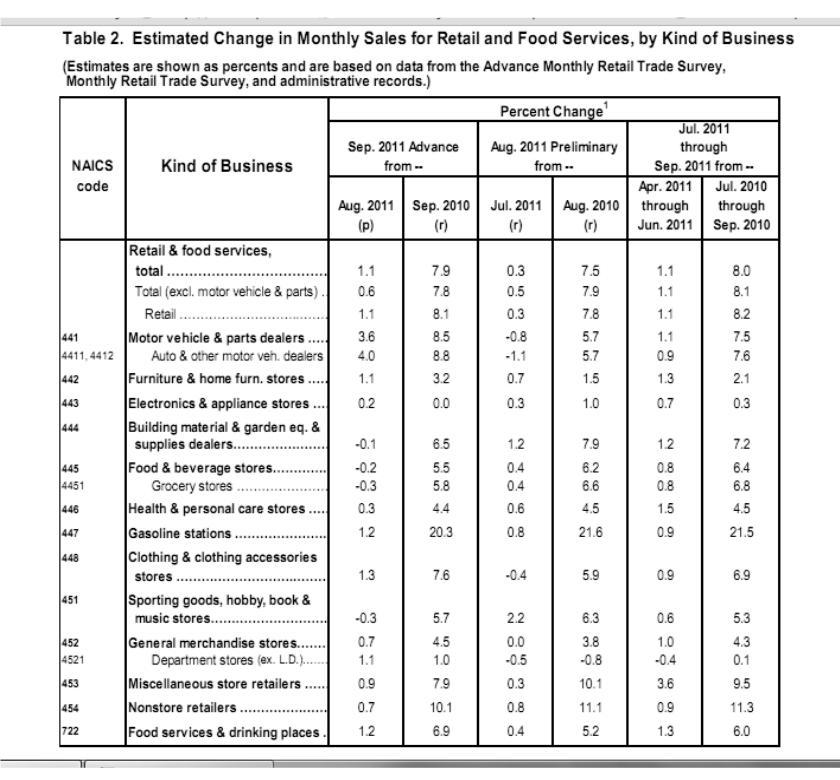 Click to enlarge
(Click to enlarge)
Restaurants is a very important leading indicator of consumer confidence since it is a completely discretionary purchase that is easily replaced by buying food at home. When restaurants are doing well, that means people feel they have money to blow. This month's +1.2% is a nice change over the lagging last few months.
Next look at motor vehicles coming in at a whopping +3.6%. I've been predicting a rebound in auto sales based on improving supply chain as well as consumer confidence and loosened credit, and it seems to be coming true. Auto is a nice driver of the economy, if you'll pardon the pun, and shows a willingness by consumers to spend on a big ticket, multiyear purchase. Auto also touches many parts of the service economy. This increase is a very promising indicator going forward for the U.S. economy. Investor Watch: Both Ford (NYSE:F) and General Motors (NYSE:GM) are almost criminally cheap. GM's new Sonic should be a strong contender in the subcompact space, and these 2 companies have been pushing back strongly against Toyota, Honda and the other Japanese auto makers who continue to feel the pinch of the Tsunami.
Gas stations continue to add to gains with an eye popping y/y 20%, although that may abate here in October. Any sign of a recovery could increase gas sales even further as oil regains some of its black luster from earlier in the year. Investor watch: Again, many quality companies on sale in O&G, including EOG (NYSE:EOG), Hess (NYSE:HES), Exxon (NYSE:XOM) and Chevron (NYSE:CVX). Global demand remains very strong for oil, and the valuations are very cheap.
A strong back to school showing can be seen in Apparel at +1.3% with an almost 8% year on year gain. Investor Watch: Margin pressure is subsiding, as cotton prices continue to calm. American Eagle Outfitters (NYSE:AEO) still looks cheap with a strong balance sheet as does Guess (NYSE:GES), and for more growth oriented buyers, Polo/Ralph Lauren (NYSE:RL) is pushing back to 52 week highs.
Non store retailers continue to post strong gains based on secular changes in retail. They clock in at over 10% year on year. Investor Watch: Amazon (NASDAQ:AMZN) is yet again pushing 52 week highs and on the flip side, I wouldn't touch Best Buy (NYSE:BBY) with a 10 foot pole. Their problems stretch further than online competition, but that's a strong driver of their current drop. I'm usually not a short seller, but if I were to choose one company to short, it would be Best Buy.
Finally, the category that has held my interest for the last several months, Building Materials, disappointed showing a drop of -0.1%. Year on year is still strong however. This one bears further watching because although we are entering a seasonally slow period for construction, the latest construction reports are looking much better, as well as construction employment. Investor Watch: Home Depot (NYSE:HD) stock breezed through this nasty pullback and is close to where it started. It has a nice dividend yield of almost 3% too.
Overall this report and the revisions seriously damage any recession predictions. To me, this is actually another testament to the tenacity (if not the strength) of the U.S. recovery. The Debt Ceiling Crisis was one of many economic shocks successfully weathered this year, and the worst by far. That spending has recovered that quickly bodes very well for a continued recovery and this quarter's GDP report.
Disclosure: I am long GM.