In the building materials industry the sector that has really taken a hit especially is the cement sector. One of the largest players is CEMEX (NYSE:CX) which is down over 91% from its five-year high. If you're looking for a stock that has nowhere else to go but up this might be it. This five-year weekly price chart provided by Barchart shows just how far this stock has fallen:
Click to enlarge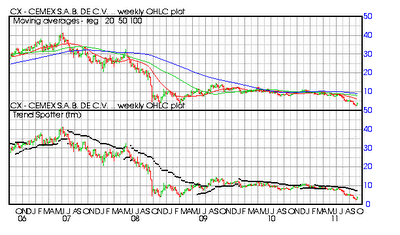 CEMEX, S.A.B. de C.V., through its subsidiaries, engages in the production, marketing, distribution and sale of cement, ready-mix concrete, aggregates and other construction materials worldwide. It also offers clinkers, asphalt and prefabricated concrete ceilings and walls, as well as concrete and precast materials, such as concrete blocks, concrete block pavings, roof tiles and flooring systems and sleepers for rail infrastructure. The company sells its products primarily to distributors in the construction industry. CEMEX, S.A.B. de C.V. was founded in 1906 and is based in Garza Garcia, Mexico.
Factors To Consider
Barchart technical indicators:
Barchart uses price momentum indicators that measure price movements from seven days to six months. Lately the sell signals are getting weaker and the buy signals are getting stronger
40% Barchart short term buy signal getting stronger
Trend Spotter sell signal is growing weaker
Trading above its 20 day moving average but still below its 50 and 100 day moving averages
Although the stock is 91% off its five-year high it has gone up 35% in the last week
Relative Strength Index is 56.21% and getting stronger
Barchart computes a technical support level at 3.60
Recently traded at 3.79 with a 50 day moving average of 4.46
Fundamental factors:
Wall Street brokerage analysts feel revenue will be up 5.80% this year and another 3.10% next year
Earnings estimates are robust with a 42.40% increase expected this year followed by an additional 44.40% next year. The five-year annual earnings growth rate is expected to be 12.50%
These numbers resulted in one strong buy, three buy 11 hold and three under perform recommendations being published by the analysts
In the past analyst were disappointed by their sales and earnings forecasts and were wrong more than they were right so don't bank on these projections
The major use for cement worldwide is road and infrastructure construction followed by commercial construction
World wide infrastructure projects are being implemented with Northern Europe moving on but big weaknesses in the Spanish and Philippine markets
If and a big if it is, Obama ever gets the U.S. Congress to buy into his highway and bridge building programs the cement industry will be one of the biggest winners
The company only has a C++ financial strength rating
General investor interest:
Even though the construction industry is having a hard time, a surprising number of the readers of Motley Fool are optimistic on the future
4,090 of the readers giving an opinion voted 96% that the stock will beat the market
97% of the more savvy and experienced All Stars voted for the same result
Competition and sector leaders:
Over the past year the entire cement industry is down with CEMEX (
CX
) down 55% , but Holcim (
OTCPK:HCMLY
) down only 5% and Lafarge (
OTCPK:LFRGY
) down 30%:
Click to enlarge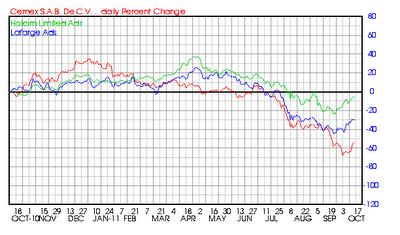 CX is a member of the SIC 3241 Hydraulic Cement sector and CX is down 54% in the last six months. As for others - Texas Industrial (NYSE:TXI) is down only 24% as well as CRH plc (NYSE:CRH) down 26% and Eagle Materials (NYSE:EXP) down 38%:
Click to enlarge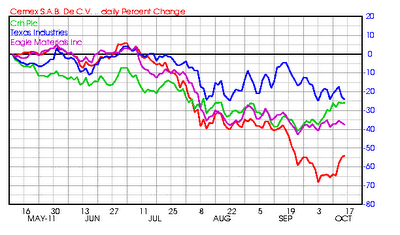 Summary: Cemex is a highly speculative stock but a stock with very high upside potential. If the economy recovers and infrastructure projects start rolling an investor could see annual total returns of between 30% - 40% annually for several years. If the company with its C++ financial strength can hold on until the recovery happens it could be a winner; if not you could be a big loser. Even aggressive long term speculative investors should always have stop losses in place on this one.
Disclosure: I have no positions in any stocks mentioned, and no plans to initiate any positions within the next 72 hours.