(Note: This article is somewhat longer than usual and I recommend that you scroll to the end if you prefer to view the recap of the peer Net Lease REITs)
Shortly after Ben Graham's death in 1976, Warren Buffett wrote a short remembrance on Graham in the Financial Analyst Journal, and in that excerpt Buffett recounted:
Certainly I never met anyone with a mind of similar scope. Virtually total recall, unending fascination with new knowledge, and an ability to recast it in a form applicable to seemingly unrelated problems made exposure to his thinking in any field a delight.
It was through Graham's firsthand anguish and financial losses that he gained insight and experience the hard way. After seeing his mother became wiped out in the crash of 1907, Graham grew to become one of the greatest practical investment thinkers of all time. And Graham's book, The Intelligent Investor is perhaps the first book ever to describe to individual investors the emotional framework and analytical tools for achieving financial success.
So it was by trial and hard work that Graham became a master of researching stocks in microscopic, almost molecular, detail. And because of Graham's troublous experiences and idolic insight, he became a prophetic teacher and investor who continually emphasized the importance of avoiding losses. And within The Intelligent Investor, the iconic author provides three powerfully sacred lessons for investors:
Minimize your odds of suffering irreversible losses
Maximize your chances of achieving sustainable gains
Control self-defeating behavior that keeps most investors from reaching full potential
As Graham prophesized (in Chapter 2) and almost 52 years ago, "it is clear that a fixed dollar income will suffer when the cost of living advances, and the same applies to a fixed amount of dollar principal. Holders of stocks, on the other hand, have the possibility that a loss of the dollar's purchasing power may be offset by advances in their dividends and the prices of their shares. On the basis of these undeniable facts many financial authorities have concluded that (1) bonds are an inherently undesirable form of investment, and (2) consequently, common stocks are by their very nature more desirable investments than bonds." And in Chapter 2, Graham describes an alternative income strategy to protect the investor from inflation, and since Graham last wrote, one inflation-fighter has now become a widely adopted tool for investors.
The Intelligent "Net Lease" Investor
I have previously written Seeking Alpha articles on a variety of Equity REITs, including many of the widely held shopping center REITS, free-standing retail REITs, and self-storage REITs. And as Graham relates in The Intelligent Investor, there must be a distinction between a "defensive" investor and an "enterprising" investor. And in further detail (in Chapter 1), Graham defines the attributes of an individual investor as he addresses the term used in contradistinction to a "speculator." As Graham writes, "As far back as 1934, in our textbook, Security Analysis, we attempted a precise formulation of the difference between the two as follows: 'An investment operation is one which, upon thorough analysis, promises safety of principal and adequate return. Operations not meeting these requirements are speculative.'"
So it is my hope to provide my "enterprising" and "defensive" readers with some specific intelligence relative to net lease investing with a primary focus on Chapter 20, "Margin of Safety as the Central Concept of Investment. As Graham details, "Confronted with a like challenge to distill the secret of sound investment into three words, we venture the motto, margin of safety. This is the thread that runs through all of the preceding discussions of investment policy."
Why Net Lease REITs?
When Ben Graham published The Intelligent Investor in 1949, he did not know that REITs would be a significant contribution to value investing. For it was around 11 years later, in 1960, that President Eisenhower signed a law, the REIT Act, that was contained in the Cigar Excise Tax Extension. And today, the combined U.S. Equity REIT market consists of around 123 REITs with a combined equity capitalization of around $353.24 billion. And due to growing investor demand for highly sustainable fixed-income products, the U.S. Net Lease investment sales industry has skyrocketed to galactic strength with over $100 billion in transactions closed (since 2009). In addition, the publicly registered non-traded REITs have also exploded with considerably well-capitalized platforms that have raised around $8.1 billion in capital in 2010 and around $6.5 billion already raised during the first eight months of 2011.
And had Graham recognized the investor-aligned attributes of the Net Lease REIT model, I am certain that he would have included this within Chapter 20 of his book. With over $100 billion of recent volume (since 2009), the Net Lease sector has evolved into a considerable asset sector as Graham wrote on sound investing principles, "all experienced investors recognize that this margin-of-safety concept is essential to the choice of sound bonds and preferred stocks." As explained by Winston Orzechowski, Research Director with Calkain Companies Inc., "In today's turbulent market, net lease investments represent a stable alternative to the fluctuating stock and bond markets. Premier net lease properties – those with favorable lease terms, a strong tenant credit, and prime location – are among todays most sought after investments. Investors are highly attracted to the stable, bond-like structure, offered by net leases and the resilience to recession their model has demonstrated."
In this article I will focus on Graham's principles and specifcally the fundamenmtal "margin of safety" attribute of diversification. And I will post fututure editions on capitalization (and the balance sheet) and sustainability (and dividend value). I will also provide a conclusion with an emphasis on REIT valuation and price. As Graham explained in Chapter 20, the "margin of safety is always dependent on the price paid." And he adds, "by definition, a favorable difference between price on the one hand and indicated or appraised value on the other. That difference is the margin of safety."
Theory of Diversification
As Graham wrote, "there is a close logical connection between the concept of a safety margin and the principle of diversification. One is correlative with the other." Further, Graham wrote, "Diversification is an established tenet of conservative investment. This point may be made more colorful by a reference to the arithmetic roulette wheel…therefore, the more numbers he wagers on, the better his chance of gain."
And so Graham's reference to roulette is an excellent analogy to Net Lease investing. In American roulette, most wheels include 0 and 00 along with the numbers 1 through 36, for a total of 38 slots. The casino offers a maximum payout of 35 to 1 so if you were to bet $1 on every number, you would win $35, but you would also lose $1 on all 37 slots, making the net loss $2. That difference (of $2) represents the house spread of 5.26% on your $38 total bet. So, as Graham was suggesting, the intelligent investor should maximize his holdings such that there is a "better chance for profit than for loss."
And in addition to increasing the frequency in holdings, the Net Lease REITs have become much more sophisticated by providing investors with broad based diversification investment strategies. For example, asset sectors have become more diverse within geography, industry, and credit ratings and these broad-based risk-aligned funds have evolved into large scale risk-managed investment advisors. Conversely, the "bigger is better" model is not considered diversification as a true risk-aligned Net Lease platform seeks to spread risk in order to mitigate possible default frequency within the well-balanced portfolios.
Realty Income
Realty Income (NYSE:O) is an exceptionally well-balanced REIT. I have written several articles on the "Monthly Dividend Company," as the 42-year-old company currently owns over 2,600 properties in 49 states. In addition, the nearly mortgage free operating platform includes some 38 industry categories with a portfolio composed of around 24.7 million square feet. Here is a snapshot of Realty Income's geographic representation: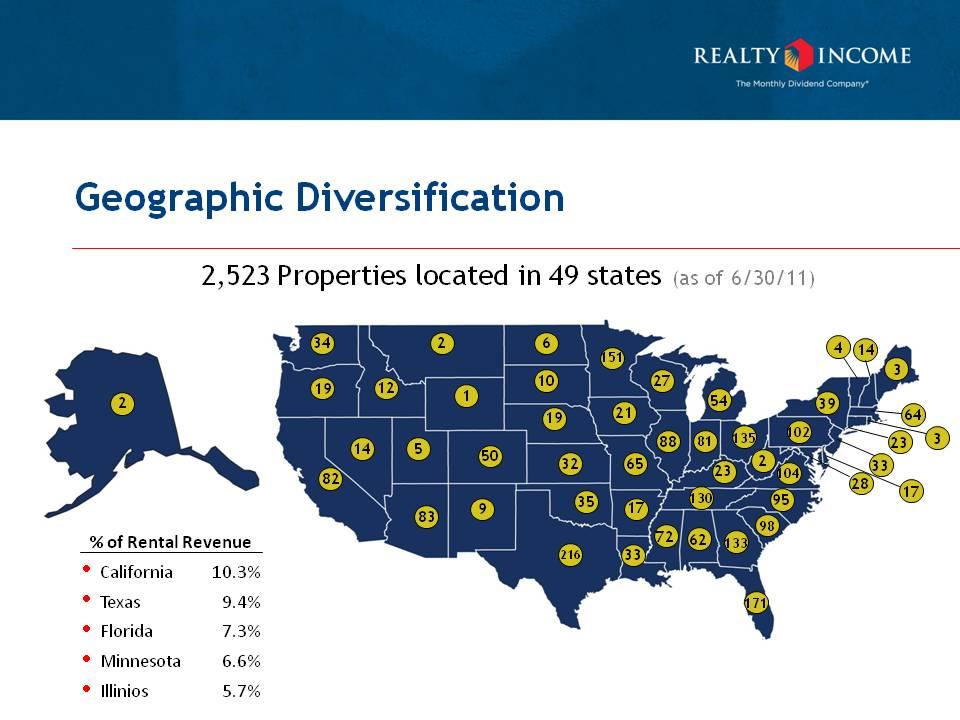 In addition, I have included a snapshot of Realty Income's Property Type Diversification (as of June 30, 2011):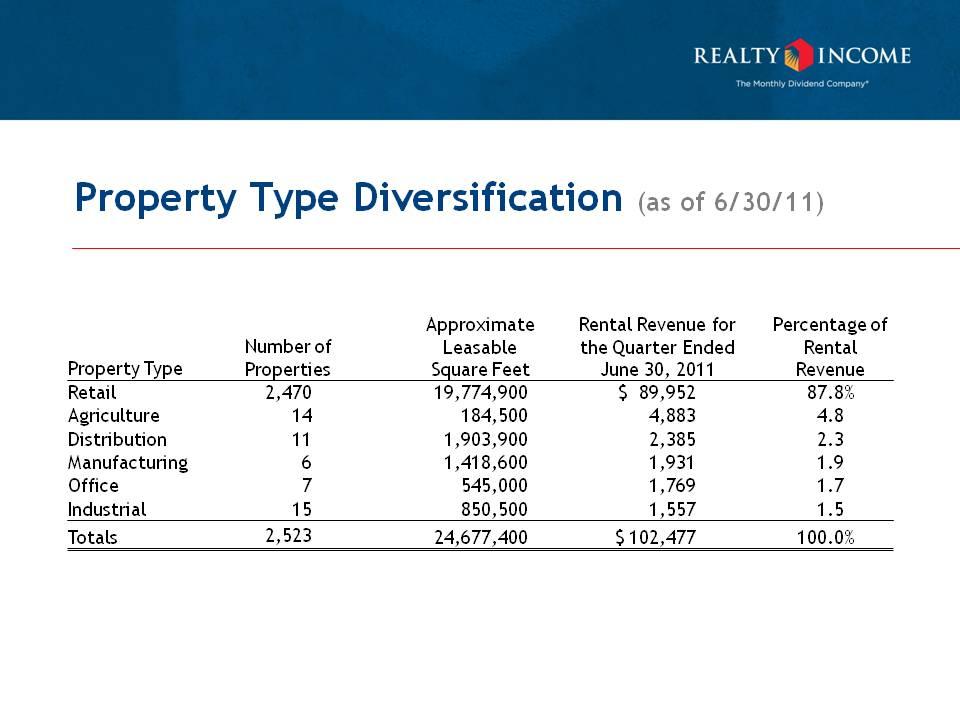 As the famous stock investor and mutual fund pioneer Sir John Templeton once said, "The only investors who shouldn't diversify are those who are right 100% of the time." And based upon Realty Income's latest press release, Sir John was 100% correct. Friendly Ice Cream Corporation recently filed voluntary reorganization under Chapter 11. Friendly's leases 121 properties from Realty Income, representing 3.6% of the portfolio revenue. Friendly's has rejected 15 of the 121 leases representing $1.3 million in annualized rent. The company anticipates that a majority of the properties should remain under lease.
Friendly's (founded in 1935) was once a New England icon focused on the casual dining restaurant sector. And like many mid-market chains, the Friendly's business model was challenged on the lower-end by aggressive fast food chains and also on the higher-end by competitors like Panera Bread (NASDAQ:PNRA) and Chipotle (NYSE:CMG). Most likely, the company's increased debt (Sun Capital acquired Friendly's in 2007 for $337.2 million) and the fading restaurant image were contributing factors to the 505 chain default.
As noted above, Realty Income owns over 2,600 properties and has tenants leasing within 38 industry sectors. According the Realty Income's website, the Casual Dining sector consists of around 11% of the portfolio income and, as mentioned, Realty Income has around 3.6% of exposure with Friendly's. After the announced Friendly's default, Raymond James continues to maintain a Market Perform rating and analysts there view Realty Income as a durable investment platform. As explained by R.J. Milligan, analyst with Raymond James, "There will always be a retail tenant in some sort of trouble – but that's just part of the business. If you have diversification, quality real estate and capable management, a portfolio of net-lease cash flows are among the most stable in the REIT sector."
Furthermore, Realty Income has been a stalwart investor with a track record of over 42 years of tenant retention management. Over the years, Realty Income has maintained an exceptional track record for working out distressed leases with a historical retention rate of around 80% to 85%. In addition, many of the assets acquired are along busy, high-trafficked corridors with strategically initiated low rent to sales models. As explained by R.J. Milligan, "Bankruptcies and reorganizations are just part of the retail industry, so obviously it makes sense to diversify your exposure so you're not over exposed to any one tenant.
The other key is to own the real estate where the stores are profitable – either the leases will be affirmed through reorganization or at the very least the space will have a good chance of getting re-tenanted with a different retailer. Here is a snapshot of Realty Income's Property Overview: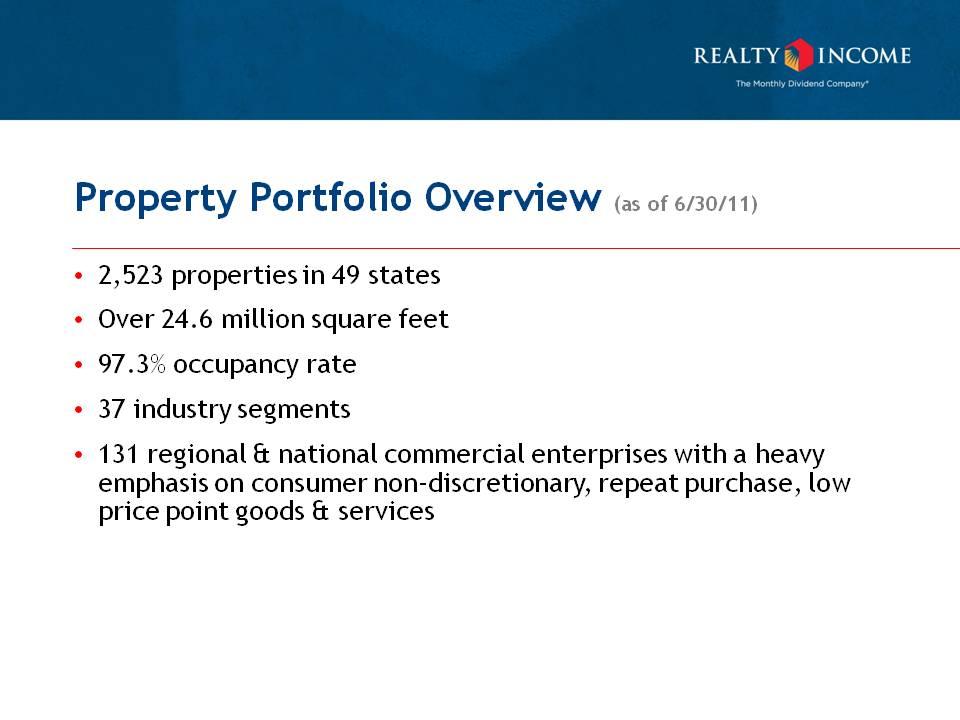 So clearly, Realty Income has achieved an attractive risk management model and because of the company's effective diversification platform, an intelligent investor should recognize the importance of "principal preservation." As Realty Income's chairman and CEO, Tom Lewis, explains, "Realty Income has always viewed diversification as key to managing risk. Our focus on continuing to diversify our lease revenue has allowed us to build a highly diversified portfolio…and our emphasis on diversification has long been important to our shareholders, who are seeking dividend income that is supported by reliable and diversified rental revenue."
National Retail Properties
With around 1,248 properties owned, National Retail Properties (NYSE:NNN) is another exceptional well-balanced equity REIT. The asset diversification is well spread with around 13.6 million square feet in 46 states. And the Orlando, Florida-based REIT has 34 industry sectors with an impressive track record of buying and recycling assets, allowing its risk-managed portfolio (96.9% leased) to maintain investor-aligned efficiencies.
As I wrote in a previous article, National Retail has sold over $1 billion of properties in the last five years, and the company CEO, Craig Mcnab, explained, "property sales are our source of capital and this presents us with a lot of opportunity to be selective and prudent in acquisitions." And as Realty Income's re-tenanting model has achieved success (80% to 85% retention), National Retail's recycling platform has also provided valuable risk-managed profitability.
And so with a smaller asset base (compared to Realty Income), National Retail has pursued more organically originated capital opportunities with an emphasis on higher yielding assets. These innovative acquisition strategies have allowed National Retail to pay an above average dividend (6.1%) while maintaining an approximate 12 year average portfolio lease term – all within a well-balanced "safety margin." National Retail's diverse tenant base is spread across 46 states and regions: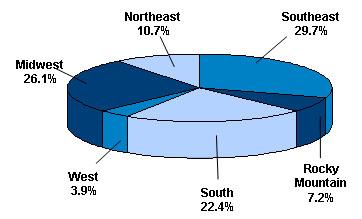 "While we're focused specifically on freestanding, net-leased retail properties, we are able to mitigate our portfolio risk by diversifying geographically, by line of trade and by individual tenant," said Craig Macnab, chief executive officer of National Retail Properties, Inc. "This helps cushion our portfolio if any one region of the country, a specific industry or a particular tenant is impacted by an economic event. However, our ultimate risk management tool is on the front end of the process – purchasing well-located retail sites leased to strong tenants."
CapLease Inc.
CapLease Inc. (NYSE:LSE) is considered a diversified REIT (by NAREIT); however, the 16 year old company has reduced its debt investments from 19% to 5% (over the last 9 months) and, as a result, 95% of assets are owned single-tenant properties. Currently the 63 asset portfolio contains around 11.6 million square feet in 24 states. The portfolio occupancy is around 96% with 16 industry classifications. Here is a snapshot of CapLease's geographic composition: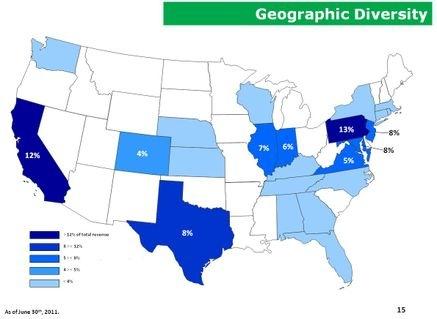 Although this REIT does not enjoy the same well-balanced model as Realty Income or National Retail, I was impressed with the high quality 94% leased investment grade composition. With rent checks driven by Nestle (NESN.VX), TJ Maxx (NYSE:TJX), Kroger (NYSE:KR), Tiffany & Co. (NYSE:TIF), and the U.S. Government, CapLease provides a convincingly safe investment alternative. Here is a snapshot if the Top 10 tenants (as of June 30, 2011):

And with a less-diverse geographic footprint (as compared with O and NNN), CapLease seeks to acquire larger Net Lease properties leased to high quality office, retail, warehouse, and government tenants. Here is a snapshot of the REIT's asset classifications: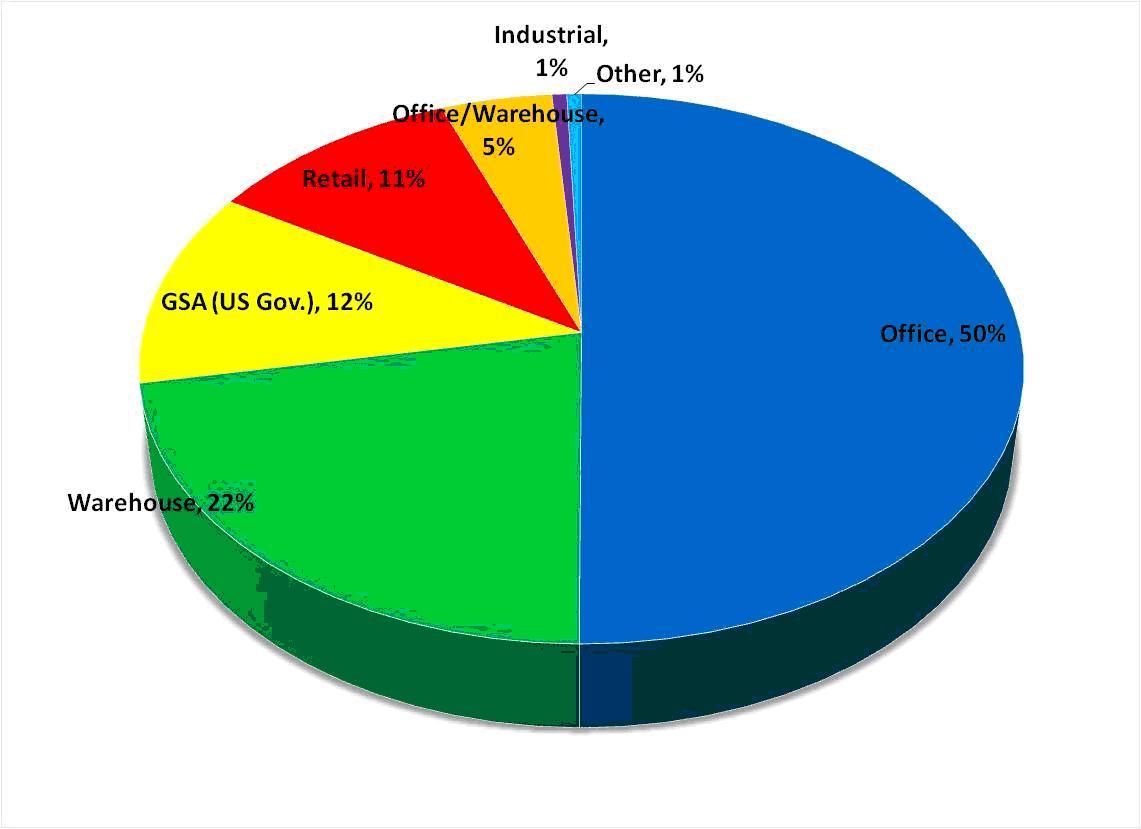 CapLease appears to provide an attractive risk-aligned model with an emphasize on larger boxes (and larger bets). As I will explain in later chapters, bigger bets mean bigger risk. And bigger risk means bigger returns.
W.P. Carey
Back in June I described the company as a "hybrid real estate investment vehicle that combines a uniquely successful advisory platform (for supplying capital) and a global net lease investment fund (for acquiring net lease assets). So be definition, W. P. Carey is not a REIT, but also an asset manager of a series of funds with a 38-year track record for providing reliably safe net lease investments. And like the previously referenced REITs (Realty Income, National Retail, and CapLease), W. P. Carey combines an extraordinary risk-managed investment platform with a strategically balanced capitalization model. Here is a snapshot of Carey's domestic and international diversification: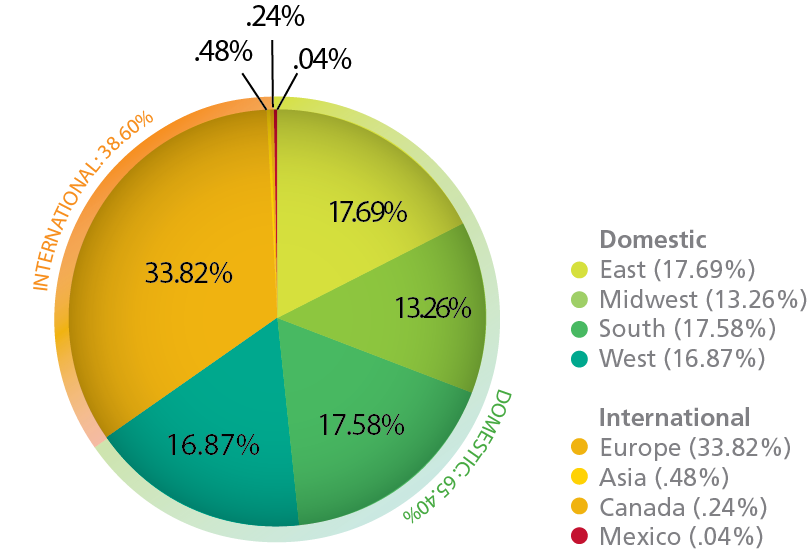 As a globally recognized net lease pioneer, W. P. Carey was founded in 1973 by William Polk Carey, who recognized the inherent value of diversified net lease investment partnerships. And today, the value-driven REIT has more than 980 properties across 28 different industries with around $11.8 billion of assets under management (including W. P. Carey, its CPA programs and Carey Watermark Investors). Diversification has been an important attribute for W. P. Carey's success as the risk-managed model extends to 42 states and 18 countries.
Recently the iconic SWAN (sleep well at night) increased its diversified platform by closing on the acquisition of 20 Metro Cash & Carry retail facilities (guaranteed by German parent Metro A.G.) for around $400 million. And domestically, Carey has provided Net Lease driven capital to a portfolio of self storage facilities and retail sites leased to Walgreen (WAG) and Dollar General (NYSE:DG). Here is a snapshot of Carey's industry diversification: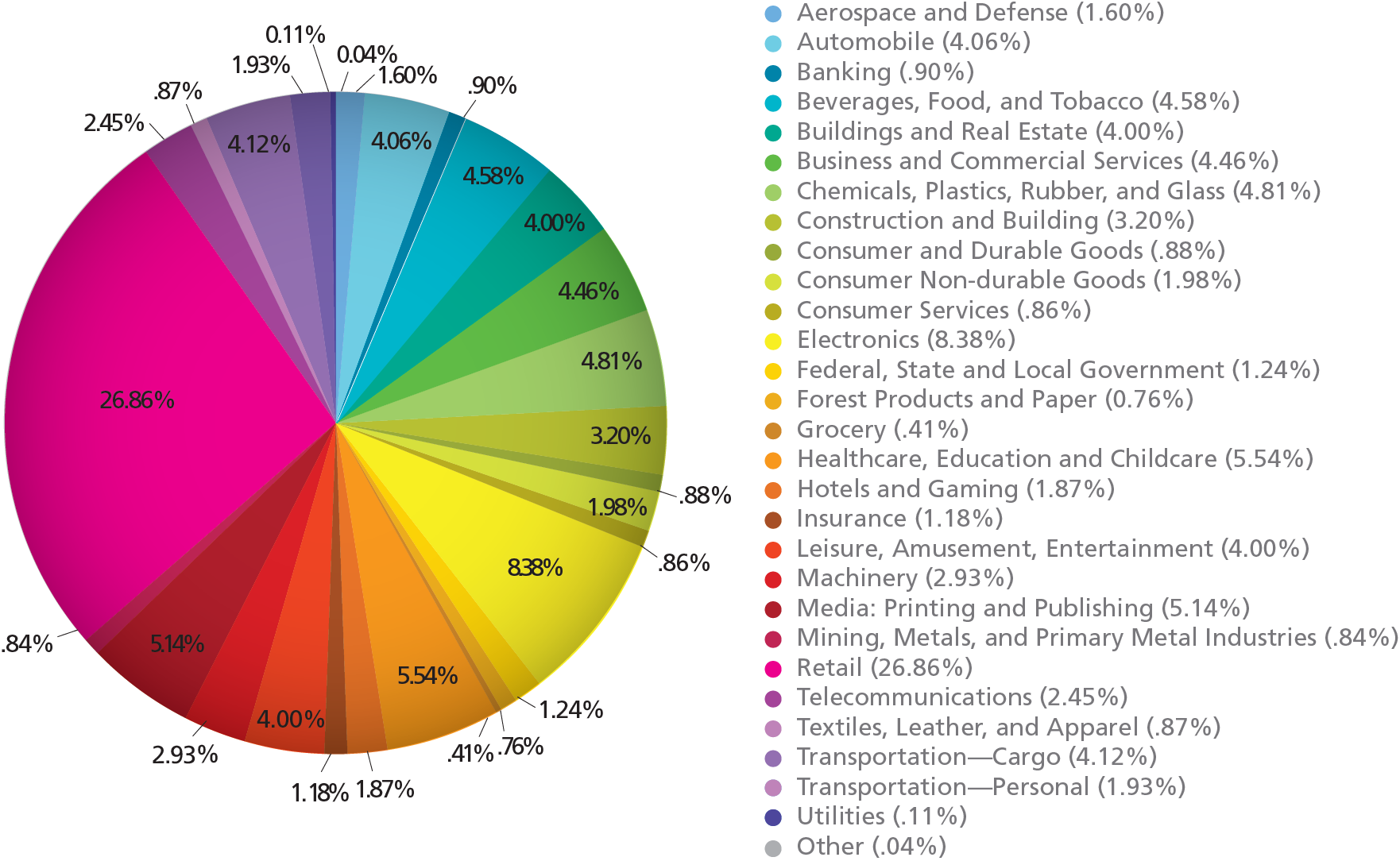 Benjamin Graham would have been impressed with W.P. Carey's selection of products, and more importantly the quality of the combined risk managed funds. Trevor Bond, President and CEO of W.P. Carey explains, "Diversification has long been a hallmark of W. P. Carey's risk management strategy – and, we believe, a basis of our success over the long term and through many economic cycles. We diversify our own portfolio as well as those of our managed programs so that our overall performance is not tied to any one industry, property type or region. As a global net lease investor with more than 980 assets in 18 countries, we believe we are well-positioned to face the challenges that continue to impact the markets and that diversification helps us achieve our goals of generating stable cash flow and, in turn, increasing distributions to our investors."
Cole Credit Property Trust III
Although Cole Credit Property Trust III (CCPT III) is not a publicly traded REIT (therefore there is no ticker symbol), the funds are publicly registered with the SEC. And with around $14 billion in equity raised since 2009, the non-traded REIT industry has gained considerable attention. Last year the non-traded REIT industry raised around $8 billion, with a significant percentage of the total invested in Net Lease assets.
CCPT III commenced in January 2009 and since that time the Arizona-based REIT has mushroomed into a $3.4 billion (cumulative equity as of September 19, 2011) dividend machine. The well-balanced REIT owns around 560 assets in 43 states. Because of its newly formed asset base, the 25.27 million square foot portfolio has no legacy assets and, as a result, the portfolio occupancy is around 99%. Here is a snapshot of the REIT's geographic concentration: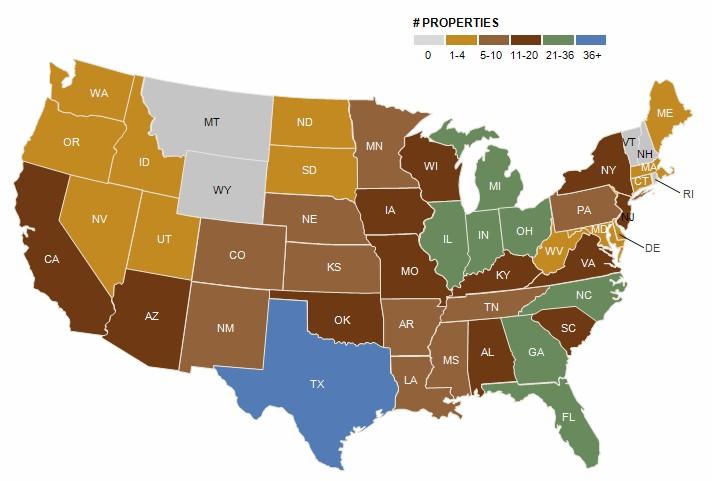 And CCPT III has further diversification within its well-balanced credit base. Kohl's (NYSE:KSS) is a tenant in several CCPT III-owned facilities (3.2% of rental revenue) and most of the CCPT III properties are leased to nationally recognized tenants, many with a large percentage of investment grade debt. Here is a snapshot of CCPT III's top 10 tenants: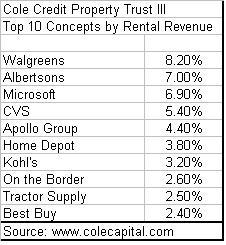 With a diverse portfolio of newly originated high quality tenants, CCPT III also enjoys an exceptional weighted average lease term of 14.5 years. This high quality, risk-managed portfolio provides an exceptional safe investment alternative. Ben Graham would agree that CCPT III has sound fundamentals and "an intelligent investor must take responsibility for ensuring that you never lose money" and by investing in CCPT III you are placing as series of "small bets."
Cole's well-executed investment model is best described by its executive V.P. and chief investment strategist, Indraneel Karlekar: "Diversification helps a real estate portfolio generate attractive risk adjusted returns over different economic cycles. Diversification by property type, geography, lease duration and credit quality are some of the major metrics a real estate portfolio can benchmark to in building diversification with the eventual goal of preserving and enhancing the integrity of total returns over the cycle of the investments."
American Realty Capital Properties
American Realty Capital Properties (ARCP) is a newly formed, free-standing REIT. The company portfolio consists of 63 assets with a weighted lease term of 9.6 years. The largest tenant (in revenue) is Citizens Bank, representing around 75% (of revenue) of the portfolio as of the IPO registration date. These 60 leased bank branches (and 2 vacant bank branches) with a weighted average lease term of 6.9 years.
The company has announced plans to increase its non-diverse base with future investment grade acquisitions; however, the asset pool is still targeted for Net Lease assets with lease terms of "between 3 to 8 years". ACRP announced it will raise additional equity to begin its strategic diversification model; however, in my view, additional equity raised would simply dilute the already low quality lease portfolio (6.9 year average lease term for the bank portfolio) with more low quality leased (3- to 8-year leases) assets.
Clearly stated in the S11, American Realty Capital Properties describes its intentions to acquire assets that are less than 10 years (3 to 8 years) in lease term and based upon this strategy, I see no improvement to the speculative investment structure. Furthermore, I suppose that Ben Graham would concur that the investment does not provide any "margin of safety" in that the diversification strategies are limited to leases that do not provide sound or sustainable income fundamentals. One can only wonder as to why ARCP would have initiated a Net Lease REIT that does not provide any "margin of safety" characteristics, starting with diversification (75% of revenue concentrated with 6.9 year bank leases).
As I referenced in the preceding paragraphs, diversification is an absolute fundamental element to "margin of safety" and without a risk-managed strategy, one must consider the investment as speculative. As Graham explains, "most speculators believe they have the odds in their favor when they take their chances, and therefore they may lay claim to a safety margin. Each one has the feeling that the time is propitious for his purchase, or that his skill is superior to the crowd's, or that his advisor or system is trustworthy. But such claims are unconvincing. They rest on subjective judgment, unsupported by any body of favorable evidence or any conclusive line of reasoning…in sum, we say that to have a true investment there must be present a true margin of safety. And a true margin of safety is one that can be demonstrated by figures, by persuasive reasoning, and by reference to a body of actual experience."
Summary
Recently I read a short book called Little Bets, by business expert Peter Sims. And in Sim's practical business guide he explains his innovative approach to placing "little bets" in an effort to discover, develop, and test new ides. As Sims explains, "We're taught from an early age to use certain procedures and rules to analyze and solve problems, such as for math or chemistry. There's an emphasis on minimizing errors and avoiding failure." And when asked about "betting big," Sims explains, "little bets are for learning about problems and opportunities while big bets are for capitalizing upon them once they've been identified."
In 2004, Ashley Revell of London sold all of his possessions, clothing included, and traveled to Las Vegas (Plaza Hotel) where he placed his entire net worth of $135,300 on the color red (roulette wheel). The ball landed on "Red 7" and Revell walked away with $270,600. As previously mentioned, the house edge in roulette is 5.26%, so the probability of winning the red spin is 47.37%. Revell made a big bet, and fortunately luck was in his favor.
However, unlike roulette, Net Lease REITs provide an attractive fixed income investment alternative and the odds are highly favorable for investors to benefit from a diversified and sustainable income option. Five of the six Net Lease REITs appear to offer balanced income strategies with varied sources of credit income, long term lease terms, industry classifications, and geographic composition. However, American Realty Capital Property Trust fails to deliver a risk-managed diversification strategy as the REIT has placed a "big bet" (on 60 bank branches with short term leases) and, in my opinion, there is no risk-managed premium that could provide benefit for any investment model that has increased odds for delivering "sufferable and irreversible losses."
Furthermore, the other five REITs discussed provide attractive diversification strategies whereby the "little bets" mitigate (losses) and "maximize the investors' chances of achieving sustainable gains." And for a Net Lease Investor, principal preservation is an essential goal for reaching his or her full potential.
In my next edition I will continue to explore the Net Lease REIT sector and provide additional "margin of safety" intelligence on capitalization (balance sheet metrics) and guidance on year end acquisition selection. And in the final edition of "The Intelligent Net Lease Investor" I will focus on income sustainability (dividends) and price. I recognize that the article content is perhaps lengthy; however, Graham believed in research and he became a master of analytical intelligence and critical thinking. I wish I could become the most intelligent investor but, instead, I will settle with the goal of becoming a critical REIT journalist searching for perhaps the next Intelligent Net Lease Investor.



Disclosure: I have no positions in any stocks mentioned, and no plans to initiate any positions within the next 72 hours.