CEF Weekly Review: On average, the 13 closed-end fund (CEF) types registered a share price increase of 3.2% for the week ending 10/14/11. The high-low spread (percentage price change difference between the highest and lowest fund types) registered this week was a wide +5.5% versus +3.3% the previous week. On an aggregate unweighted basis, the weekly average price change for the 600 plus CEFs in the GrowthIncome database was up 2.7%.
The PowerShares CEF Income Composite (NYSEARCA:PCEF), an ETF that invests in taxable income CEFs, increased 2.7% for the week. S&P 500 tacked on 6.0% this week adding to its previous week's gain of 2.1% reducing its loss YTD to 2.6%.
Trading Volume: The average daily volume for the S&P 500 (Pending:GSPC) remained flat this week at 4.5 billion shares. Volume jumped on Wednesday to 5.5 billion shares as investors' piled on with the S&P demonstrating momentum on Monday and Tuesday (See "Uptick, Downtick" below. Click here for YTD CEF Performance. See, "Research" Menu; "CEF Weekly Information" tab)
click to enlarge images
The Eqcome CEF Fear Index subsided for the week on the upside. The average CEF unweighted price increased 2.7% while the average related NAV increased 1.6%. The VIX dropped 22.1% after easing 15.5% the previous week. This caused it to break below its 30 range after attaining a recent high of 46.88 on October 4th.
Uptick, Downtick: Weekly money flows surged 6.3% for the Dow Jones U.S. Total Stock Market Sectors for the week ending October 14th. The Up/Down Ratio (share volume on price upticks versus downticks) was positive at 1.03.
Oil & Gas and Basic Materials volumes both gushed increasing 9.2% and 9.0%, respectively. This reflected a more optimistic posture regarding the economy and the markets. Utilities, being a defensive sector, advanced the least with a 2.2% increase in volume.
CEF Weekly Fund Type Performance: The strong equity markets' performance was visible in the average share price advance of the related CEF equity-oriented fund types. There was also a strong overtone of investors' relief regarding some plan towards the resolution of the eurozone sovereign debt and banking crisis.
Not only did WrldEqFnds post the strongest advance at 6.0%, but WrldIncFnds also joined in the advance with an average share price increase of 4.3%. Additionally, those fixed-income fund types that incorporated an equity component (LoanPartFnds and HiYldBndFnds) benefited from the equity markets' updraft.
As would be anticipated, fixed-income fund types languished with both national and state muni bond funds bringing-up the rear. The announcement of Pennsylvania's state capital filing for bankruptcy was well anticipated and its impact was absorbed by the market place without disruption.
Economic & Earnings Outlook: (Click here for next week's economic calendar; click here for earnings' announcements and estimates.)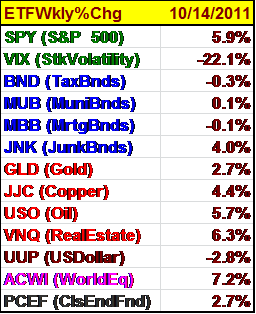 ETFs: For a more detailed EFT performance by sectors, click here—see, "Research" Menu; "ETF Weekly Information" tab.)
Insider Trading: The most unusual insider trading occurred in Rivus Bond Fund (NYSE:BDF). MBIA, the parent of its investment advisor, Cutwater Investor Services Corp, was a meaningful seller of the stock. MBIA sold 96,300 shares at $18.03 per share for a total of $1,735,898 in proceeds. This took MBIA holdings down from 6.0% to below 3.0%.
Joseph Dimartino, a director of Dreyfus High Yield Strategies Fund (NYSE:DHF) purchased 10,000 shares of DHF at an average price of $4.34 per share advancing his position to 145,000 shares. Several officers of Harris & Harris Company (NASDAQ:TINY) purchased small amount of the stock aggregating 1,944 shares.
(Click here for a hyperlink to the Joe Eqcome's CEF Weekly Insider Report—see, "Research" Menu; "CEF Weekly Information" tab.)
CEF Distribution Announcements This Week: The following is a link to a table of CEF distribution announcements this week as well as the previous week's with yet expired ex-dividend dates. The list is not intended to be inclusive. (Click here for Joe Eqcome's Weekly CEF Distribution Announcements—see, "Research" Menu; "CEF Weekly
Disclosure: I am long PCEF.