What a difference two weeks makes! With the end of the world called off for now, the 52-week high list is starting to grow. Betting on breakouts in a faltering market is a tough challenge, but the odds now seem to favor paying attention to winners. With that in mind, I combed through a deep list of potential breakouts and identified 7 that look interesting. Here are some parameters I used to pick:
Within 10% of 52-week high
Within 100% of 52-week low
Maximum 3-month price increase of 25%
Earnings revisions for next year > -2%
PE < 160% of 10-year median
Double-digit earnings growth projected for 2012
This left me with many from which to choose, and I narrowed it down by looking for stocks near their highs of the past two years. Here are the stocks (click to enlarge images):

The 7 stocks come from 4 different economic sectors, all of which are positive in 2011, and cover the market cap spectrum. In all cases, the train appears to be leaving the station, but it doesn't appear to be too late to climb on board. While I generally like to identify stocks that are trading cheap to their recent PE range, my experience with breakout stocks is that it's better to make sure the valuation is fair and not dirt-cheap. I believe that is the case with all seven of these stocks.
Looking at some overall characteristics, all of the stocks are up in 2011, some substantially but a few more modestly. Most of the stocks are within 50% of their 52-week lows. One stock has a high PE multiple, but the rest are under 20. In this market, the stocks aren't exactly cheap, but, again, most are close to "average" for the past five years. Projected earnings growth is close to 20% typically, and the revisions are positive over the past three months for each name. Finally, I included a measure of balance sheet strength, with 4 of the names having more cash than debt.
Here are 2-year charts for each of the names: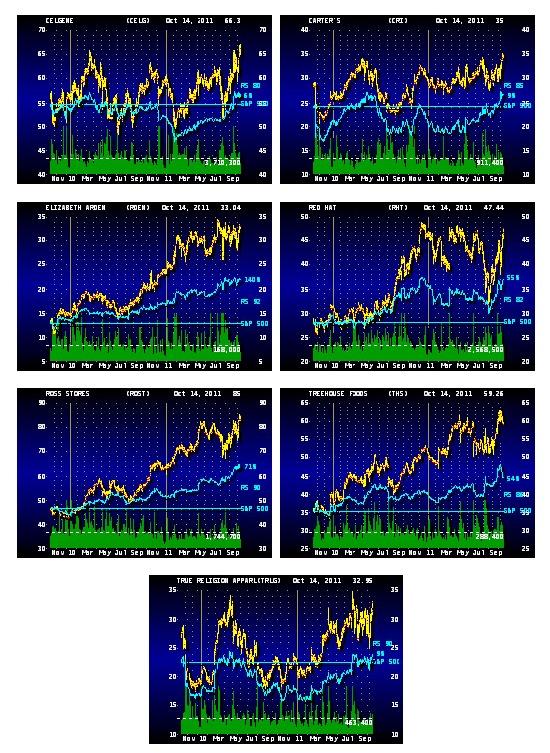 While I don't follow any of these companies closely enough to include them in my 100-stock watchlist, I am familiar with most of them.
Biotech Celgene (NASDAQ:CELG) is near the top of its range for the past five years. While it has been strong lately, it has outperformed the market by just 6% over the past two years. Valuation has come down sharply - the stock's median PE over the past decade is 53. This one looks like it deserves a closer look, especially considering the duration of the tight trading range over the past five years (just 31% above the 52-week low).
Carter's (NYSE:CRI), which sells children's clothing (Osh Kosh) through wholesale and retail, has had a challenging year but looks to be set to benefit from store openings and falling cotton costs as well as a recent acquisition in Canada. The stock is nearing its all-time high from 2006. This is the only stock of the list with short-interest in excess of 10% of the float (12%).
Elizabeth Arden (NASDAQ:RDEN) has been on a tear, blowing through the 28 ceiling that contained the stock from 2004-2007. The company, which sells cosmetics, saw its sales decline double-digit during the Great Recession, but has returned to all-time highs.
Linux software company Red Hat (NYSE:RHT) is very close to its post-bubble high set near the end of 2010. While the PE seems steep, earnings growth is high and accelerating. The company has about $5 per share in cash and ST investments.
Off-price retailer Ross Stores (NASDAQ:ROST) seems like the perfect stock for the new normal economy. While a premium PE to the market, the company seems likely to sustain double-digit earnings growth, even if the economy remains stuck in slow growth. I have been impressed by their management team over the years.
I confess to not knowing Treehouse Foods (NYSE:THS) at all. An IPO from 2005 that has more than doubled, the stock paused after clearing its all-time high from May.
I have looked at True Religion (NASDAQ:TRLG) before. Despite the fact that I would never pay the prices they get for their jeans and accessories, I can appreciate their success. Historically, the stock has been heavily shorted, but that is no longer the case.
In a better market, you can bet that other investors will be scouring the 52-week high list that most of these stocks have visited recently. When betting on breakouts, it pays to be careful not to chase overextended names or stocks that have excessively high valuations. I have attempted to control for both of those conditions. Hopefully, these 7 names prove interesting to you. As always, I look forward to hearing from readers who may be more familiar with these companies than I am.
Disclosure: I have no positions in any stocks mentioned, and no plans to initiate any positions within the next 72 hours.