When Apple's (AAPL) iPhone 4S launched three weeks ago, it received a lukewarm reception by fans and stockholders alike, as it didn't seem to be a major improvement from its predecessor. But, when the device reached stores a couple of days ago, the reception by both fans and stockholders was phenomenal.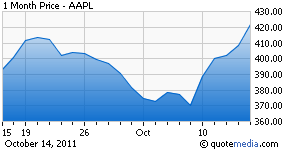 How much of Apple's iPhone 4S stellar sales are from legitimate improvements and how much is due to the hype surrounding the last phone touched by Jobs' magic?
Let's compare the tech specs:
| | | |
| --- | --- | --- |
| Phone | iPhone 4S | iPhone 4 |
| Price (on contract) | $199 16GB, $299 32GB, $399 64GB | $99 8GB |
| Processor | Dual-core Apple A5 | Apple A4 |
| Display | 3.5-inch IPS 960 x 640 | 3.5-inch IPS 960 x 640 |
| Primary camera | 8 Megapixel | 5 Megapixel |
| Video recording | 1080p at 30fps, optional iMovie | 720p at 30fps, optional iMovie |
| Dimensions | 115.2 x 58.6 x 9.3mm | 115.2 x 58.6 x 9.3mm |
The most significant updates to the iPhone are the new dual-core processor and 8 MP camera, everything else about the phone is practically the same. But, even these improvements don't put the iPhone 4S far above the competition. Rather, they are necessary updates to keep the iPhone 4 from becoming too outdated. Most of the competitor's smartphones (Samsumg, Motorola, HTC) come equipped with 8MP cameras and dual-core processors.
This leads me to believe most of the sales of the iPhone 4S are a result of marketing and hype. As the last phone developed under Steve Jobs' influence, Apple fans are much more likely to make an emotional purchase as the result of his death, with less regard to the other smartphone options that exist.
Bottom Line
Apple should have better than expected sales on the iPhone 4S because it is the last phone produced under Steve Jobs. Apple's stock should look solid this quarter, but it will be extremely difficult to carry the momentum forward; future expectations will be sky high for Apple.
Disclosure: I have no positions in any stocks mentioned, and no plans to initiate any positions within the next 72 hours.