The October 11, 2011 Weekday Trader column of the online edition of Barron's Magazine contained an article entitled "Covance: Drug Industry's Hidden Asset." This is a subscriber only link. Barron's republished the article in the October 17, 2011 print edition of the magazine. The article is authored by Johanna Bennett.
The article extolls the virtues of Covance, a $2,876.89 million market cap company in the biotechnology and drug space. Covance Inc. (NYSE:CVD) is a drug development services company providing a range of early-stage and late-stage product development services on a worldwide basis primarily to the pharmaceutical, biotechnology and medical device industries. The company also provides laboratory testing services to the chemical, agrochemical and food industries. Covance maintains offices in more than 30 countries. The services it provides constitute two segments: early development services, which includes discovery support services, preclinical services and clinical pharmacology services, and late-stage development services, which includes central laboratory, clinical development, and commercialization services (peri-approval and market access service). In October 2010, Covance acquired research and development facilities located in Porcheville, France and Alnwick, UK.
The business rationale for Covance and similar contract research organizations (CRO) is that through strategic outsourcing with Covance, biopharmaceutical companies can access additional therapeutic and regulatory expertise, extensive nonclinical and clinical drug development experience, and state-of-the-art technology — without adding the associated fixed costs to their R&D overhead. We agree this is a compelling argument in favor of Covance and other CROs.
Bennett states in this article that,
Covance is finally on the road to recovery, and its undervalued shares look like they'll be coming along for the ride.
Bennett projects that Covance's share price should increase by as much as 40% over the next twelve months. Shares recently traded at $48.24, with the 52 week trading range of $63.86 - $42.79. Bennett is far from alone in her optimistic assessment of Covance. She quotes Paul Li, a healthcare analyst with Brown Advisory and Stephen Unger from Lazard Capital Markets who also rate Covance a "Buy." Both Citigroup and Wells Fargo initiated coverage of Covance with positive expectations. Are these folks reading too much into last quarter's earnings and sales?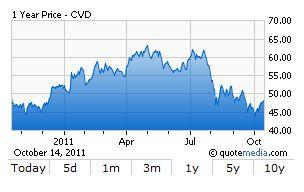 For the quarter ending June '11, the company's reported EPS of $0.61 is higher than the year-ago quarter EPS of $0.49. Though this 24% year-over-year change is impressive, it does not constitute a trend. EPS was down in each of the prior three quarters when compared the corresponding prior year quarter. In the quarter ending September '10, the company reported a loss of $0.49 per share as compared to the prior year EPS of $0.79. For the trailing twelve months ending June '11, EPS came in at $1.11 as compared to $2.52 for the equivalent prior year period.
The long term trend for EPS has not been all that good. In 2006, EPS diluted was reported at $2.24. EPS went up in 2007 and peaked in 2008 at $3.08 for EPS diluted. Then the company started a slide down to 2010 with reported EPS diluted of $1.06. The twelve month growth rate for net income is (58.5%) and the seven year growth rate for net income is (1.6%). The EPS growth rates mirror that of net income.
Analysts are generous in their estimates of earnings. Reuters Research, Inc. and I/B/E/S, Inc. report 17 estimates for the 3Q11. Estimates range from $0.69 to $0.72 and average $0.70 for an expected increase of about 15%. For the full year, 18 analysts provide estimates between $2.67 and $2.78 with an average of $2.73. For 2012, analysts estimate EPS in the range of $3.11 to $3.50 and a consensus of $3.28. Covance is now trading at 43.1X trailing earnings and 17.7X 2011E earnings, not exactly bargain territory if earnings trends rather than estimates prevail.
The company has better experience with sales. For 2Q11, sales were $547.7 million as compared to $500.7 million in 2Q10. Sales were higher in each of the prior three quarters as compared to the prior years. Sales for the twelve months ending June '11 were $2,108.0 million, up about 5% from the prior period $2,010.6 million. The company has grown sales each year since 2006. In the past twelve months, sales have grown at the rate of 4.8% as compared to the seven year growth rate of 11.1%.
The trends relating to margins are very instructive. Since FY2006 until FY2010, gross margins have contracted each year from 32.6% in 2006 to 28.3% in 2010. Today, the gross margin has contracted further to 28.1%, well below the five year average of 31.1%. Operating margins have fared even worse. In 2006, operating margins were 13.7%. Over the next two years, the operating margin expanded to its peak, 14.4% in 2008. It has been downhill ever since. Operating margins are now 2.0%. The three year average operating margin is 9.4% and the five year average is 11.2%.
Has Covance brought value to the shareholder? In 2006, the company reported its peak year return on equity at 17.5%. ROE has slid every year since then and now stands at 4.9%. The five year average ROE is 14.1% and the seven year average is 14.9%. Return on invested capital in 2010 was 5% compared to the company's five year average ROIC of 12.0%.
One bright spot is the trend for free cash flow. After declining from $1.81 in 2006 to a negative $0.51 in 2008, free cash flow has recovered to $3.23 in 2010 and $3.71 for the trailing twelve months. Another bright spot is that Covance is not burdened with debt. The company carries on its balance sheet $406.2 million in cash, $10 million in short term debt and $82.5 million in long term debt.
We try to understand the notion that Covance in currently undervalued. At 43.1X EPS TTM, it is hard to see. Looking forward, and taking a leap of faith that the forward looking earnings estimates may be correct, we see the PE for 2011 in the range of 18X – 17.35X; PE 2012 in the range of 15.51X – 13.78. The estimated EPS growth rate for the next 3 – 5 years is 15.8%.
Earnings are not the only method used to place a valuation on a company. The current price book ratio is 2.02X whereas the seven year average price book ratio is 2.16. By our own reckoning, the company's PB ratio should be something like 1.64X. The price sales ratio is now 1.36X. The seven year average PSR is 2.16X. We calculate an appropriate PSR to be about 1.45X. Another popular valuation measure is enterprise value (EV) to earnings before interest, taxes, depreciation and amortization (EBITDA). On this basis, Covance has an EV/EBITDA ratio of 17.91X. The median EV/EBITDA ratio for the biotechnology and drug industry is 14.78X.
We are comfortable with an estimated fair market value of $44 - $45. The market will price Covance wherever it wants and largely based on analyst recommendations. However, we see a company struggling to save their operating margins, returns on invested capital and returns on equity. Covance is selling below its five and seven year average PE ratio for good reason. I think that in this case, Barron's got the story wrong.
Disclosure: I have no positions in any stocks mentioned, and no plans to initiate any positions within the next 72 hours.