Fundamental Analysis
Acura Pharmaceuticals (NASDAQ:ACUR) recently was approved by the FDA for its abuse-resistant form of Oxycodone, Oxecta, on June 20th. The company is partnered with Pfizer (NYSE:PFE) and the two companies co-developed the drug. Abuse resistant drugs are a large unmet need in the pharmaceutical industry and Oxycodone abuse is among the worst in addictive pain medications.
There was also a large jump in volume a week later around June 27th probably because Acura's competitor, Pain Therapeutics (NASDAQ:PTIE), which was working on a similar drug with Pfizer, failed to obtain FDA approval because of problems that may take at least a year to correct. This obviously means less competition for Acura and its drug Oxecta that the company is beginning to bring to market.
After FDA approval, the stock "sold the news" and began a quick descent. In fact, it ended up losing almost half its value between June 27th and when the market created a bottom on August 8th. From there, ACUR traded in a range between $2.50 and $3.30/share until the eventual breakout in late September when the company received a key patent for its abuse deterrent drug formulation. During this time, there was also quite a bit of insider buying which is another plus. As Peter Lynch stated in One Up on Wall Street (pg 144): "There are many reasons that officers might sell…… But there's only one reason that insiders buy: they think the stock price is undervalued and will eventually go up." And that is exactly what happened. Following the key patent announcement, the shares of Acura Pharmaceuticals have gained nearly 50% since the end of September and don't show any signs of slowing down as of now.
Ratio Analysis:
*All ratios calculated using 10-K and 10-Q statements from sec.gov
| | | | | |
| --- | --- | --- | --- | --- |
| Ratio/Year | Cash Ratio | Debt Ratio | ROA | ROE |
| 2008 | 5.15 | 0.1373 | 33.69% | 39.05% |
| 2009 | 15.03 | 0.0629 | -49.61% | -52.94% |
| 2010 | 20.87 | 0.0452 | -49.85% | -52.20% |
| 2011(June) | 32.06 | 0.0300 | 34.49% | 35.55% |
This ratio analysis clearly shows that Acura Pharmaceuticals is still in the development stage of the company life cycle. It is also extremely difficult to find good competitor comparisons when the company is in this stage. However, I was able to compare ratios over the past few years in order to see how Acura performed during this time period.
The ROA and ROE have been deeply negative for the past couple years due to high net losses relative to assets and equity. 2008 was kind of an anomaly because the company received above average program fee and collaboration revenue along with a milestone payment from Pfizer. Without these large increases, 2008's ROA and ROE would have been negative too. 2011 is the same type of scenario. Because of the $20 million milestone revenue from Pfizer, Acura already has a large ROA and ROE for the first six months of 2011 due to the FDA approval for Oxecta. I believe these numbers will become more consistent as Acura brings its product to the market. The partnership with Pfizer has definitely helped Acura stockpile a lot of cash as evidenced by the extremely large Cash Ratio and low Debt Ratio. A high amount of cash on hand and a low amount of debt in my opinion positions this company for rapid growth in the near future.
Technical Analysis
The stock price for Acura Pharmaceuticals has been running against the upper Bollinger Band ever since the news in late September. The news also caused the MACD to have a centerline crossover and the RSI to break out to extremely high levels. On balance, volume has been trending upwards since the patent news which indicates a lot of buying activity. These indicators are extremely bullish but could also mean that the stock is beginning to become overbought in the short term and may be due for a slight pullback.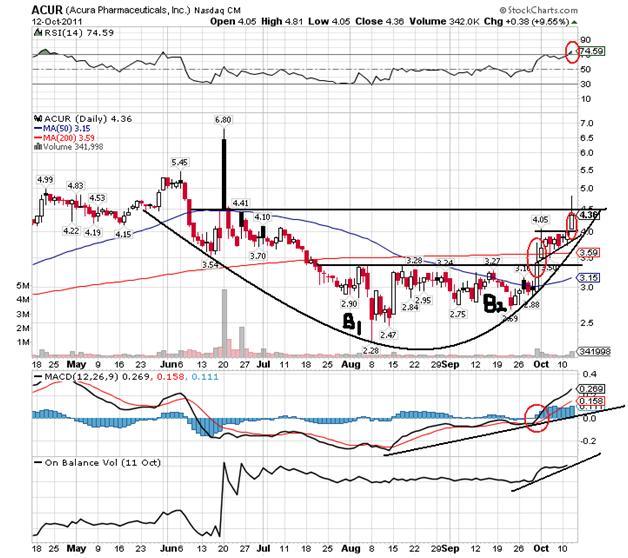 Acura Pharmaceuticals appears to be completing a rounding bottom with resistance around 4.50 – 5.50. (I'm assuming this is where resistance is because of the price peaks before and slightly after the FDA approval date. I did not include the high of 6.80 because I believe that it was part of a much larger pattern that is discussed later on in this article.) The rounding bottom includes a double bottom between August and September. ACUR broke out from the double bottom when the company announced that it had received a key patent for its abuse deterrent drug formulations. The stock has been trending upwards ever since and has recently broken out of a small ascending triangle with strong volume. If this is a rounding bottom, the technical target would be somewhere in the $6-$7/share range (the difference between the post approval high of 4.41 and the low of 2.28 added to the eventual breakout level somewhere between 4.50 and 5.50).
If Acura's shares rise to these prices, buyers will have to face a crucial resistance level. Acura's stock has to break a downtrend that has been in place ever since the stock has begun trading (see chart below - click to enlarge).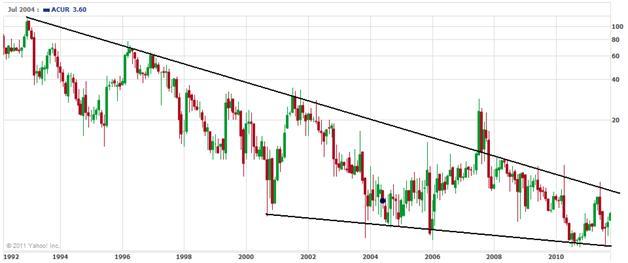 Click to enlarge
In my opinion, this chart shows a falling wedge pattern that has been in place for several years. The pattern is nearly complete and if the stock can exceed the previous high of 6.80, there could be an extremely large reversal that takes place. Obviously, this is not a coincidence with all of the positive news that the company has been having lately. Also note that there was a false breakout in 2007, but other than that, this chart has all of the qualifications of a falling wedge.
Conclusion
Acura Pharmaceuticals has a lot of good things going for it lately. The FDA approval, key patent, and partnership with Pfizer should be strong catalysts to propel this company into the early growth stage of the company life cycle. However, this company is not without risk. Even though Yahoo Finance has a beta of 0.6, the stock can quickly trade against you when you least expect it as evidenced by the post FDA approval price movements. Please trade at your own risk.
Disclosure: I am long ACUR.