BHP Billiton (NYSE:BHP) is a world renowned mining and resources company, with operations globally. Colloquially known as "The Big Australian", the company is a market maker and shaker within Australia, and a core blue chip asset for any investment portfolio.
I have written previous articles on BHP, but in this one I wanted to draw out the implications of the Olympic Dam Expansion Project for US investors. You may have seen or heard it mentioned, but what is the significance of this for the company and the stock?
BHP is a diversified mining company, well known for its huge iron ore extraction and shipping, and it has interests in other metals and minerals (details of which you can view on their website). In terms of Olympic Dam, the following is a synopsis from BHP on their operations there:
Our Uranium business currently comprises the world-class uranium and copper deposit at Olympic Dam in South Australia. In addition to copper and uranium Olympic Dam also contains significant quantities of gold and silver. Olympic Dam is the world's largest uranium deposit and fourth largest copper deposit. At Olympic Dam we mine, process, smelt and refine the ore to final products. Specifically, we deliver uranium oxide concentrate to utility customers exclusively for the generation of electricity in civil nuclear reactors.

Olympic Dam's copper is sold to customers in Europe, Australia and Asia under contracts which are negotiated annually. The bulk of uranium production is sold under long-term, fixed priced sales contracts with overseas electricity generating facilities.

Gold and silver produced at Olympic Dam are sold to the Perth Mint, Australia.
As an aside to the article, the Perth Mint is the key direct on-seller of gold, gold certificates and silver bullion and coins in Australia. The gold and silver extracted at Olympic Dam diversifies the revenue stream from copper and uranium.
For the Olympic Dam expansion though, which received its environmental approvals on 10th October, BHP announced approval on Friday of $1.2 billion pre-commitment capital for the expansion, the initial spend of a $30 billion project that will potentially take up to 20 years to generate returns on investment.
This is just an example of the level of commitment to infrastructure and equipment spending that will benefit infrastructure and construction firms, as well as equipment providers like Caterpillar Inc. (NYSE:CAT). It will generate road and rail constructions, additional port infrastructure, and a six year dig just to get to the 'good stuff'. Importantly, it's being supported bilaterally by the South Australian Government, hardly surprising that the initial gear up and construction will draw in up to $8 billion per annum for the state – not to mention the additional jobs and flow on mining royalties once production ramps up.
Long term for the company, it represents a significant commitment, and is also a rare glimpse of long term strategic planning, almost visionary given the current economic climate. But US investors should note that the Australian economy is not facing the same challenges as the US economy, and while any short term impact to China's demand for natural resources is noted, it is not a long term challenge and hence the commitment by BHP.
The risk? Increased production delivered in 20 years time will be driven by market prices then, and that is not an absolute known quantity. What is known though is that the 'Big Australian' doesn't commit to big projects lightly, and the worlds thirst for natural resources means that BHP will see a considerable long term return on its investment, and the stock should be an inclusion in any investment portfolio – it brings with it a solid growth story, consistent performance, and consistent dividends. If you aren't in yet, now's the time to commit.
BHP is currently trading at $77.32 with EPS of 8.54, P/E of 8.90 and a Div Rate of 2.20. Its 10 year performance is shown below: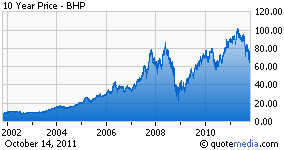 Disclaimer: This advice is general advice only and investors should seek independent financial advice before making any investments of their own.
Disclosure: I am long BHP.