In the Seeking Alpha article, "Coca-Cola: An Objective Dividend and Growth Story," the author attempts to present a case that investing in KO since its high point in September 1998 was not successful.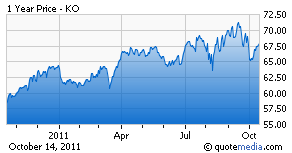 Had an individual been unlucky enough to buy the stock at the high in 1998, I am certain that even with total dividends of $15.07 since then, one wouldn't be too happy about losing $22 in value as of today, and although the stock delivered an income stream at an average rate of 2% to 3% per year over the period - nothing to write home about - one could have done better elsewhere. An 8% overall capital loss over 13 years is hardly safe.
Let's examine this statement from a dividend investor's point of view to see if the investor is "happy" after 13 years of owning KO. We assume that an investor retires on June 15, 1998 with a fixed pension of $1,000 per month, Social Security benefits of $1,800 per month and a portfolio valued at $1,000,000 which was invested in KO at its all-time high of $88.94 per share. The dividend on the KO stock would be approximately $560 per month. With the pension, Social Security and KO dividend, the retiree would have $2,360 per month or $43,320 per year of income.
Let's fast forward to 2011 and see how this retiree is doing. The fixed pension is still paying $1,000 per month, the inflation adjusted Social Security benefit increased to $2,366 per month, and the dividends on KO stock increased from an initial $0.15 per share to $0.47 making the dividend payment $1,761 per month. The retiree now has $5,127 per month, or $61,500 per year of income.
To determine if this retiree is "happy" in retirement, we need to determine if their initial income has kept pace with inflation. The inflation adjusted equivalent of $43,320 in 1998 is $57,654 in 2010. Since the retiree's income has more than kept up with inflation, I believe the retiree would be happy with the results of owning KO as a supplement to their pension and social security benefits.
This example shows that an investor can be successful owning dividend paying stocks without concern for capital appreciation when the dividend increases exceed inflation. The original article was correct in stating the investor would have had a capital loss on the investment, but the investment was a success when viewed from an inflation adjusted income point of view.