New analyst reports expect Goldman Sachs (NYSE:GS) to shed its bank holding company status in order for the company to avoid new regulations banning proprietary trading with the firm's own capital. Goldman became a bank holding company during the 2008 financial crisis in order to access funds by the Federal Reserve.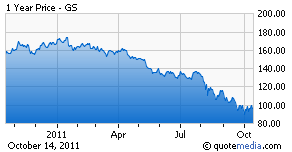 Goldman is in a very difficult situation. If the company were to shed its banking status at this point, it would seem as if the company took advantage of tax payers during a difficult time. This will definitely bring a lot of pressure on the Federal Reserve to keep consumers' confidence in the financial system. This is especially true with people around the world protesting the government's handling of the financial markets. The Occupy Wall Street crowd will have a field day with news of Goldman dropping its banking status.
I don't see a good result for Goldman either way you look at it. If Goldman were to keep its banking status, it would have to divest or close its proprietary trading business. If Goldman were to drop its banking status, it would have additional compliance costs that will be an additional burden on the company.
I expect Goldman to eventually drop its bank holding status in order to reduce compliance costs. I don't believe Goldman could afford to drop its prized proprietary trading business in a time when investment banking is slowing down. Tougher regulations and additional compliance expenses will not be good for the Bank. Analyst expectations now place third quarter earnings to come in at a 65-cent per share loss instead of a 10-cent per share gain.
I don't expect Investment banking revenue to recover anytime soon with the IPO market being non-existent. Recent volatility has also dampened trading volume with many asset managers waiting on the sidelines for more market clarity.
I'm bearish on Goldman and will look to short rallies. The additional regulation will bring more expenses to a company already struggling in a difficult economic environment.
Disclosure: I have no positions in any stocks mentioned, but may initiate a short position in GS over the next 72 hours.