PennyMac Mortgage Investment Trust (NYSE:PMT) is a hybrid mortgage real estate investment trust (mREIT). This means the company can own non-agency mortgage backed securities (MBS) and agency-MBS. Agency-MBS have an implicit full-faith guarantee backing of the U.S. Federal Government.
Dividend Yield
PennyMac Mortgage Investment Trust has excelled at providing a consistent and growing dividend. The company's first dividend was in August 2010. The payment was 35-cents. This payment has been raised twice, and is currently 50-cents per quarter or $2.00 per year. PennyMac offers a compelling 12.2% dividend yield.
Positive Catalysts
Five reasons to buy PennyMac Mortgage Investment Trust include:
1. There has been significant insider purchases over the past 2-years. PennyMac Mortgage Investment Trust's CEO, Stanford Kurland, purchased the following PennyMac Mortgage Investment Trust shares. In addition, two insiders who serve as directors acquired shares in insider purchases:
[Click images to enlarge]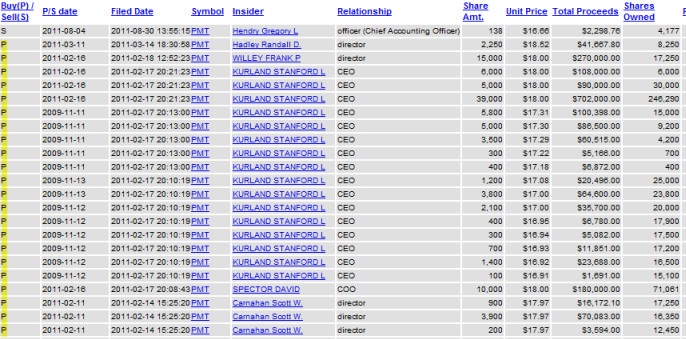 2. The management team has extensive experience with distressed non-agency MBS. The current PennyMac Mortgage teams' biographies include significant experience with Countrywide Financial. PennyMac Mortgage's current CEO Stanford L. Kurland was Chief Financial Officer (CFO) and Chief Operating Officer (COO) at Countrywide prior to founding PennyMac Mortgage.
Mr. Kurland is CEO and chairman for both PNMAC Capital Management (NYSE:PCM) and PennyMac Mortgage Investment Trust. PNMAC Capital Management, LLC manages, per SEC Form 10K page 5, PennyMac Mortgage Investment Trust.
Mr. Kurland admitted PennyMac's advantage in a New York Times' March 3rd, 2009, article "Ex-Leaders of Countrywide Profit From Bad Loans". The company shares profits with the Federal Government, and other 3rd parties, when non-conforming loans can be modified. The value of the loan increases in value as the loan converts from non-conforming to conforming.
3. PennyMac Mortgage is trading at an attractive stock price compared to book value per share. The book value per share as of June 30th, per SEC 10-Q page 38, is $18.82. PennyMac Mortgage stock is trading at $16.42-per share. This represents an 87.2% price-to-book value per share.
4. The company employs an active outreach program in an attempt to modify loans so home owners can stay in their homes. The company focuses upon a "high touch" servicing program. The objective is to reach non-conforming mortgage home owners. PennyMac Mortgage staff attempt to establish a loan modification and restructuring program that turns the loan into a conforming loan. The tools include U.S. Department of Housing and Urban Development's Home Affordability Modification Program, special servicing including decreasing the loan's interest rate, and other initiatives.
5. The company has prominent financial institutions as strategic partners. These include BlackRock and Highfields Capital. Institutional ownership stands at 73.3% of share.
Business Model Risks
Investing in non-agency mREITs requires knowledge the MBS may not have a readily available valuation and do not have the backing of the U.S. Federal Government. PennyMac's business model is described as:

Assuming an investor is interested in "troubled" housing MBS, then PennyMac fits the bill. The external management team is well experienced with non-agency MBS. PennyMac Mortgage provides a monthly update on core business issues.
Competitive Landscape
Non-agency MBS are an entire different sphere than the agency-MBS, where the U.S. Federal Government backs the MBS. Clearly, investors want management they can trust. PennyMac Mortgage's business model is focused upon "troubled" non-agency MBS.
Michael Farrell's Annaly (NYSE:NLY) FIDAC unit, is the external manager for Chimera Investment Corporation (NYSE:CIM). Chimera is a hybrid mREIT with a $3-billion market cap. Billionaire Wilbur Ross has hand chosen the team at Invesco (NYSE:IVR). They are fully involved in the pursuit of managing both agency and non-agency MBS.
One other hybrid mREIT that I firmly believe in, based upon a personal interview, is American Capital Mortgage Investment Corp (NASDAQ:MTGE). Gary Kain will operate the agency-MBS portion of asset selection. Jeff Winkler will manage the non-agency MBS asset selection.
AG Mortgage Investment Trust, I (NYSE:MITT) is a $183-million market cap company. Angelo, Gordon is the external manager for AG Mortgage. Angelo, Gordon manages $23-billion in assets under management.
Two Harbors Investment Corp. (NYSE:TWO) is a $1.25-billion market cap hybrid mREIT. The company has had extensive insider buying. The company has a successful external manager for the MBS asset selection. New York Mortgage Trust Inc. (NASDAQ:NYMT) is a $72-million market cap hybrid mREIT. The company invests in both agency-MBS and non-agency MBS.
Policy Issues
SEC Inquiries
The SEC is looking into two core aspects related to the mREIT industry:
The SEC, as of August 31st, is seeking "Public Comment on Asset-Backed Issuers and Mortgage-Related Pools Under Investment Company Act".
The SEC, as of August 31st, is seeking under a separate concept release, public comment on "interpretations of a provision in the Investment Company Act – Section 3(c)(5)(C) – that may be used by some companies engaged in the business of acquiring mortgages and mortgage-related instruments such as some REITs".
If the SEC mandates any hybrid mREIT changes, this could negatively impact PennyMac Mortgage's current business model. The investing community is waiting for the SEC to make a determination on these two issues.
MBS Valuation
Most investors are well-served to invest in Government Sponsored Entity (GSE) MBS. These instruments are pass-through securities and have an immediate and precise valuation during the trading day. Agency-mREITs own
only Level 1
assets on the balance sheet. Level 1 assets have easy-to-value asset calculations. These are very easy to trade during the business day. Such securities include GSE-MBS, Treasury Bills, and Treasury Bonds.
Level 2 and Level 3 assets are more complicated to value. Hybrid mREITs own Level 1, Level 2, and Level 3 assets. Here is PennyMac Mortgage's "Fair Value Assets", per SEC Form 10-Q page 12:

Management Team
The PennyMac CEO, Stanford L. Kurland, has not been found guilty in any investigations -- civil or criminal -- as far as my knowledge. This is a core issue as PennyMac Mortgage's management is a key reason to consider purchasing shares in the stock.
Stanford L. Kurland, resolved all charges (pdf) in a New Mexico lawsuit, in November 2010:
The New York Times's article "Ex-Leaders of Countrywide Profit From Bad Loans", March 2009, admitted Stanford L. Kurland did not face any regulatory charges in Countrywide's legal issues:
The U.S. Federal Government has recently began suing banks involved with mortgage issues. Bank of America purchased Countrywide before the 2008 market meltdown. The article "Federal Regulators Sue Big Banks Over Mortgages" highlights the governments views on past lending practices.
Hybrid mREIT Peer-Group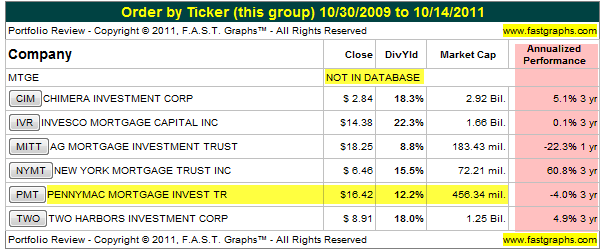 Summary
Management's extensive countrywide experience speaks volumes about their knowledge of troubled non-agency MBS. PennyMac investors must be aware of risks associated with owning non-agency MBS which do not have any U.S. Federal Government guarantee. PennyMac Mortgage's 12.2% dividend yield and connections to well-established financial partners make the equity an intriguing investment proposition.
I personally will continue to hold only two hybrid mREITS: American Capital Mortgage Investment Corp. (MTGE), and Two Harbors Investment Corp. (TWO). I believe the agency mREITs offer compelling valuations with the implicit guarantee of the MBS on their balance sheets.