Barely, if at all, coming out of the worst recession since the Great Depression, it is no wonder our current unemployment situation is the worst the US has seen in over 60 years. And to make matters worse, with the US and global economies showing signs of slowing, our menacing unemployment issues could escalate.
[Click images to enlarge]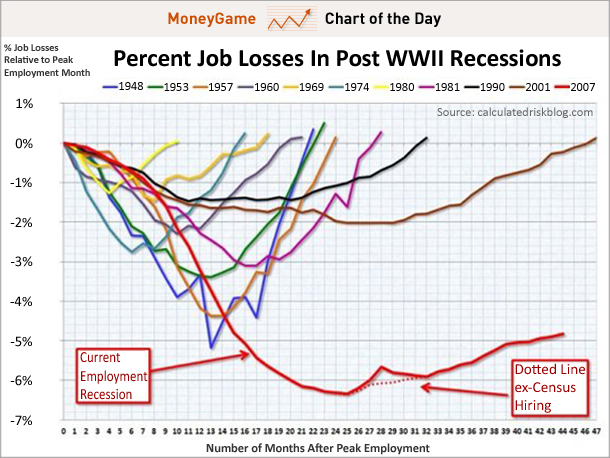 Click to enlarge
Yet one, and only one, industry has actually added jobs since the beginning of the recession in December 2007 – mining.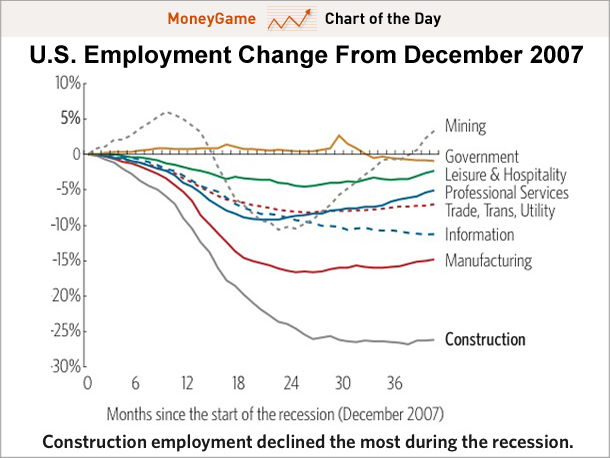 Click to enlarge
Understandably, the construction industry, most closely related to housing (which was the most severely hurt in the recession), has lost the most of its jobs since December 2007. Likewise, our weak manufacturing sector, much of which has been shifted overseas, has lost more of its jobs than other industries.
But the mining sector, which has tremendously benefitted from soaring prices in gold (SPDR Gold Trust ETF GLD), silver (iShares Silver Trust ETF SLV), copper (iPath DJ-AIG Copper Total Return Sub-Index ETN JJC), platinum (ETFS Physical Platinum Shares ETF PPLT), palladium (ETFS Physical Palladium Shares ETF PALL), and other metals, has seen gains.
If every other industry in the economy is losing jobs, there has to be a good reason why mining would be gaining jobs. That reason, of course, is the massive increases in the price of gold and other precious metals – which have increased profits in the mining sector and therefore increased the requirement for hiring, as more employees are needed in the growing industry. In other words, mining companies Market Vectors Gold Miners ETF (NYSEARCA:GDX), Global X Silver Miners ETF (NYSEARCA:SIL) are seeing bigger profits because they are selling their gold, silver, or whichever metal they work with for much more than before.
Then, to increase profits further, the mining companies hire more employees as they expand their operations or mine for more metal. At the same time, new mining companies are emerging because they've seen the soaring gold and metals prices, and want to profit from the theme by mining for it themselves. There is no doubt then, that the increased hiring in the mining industry is pointing to an increase in optimism about the future profitability of mining, and in turn the underlying metals – gold, silver, and others. Based on this data then, we can safely say that, on the whole, the market and the mining companies themselves are expecting continued increases in metals prices.
Yet the soaring expectations by both mining companies and investors will not be met. World markets are entering recessions, commodity prices and demand are falling, the US Dollar is strengthening, and deflation is more likely than inflation. Due to these conditions, gold and other metals will fall. The excess hiring in the mining industry is therefore a sign of over-speculation, over-enthusiasm, and over-confidence in gold, silver, and other metals.
The addition of jobs in the mining industry points to over-inflated prices in the underlying metals. It makes sense why mining would benefit more than the other industries, since rising gold and silver prices have boosted profitability in the sector. But with mining being the only industry gaining jobs since December 2007, signs of over-speculation are evident.
Mining should be a "relative outperformer". It should be doing better than the other industries, but not necessarily doing well. In other words, if every part of the economy is getting hit hard, mining should at least get hit. Mining would therefore be a "relative outperformer" if its job losses were not as massive as the other industries. When mining is the only industry that gains jobs, however, unjustified metals prices may be to blame. Gold and precious metals have deserved an increase in prices as fears over the global economy spread; but such massive increases, with gold reaching nearly $2,000/oz, are very risky and not justified.
Gold Bugs would say the increased hiring in the mining industry is a sign of higher future prices and a continuation of the gold and precious metals theme. But considering slowing global economies, a strengthening dollar, deflationary concerns, and tremendously unsustainable commodity and precious metals prices, the excess hiring in the mining industry points to extreme speculation and over-confidence in gold, silver, and precious metals.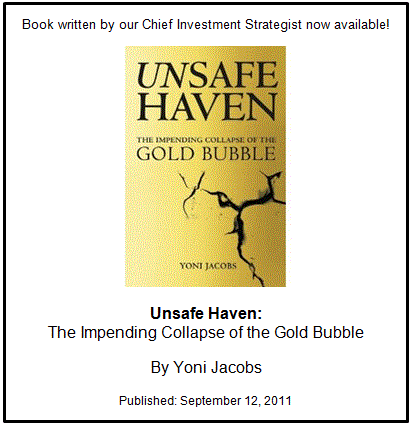 Disclosure: I am short GDX through put options. I may initiate short positions in SLV.