After an 11% rally in the markets over the last few weeks have left equities up against the upper end of their summer trading range. I am very cautious here and expect a pullback by the end of the month as I expect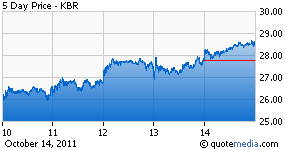 more bad news out of Europe. I am compiling a list of stocks that are good values with upside potential to pick up if we get a significant sell-off. One of these stocks is KBR.
KBR, Inc. (NYSE:KBR):
KBR, Inc., together with its subsidiaries, operates as an engineering, construction, and services company worldwide. Its Hydrocarbons segment designs and constructs liquefied natural gas and gas-to-liquids facilities for the development and transportation of resources; delivers onshore and offshore oil and natural gas production facilities, including platforms, floating production and subsea facilities, and pipelines, as well as manages projects ranging from deepwater through landfalls, to onshore environments, in remote desert regions, tropical rain forests, and river crossings; and offers process technologies for the coal monetization, petrochemical, refining, chemicals, biofuels, and syngas markets. (Business Description from Yahoo Finance)
8 reasons KBR is a buy at $28 a share:
1. KBR has beat consensus earnings estimates 11 of the last 12 quarters. Its average beat over consensus over the last four quarters has been 30%.
2. Major contract awards in the Oil & Gas sector are scheduled to be decided in the back half of 2011 and early 2012. KBR should be a major winner in these selections.
3. It has a pristine balance sheet with over $4 in net cash per share on the books
4. It is selling in the bottom half of its historical valuation range based on P/E, P/S, P/B and P/CF.
5. KBR's forward PE of 10.3 represents a 35% discount to its historical average.
6. Both BB&T (NYSE:BBT) and KeyBanc Capital Markets have upgraded KBR to buy this year.
7. Credit Suisse has lifted its 2011 guidance by 25% since the first of the year.
8.KBR is selling at significantly under analyst price targets. Credit Suisse has a price target of $46, Citigroup (NYSE:C) just upgraded its price target to $54 and the median analyst price target on KBR is $45.


Disclosure: I have no positions in any stocks mentioned, but may initiate a long position in KBR over the next 72 hours.