The Chinese stock market has taken a real hammering since its peak in mid-2009. The chronic underperformance of the Shanghai Composite Index is clearly illustrated by its weak relative performance of more than two years versus the Dow Jones World Index and the Morgan Stanley Emerging Markets Index respectively.
Click on charts below to enlarge: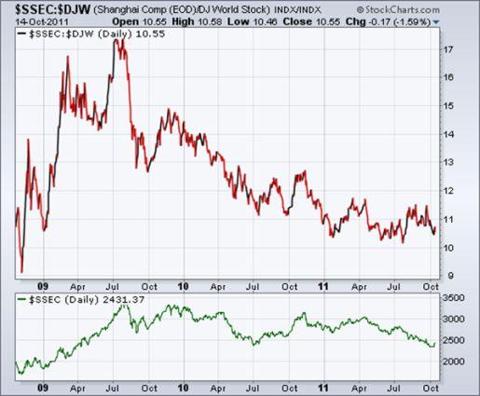 Source: StockCharts.com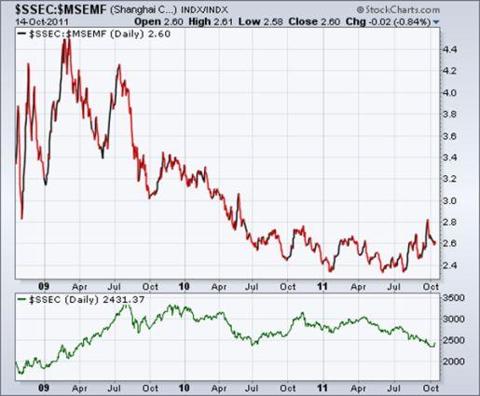 Source: StockCharts.com
However, I am of the opinion that inflation in China has probably peaked and that economic policy would now be shifting to drive growth as opposed to fighting inflation. Although export growth could decelerate further as a result of anaemic growth in the mature economies, the focus on domestic consumption should allow the country to avert a hard landing.
As far as investment in Chinese stocks is concerned, one needs to assess what has been priced in, and it would seem that valuations have fallen to levels from where rallies often commenced in the past (see charts below of the price-earnings multiples of the Shanghai A-share Index and the Hang Seng Index respectively).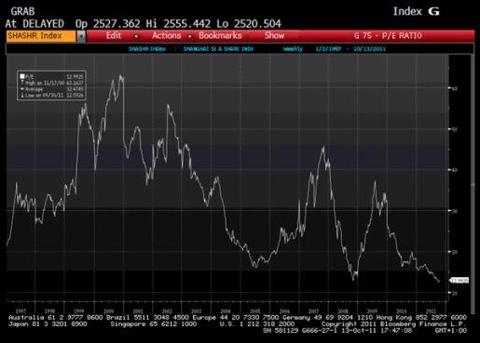 Source: Fullermoney.com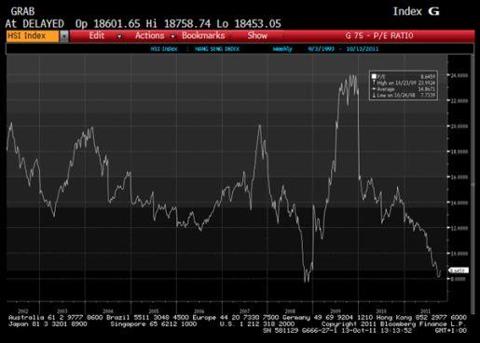 Source: Fullermoney.com
Chinese stocks are cheap by all accounts and following an upside key reversal last week after the Chinese authorities' announcement of support for the banking sector, I would be surprised if the recovery does not have more legs into year end.
Disclosure: None