The news continues to be bullish for gold and silver as, along with most other asset classes, the two metals notched their second week of gains after the disaster that was September. Given that the world's recent financial problems appear to be on their way to receiving more band-aids rather than permanent solutions, more calls for $2,000 gold are being heard as central banks continue to be buyers of the metal.
For the week, the gold price rose 2.5 percent, from $1,638.70 an ounce to $1,679.80, and the silver price rose 2.8 percent, from $31.27 an ounce to $32.16. Gold is now down 12.6 percent (or $240 an ounce) from its summer high, but sports an impressive 18.1 percent for the year, while silver is down 35.0 percent from its spring peak, now up 4.0 percent in 2011.
A Bloomberg Chart of the Day last Thursday made the case for a much higher gold price sooner rather than later, offering the graphic below in support of the argument that central bank gold buying around the world will push the price of the yellow metal to $2,000 an ounce or more by early next year.
I've long argued that gold buying by central banks in emerging market economies will continue to be a major source of demand as the West keeps printing more money to cure all that ails its economies and financial markets. Recall that, after decades of net gold sales, central banks became net buyers of gold last year and this is likely to continue for the foreseeable future.
(Click chart to enlarge)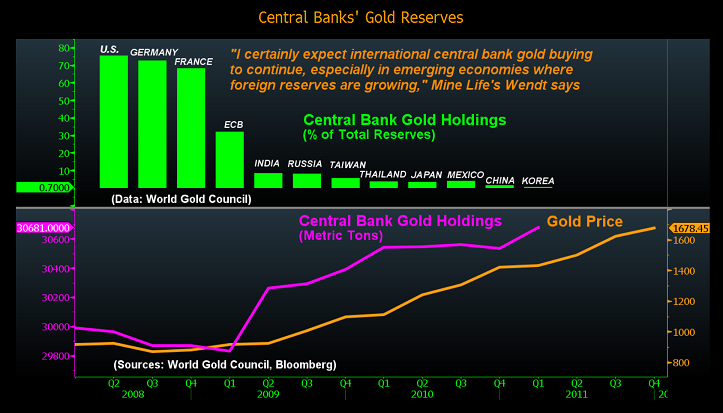 Click to enlarge

JP Morgan also sees a higher gold price in the near term and chief commodity analyst Colin Fenton explained in this interview on CNBC why a $2,000 price by year-end is still quite possible, if not likely. Fenton noted that, as long as the U.S. and other Western countries continue to pile up huge budget deficits, the gold price will continue to rise.
Metal ETFs have held remarkably steady over the last few months as the price of both gold and silver soared and then slumped. This is increasingly viewed as a surprising sign of "strong hands" in these funds, investors holding for the long-term rather than being quick to sell on any decline and accelerating price moves such as the one that began early last month.
Demand for precious metals in India, and China, remains strong after a week-long holiday for the latter where precious metal premiums by dealers continue at eight month highs and buyers flock to these dealers to buy at prices that appear to be relative bargains after the run-up that occurred over the summer.
In Dubai, known as the "City of Gold", there has been a pronounced shift in buying patterns - from jewelry to bullion - as customers increasingly look at precious metals as a pure investment rather than an investment that can be worn. According to data from The World Gold Council, demand for physical bars and coins in the UAE rose 6 percent in the second quarter from a year ago, whereas, jewelry demand fell 1 percent in the same period.
Bolivian President Evo Morales signed a bill into law last week allowing the central bank to purchase gold from domestic production at global prices, part of an effort to boost its gold reserves along with many other smaller, developing countries around the world. Bolivia currently produces 6-7 tonnes of gold for export each year and the central bank is now expected to buy about a third of this total. The small nation added 7 tonnes of gold to its reserves in August.
Lastly, the Beijing Agricultural Commercial Bank installed its first gold ATM a week ago during the Chinese National day holiday and plans to install 2,000 more across the country, the latest in a series of moves by the government to encourage its citizens to buy and hold gold. In addition to gold ownership being deeply embedded in the culture, many in China now see a rising gold market as a place to put speculative money that, as of late, has not been finding its way into the nation's housing market.
As has been the case for a decade now, the outlook for precious metals continues to be bullish.

Disclosure: I am long GLD, SLV.