Juniper Networks (JNPR) has surged 24% since I wrote about the stock's plunge to 2 1/2 year lows. At that time, I claimed it was time to trigger my idea to do a pairs trade long JNPR versus short Cisco Systems (CSCO). I have tweeted the related trades since then, but I thought I would provide some more detail and color on the status of this trade in a post.
(Click charts to expand)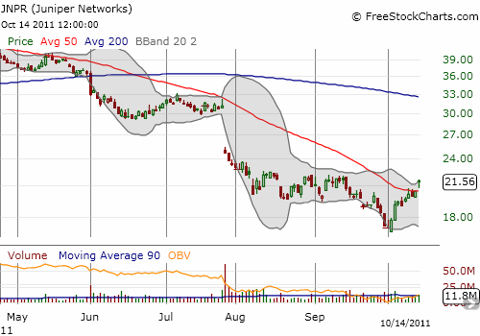 Juniper Networks has surged off its bottom and now trades at 2-month highs and above its 50-day moving average
Source: FreeStockCharts.com
I launched the pairs trade as puts on CSCO and calls on JNPR, both with April expiration dates. I wanted to give the trade plenty of time to work to avoid the pressure of guessing where JNPR might finally hit a sustained bottom. I originally proposed shorting CSCO shares as I was thinking to avoid paying time and volatility premium on both sides of the trade. However, I realized this approach would lock in a permanent drag on the trade in the case of a sustained rally, or it would force me to guess at a point to stop out of the short side of the trade.
I was fortunate to nail the day JNPR hit its last 52-week (and multi-year) closing low (granted I was guided by my technical analysis flashing a buy signal on the S&P 500 based on oversold conditions). CSCO has jumped 16% during this time and has lagged JNPR's gains. The current performance differential between JNPR and CSCO has validated the launch of the pairs trade at the 0.90 CSCO:JNPR price ratio as "close enough" to the (recent) historical high of 0.95.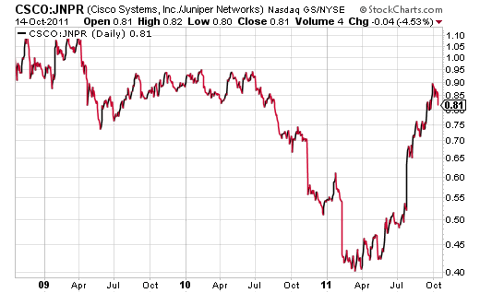 The CSCO vs JNPR price ratio has topped out for now
Source: Stockcharts
JNPR has performed so well that my calls are already in-the-money and no longer providing much leverage. On Friday, I decided to use some of the profits to add to the CSCO puts to pad my downside hedge. For reference, the JNPR calls doubled while the CSCO puts have lost 50% in value. In retrospect, I should have used the profits to purchase a new set of out-of-the money calls on JNPR. Such a switch essentially transforms the JNPR long as into a "free trade" (using the house's money) and isolates the entire downside risk to the CSCO position. If JNPR continues to gain from current levels, I will definitely execute such a transfer.
In the meantime, both JNPR and CSCO appear well-positioned for even greater gains if the stock market follows-through on Friday's breakout.
Be careful out there!

Disclosure: I am long JNPR calls and CSCO puts