A simple Google (NASDAQ:GOOG) news search on "super committee" turns up all sorts of headlines about a 12-member Congressional committee – split evenly between Democrats and Republicans in the House and Senate – that began work six weeks ago to recommend a set of proposed spending cuts and revenue increases totaling $1.2 trillion over the next ten years.
After just a brief look at the headlines, the difficulty of their job becomes clear:
10/10 Deficit 'supercommittee' struggles as clock ticks - AP
10/11 Debt committee could raise risk of U.S. downgrade - CNN/Money
10/13 GOP: Defense cuts shouldn't be part of super-committee plan - CBS News
10/13 House Dems recommend new taxes to 'super committee' - LA Times
10/14 Republicans want debt panel to overhaul taxes - AP
10/14 Deficit 'super committee' flooded with ideas. Will any work? - CSM
10/14 Panel Gets Earful Of Advice On Taming The Deficit - Kaiser Health News
10/14 Many suggestions but little time for debt panel - AP
10/14 Super Committee's Cuts Will Impact Farm Bill - Dakota Farmer
With a set of recommendations due by November 23, just over a month from now, the progress made by this group (or the lack thereof) could be the biggest single factor in how asset markets move this fall and, based on initial indications (that are hard to come by since the committee has been operating in secrecy), things are not looking good.
Recall that in July and August of this year when the debt-ceiling debate occupied the nation's capital and the outlook for the U.S. economy worsened, the trade-weighted dollar dropped, and equity markets plunged. Then, a month later in September, other asset classes - notably gold and silver - succumbed to the selling pressure and, up until very recently, it looked pretty grim for everything except for super safe havens such as U.S. Treasuries and the U.S. dollar.
Of course, that all turned around recently and markets are again surging, but the work of the super committee could produce more twists and turns in the period ahead like those seen over the summer.
The group has met regularly, oftentimes twice daily, since early September and, in my view, one of the most disheartening comments heard about their progress was, "If you want to find out how the committee is doing, ask a lobbyist."
Setting aside the important question of "money in politics," it's hard not to be concerned about what's going on in this committee and, as official news begins to leak out, there is reason to think that the focus recently placed on European debt troubles will soon cross the Atlantic later this month and in November.
Just last week, super committee member Representative Chris Van Hollen (D-MD) said it is "still unclear" if the panel will succeed in its task, not for lack of effort, but for reasons shown in the image below (from the Gary Varvel archive at the Indianapolis Star).
(Click charts to expand)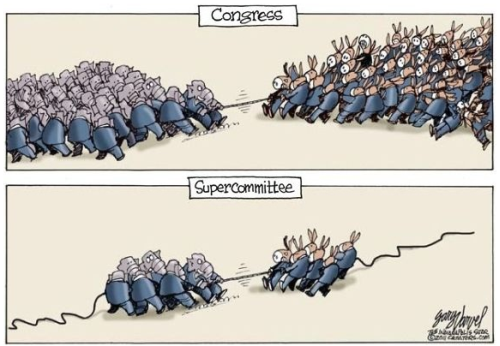 Not surprisingly, the Maryland Democrat says that the super committee should make short-term job creation a priority and it wouldn't be much of a stretch to think that Van Hollen favors higher taxes, a view that Republicans vehemently object to.
In short, it appears that the summer debt ceiling debate - that led to a U.S. credit downgrade and, overall, was an unmitigated disaster for financial markets - has simply shifted to a smaller group that is now operating in secret.
Andrew Taylor of the Associated Press appears to be working on this story full time and his Monday report from atop the list above was a widely read, comprehensive account of the committee's progress to date, apparently spurring other journalists to take notice of the super committee's work after they had garnered little attention from the press for weeks.
Taxes, defense spending, and expensive social programs are at the heart of the super committee's debate and, while many are hopeful that a more compromising mood will develop as the Thanksgiving deadline nears, the two sides remain very far apart today. There is some "low-hanging fruit" that could get the group a long ways toward its $1.2 trillion goal, but tax hikes and/or social program cuts will also be needed to reach that target.
Should the group fail to come up with a plan that would then be submitted to an up-or-down vote in Congress with no amendments (or if that plan doesn't garner enough votes), then the previously agreed to "across the board" budget cuts would be enacted starting in 2013 - after the next election as a new Congress and, possibly, a new President take charge.
The Super Committee and Financial Markets
Sadly, as more word leaks out about the lack of progress by the committee, more pundits are noting that, like the summer debt-ceiling debate, the odds are growing quickly that the two sides will again fail to reach an agreement and that, politically, this could be in the best interest of those lawmakers who will again be running for office next fall.
It would enable incumbents to again blame the other party for another failure but, importantly, would also allow them to defer making any tough decision on spending, as has been the history of U.S. lawmakers in recent decades. As a result, phrases such as "harsh spending cuts" the incumbent voted for (that really aren't that harsh at all given that $1.2 trillion in deficit reductions will barely make a dent in the long-term debt picture) would be a non-issue during their re-election bids.
This brings us to the second report from the collection above - Debt committee could raise risk of U.S. downgrade - and this is at the heart of any argument on the impact the super committee work could have on financial markets in the months ahead. Another U.S. credit downgrade is looming - possibly, even if the the group comes up with a plan that is then approved by Congress - and that downgrade could have a similar impact on markets as the one by Standard & Poor's had back in August.
Unfortunately, this seems to be on the radar screens of very few investors, most of whom are now just happy to see the Dow Jones Industrial Average (NYSEARCA:DIA) and the Nasdaq (NASDAQ:QQQ) indexes again push into positive territory for the year just last week.
Here's how it played out over the summer...
As represented in the chart below by the PowerShares DB 3x Long US Dollar ETN (NYSE:UUPT), the protracted debt ceiling debate in June and July sent the U.S. dollar sharply lower, during which time, equity markets, as represented by the SPDR S&P500 ETF (NYSE:SPY), faltered, but did not make a big move down.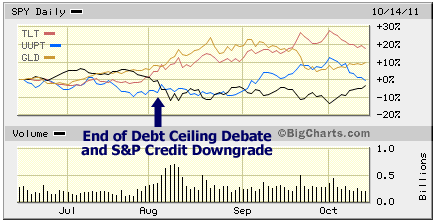 The downdraft for stocks occurred at the end of the debate in early-August and was exacerbated by the Standard & Poor's downgrade that followed.
Meanwhile, U.S. Treasuries, as represented by the iShares Barclays 20+ Year Treasury Bond ETF (NYSE:TLT), were steady through the months of June and July but then rose sharply during the flight to safety that began when the debt ceiling debate ended and the credit downgrade was announced. And, of course, gold rose to its all-time nominal highs in the aftermath of the S&P action, as indicated by the SPDR Gold Shares ETF (NYSE:GLD) above, only to succumb to margin call induced selling following huge stock market losses in August.
Some or all of this pattern could be repeated, depending on what the committee produces and how it received by Congress.
For good reason, credit rating agencies already consider U.S. lawmakers to be a dysfunctional group and, while S&P was the only firm to actually downgrade U.S. credit, Moody's revised its outlook to negative, and, along with Fitch, warned that the failure of the super committee to come up with a deal that is acceptable to Congress could result in a downgrade.
And if a deal is struck, the details will be important too since elected officials have a habit of "papering over" budget problems with one gimmick or another, the reduction in projected spending to the tune of hundreds of billions of dollars for the Iraq and Afghanistan wars being an example of how deficit reductions can be more contrived than real.
Clearly, since the debt-ceiling was raised in August, financial markets have focused on slowing growth in the global economy and sovereign debt troubles in Europe, but the prospects for both have improved dramatically in just the last ten days. That leaves the super committee's deficit reduction effort as, perhaps, the biggest wild card in the weeks and months ahead.
At this point, any investor thinking that the "coast is clear" for stocks and other asset classes might want to think again.
The U.S. is quickly catching up to the can that they "kicked down the road" back in August and, given the recent flurry of reports on the work of the super committee, it's far too early to think that more dysfunction in Washington won't have a big negative impact on financial markets later this year or early in 2012.
In a Friday update on the super committee, the AP's Andrew Taylor noted, "It's not at all certain that the panel, due to act by Nov. 23, will find success in reaching its goal of generating at least $1.2 trillion in deficit savings over the coming decade. The conventional wisdom in Washington is that it won't."
That's bad news for stocks and commodities, with the possible exception of precious metals.

Disclosure: I am long GLD.