Ebay Inc (NASDAQ:EBAY) has had an uninterrupted string of revenue increases since 1998 and has split 4 times. That's a pretty consistent record and its expected to keep on increasing in the future. Although the stock has been down recently, it's only 6.29% off its one year high and is up 28.86% for the past 12 months. In this weekly price graph provided by Barchart, there was a lot of volatility over the last 2-1/4 years but the trend has been upward: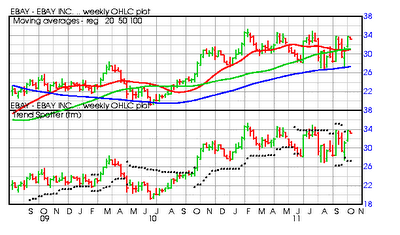 The basics: eBay Inc.provides online marketplaces for the sale of goods and services, as well as other online commerce, platforms, and online payment solutions to individuals and businesses in the United States and internationally. The company''s Marketplaces segment provides the infrastructure to enable online commerce on a range of platforms, including the eBay.com platform, and its localized platforms. Its online platforms also consist of StubHub, a secondary tickets marketplace; Shopping.com, an online shopping comparison website; Rent.com, an apartment listing service platform; and Half.com, a fixed price media marketplace. This segment also operates classifieds websites, such as Den Bla Avis, BilBasen, Gumtree, Kijiji, LoQUo, Marktplaats.nl, and mobile.de, as well as eBay Classifieds, including eBay Anuncios, eBay Kleinanzeigen, and eBay Annunci.
In addition, its eBay.com platform provides services comprising feedback forums, safeharbor programs, verified rights owner programs, customer support, pre-trade and post-trade tools and services, powerseller programs, eBay top-rated seller programs, top buyer programs, coupons and buyer rewards, and eBay buyer protection services. The company''s Payments segment operates online payment solutions, such as PayPal, which enables individuals and businesses to send and receive payments online; and Bill Me Later solution that enables the United States merchants to offer, the United States consumers to obtain, credit at the point of sale for ecommerce transactions through Bill Me Later's relationship with a chartered financial institution. eBay Inc. was founded in 1995 and is headquartered in San Jose, California. (Yahoo Finance profile)
Factors to consider:
Barchart technical indicators:
80% Barchart technical buy signal
Trend Spotter buy signal
Above its 20, 50 and 100 day moving averages
1.78% off in the last month, but that is only 6.29% off its 1 year high
Up 28.86% in the last 12 months
Relative Strength Index is 58.05% and rising
Barchart computes a technical support level at 32.78
Recently traded at 33.12 with a 50 day moving average of 30.56
Fundamental factors:
Wall Street brokerage analysts predict sales will increase by 25.78% this year and another 17.60% next year
Earnings increase estimates are 15.60% this year, an additional 16.50% next year and expected to continue annually by 12.17% for the next 5 years
These forecasts resulted in analysts publishing 9 strong buy, 8 buy, 12 hold and a couple of under perform recommendations
The P/E ration is around 20.46 which is about a premium of 25% to the market
The company enjoys an A+ financial strength rating
PayPal which is an on-line payment system and its new acquisition of Zong a mobile payment service have been growing and complements each other
The very positive cash flow allows the management to choose to apply the funds to repurchase stock, improve operations or make strategic acquisitions without going to the capital markets for additional working capital
General investor interest:
Motley Fool is a good place to see what the average investor is thinking and 4,028 readers have expressed an opinion on this stock
Those voting gave a 86% vote for the stock to beat the market
The more experienced and savvy All Stars voted 92% for the same result
Fool keeps tabs on the major Wall Street columnists and noted that of the last 33 articles 91% were positive
Some noted columnists that are high on the stock are:
Jim Cramer picked it 12/2010 and since then the stock is up 8.84% which is 12.38% more than the market for the same period
Bill Nygren picked it 9/2009 and saw it go up 36.36% which is 24.16% more than toe market for the same period
Wayne Rogers picked it 5/2008 and has enjoyed a 1.62% rise which still beats the market by 15.90%
Competitors and Sector leaders:
Although EBAY is up almost 30% for the year, one of its competitors, Amazon (NASDAQ:AMZN), is up 53% while Google (NASDAQ:GOOG) is down 4% and Yahoo (NASDAQ:YHOO) is up 1%: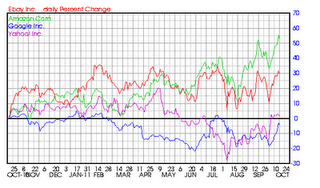 eBay is a member of the SIC 7389 Business Services NEC sector and some others in the sector are up much more like Food Technology Services (VIFL), up 113% for the year, Keystone Systems (NASDAQ:KEYN) up 97%, and Liquidity Services (NASDAQ:LQDT) also up 97%.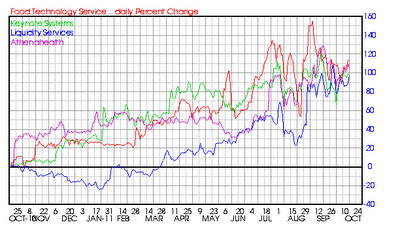 Summary: eBay Inc. has held up very well over the past few months and is within 6.29% of its 1 year high. People are using eBay to buy both new and used products on the Internet at both fixed and auction prices. I think these services plus a method to pay and collect through secure and trusted methods are a business model that should continue to do well. If sales and earnings projections are met and the stock returns back to the high P/E it has enjoyed in the past, investors could expect to see an annual total return in the 30% neighborhood over the next 5 years.
Disclosure: I have no positions in any stocks mentioned, and no plans to initiate any positions within the next 72 hours.