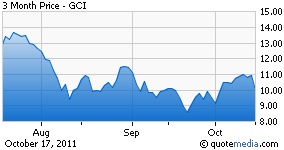 Gannett (NYSE: GCI), the biggest newspaper publisher in America in terms of circulation, released an ugly earnings report today, sending its stock plummeting more than 8 percent.
Gannett posted an 8.5 percent drop in its third-quarter advertising revenue, an earnings report revealed this morning. Gannett's ad revenue has now fallen every quarter since 2006. In June the company laid off nearly 700 employees, roughly 2 percent of its work force, due to the ongoing decline in ad revenue.
As someone who spent most of his career as a newspaper reporter prior to arriving at Wyatt Investment Research, it's disheartening to see the decline of the newspaper industry. But it's certainly no surprise. Technological advances have enabled people to get their information too quickly for newspapers to keep pace. Mobile phones, news websites, Twitter, Facebook and, yes, even blogs like this are where people get their news now. When – or if – people get around to picking up a newspaper, most of what they're reading is the equivalent of yesterday's news.
Like newspapers themselves these days, this too is old news. People have long forecast the demise of the newspaper industry. Gannett's poor third-quarter earnings are only the latest reflection of that.
That said, now may be the best time to buy newspaper stocks. Stocks like Gannett ($10.01 per share after Monday's closing bell), the New York Times Company (NYSE: NYT) and Media General (NYSE: MEG) are dirt cheap at the moment. And some are managing to generate earnings in other areas.
They're doing so by getting more tech-savvy.
Delve deeper into Gannett's third-quarter earnings report and you'll find that its digital revenues were up 10 percent when compared to the third quarter last year. Gannett still has considerable assets, including a foothold in the online world that is the very reason for dropping ad revenues in its 82 print publications. Gannett has a 51 percent stake in CareerBuilder.com, a leading online job-searching site, as well as 23 TV stations across the country.
The New York Times Company, meanwhile, includes About.com among its many assets. The Washington Post (NYSE: WPO), though a far more expensive stock than the New York Times or Gannett, owns Kaplan, which remains profitable and has a growing online higher education presence.
Like the rest of the world, those newspaper companies are changing with the times. Instead of thumbing their noses at technology, they've embraced it.
So with the New York Times, Washington Post and others about to release their third-quarter earnings reports, don't be scared off if their ad-revenue numbers are as dismal as Gannett's. Pay closer attention to what their digital revenues are. If those numbers are in the black, then that's a positive trend. While those companies are still dominated by print ad revenues, as they continue to build their online presence, eventually their digital advertising revenue will make more of a dent in their overall earnings than it does now.
Disclosure: None