Seth Klarman is at the helm of Baupost Group - a Boston hedge fund he founded in 1983. In the last 28 years, the assets under his management have grown from $27 million to well over $22 billion. The lifetime performance of the funds is astounding with the average annual return almost at 20%. The investment philosophy at Baupost is value investing with an emphasis on risk management and a focus on absolute returns. It is described in detail in his book "Margin of Safety: Risk-Averse Value Investing Strategies for the Thoughtful Investor," released in 1991. A new copy of this book, which is out of print and very hard to find, commands in the $1000 range. Klarman's letters to his investors are also a source describing the modus operandi of his funds (some of these are published with permission on the internet). The following quote from his letter to shareholders (1995) succinctly portrays his investment style:
The Baupost Fund is managed with the intention of earning good absolute returns regardless of how any particular financial market performs. This philosophy is implemented with a bottom-up value investment strategy whereby we hold only those securities that are significantly undervalued, and hold cash when we cannot find alternatives.
Seth Klarman had little visibility in the early years most likely because the Baupost Group underperformed the S&P 500 (NYSEARCA:SPY) index in the 1990s when several hedge funds were grabbing the limelight by posting spectacular returns. The underperformance in itself was not a huge surprise as Klarman had stressed his focus on absolute returns. Following is the continuation of the above quote, which seeks to clarify this point:
Further, we prefer investments, when we can find them at attractive prices that involve a catalyst for the realization of underlying value. This serves to reduce the volatility of our results and de-emphasizes market movements as the source of our investment returns. Positions with catalysts tend to lag a rapidly rising stock market (like this past year's) and outperform a lackluster or declining one (like we used to have every few years!).
The value of that focus became all the more evident in the last decade when his funds vastly outperformed the market – bearing testimony to the fact that in a flat or down market Baupost's focus on absolute returns pays dividends!
Since the early 90's, Klarman became increasingly bearish on the US stock market and his asset allocation in the US stock market averaged in the mid twenties. The following allocation listed in his 1997 letter indicates the diversification of his investments at any given time: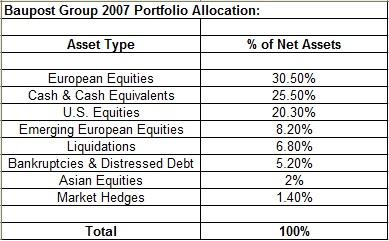 The low allocation to US Equities and the large cash allocation in the huge bull market of the period are logical, given his focus on value investing and absolute returns. Below is a look at his allocation to US equities in the last seven years: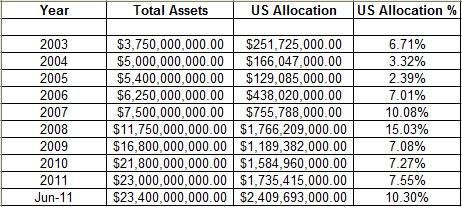 Amazingly, throughout the 10-year period when the US market remained flat, his allocation to US equities hovered around the high single digits and has maintained status quo in spite of the market corrections. Klarman regards US equities, in general, to be overvalued and speculative and hence favors uncovering better opportunities from outside the US stock market. This mindset is evident from the following quote from a June 2010 interview – "The market has gone up so much that, based on valuation, it is overvalued again to a meaningful degree where the expected returns logically from here can be as low as the low single digits or zero for the next several years." S&P 500 was at 1064 at the time.
Investors attempting to shadow Seth Klarman's philosophy or picks, face several challenges:
Seth Klarman rarely gives interviews and plays his cards close to his chest. Hence barring his book and the contribution (preface) to the 2008 reissue of Benjamin Graham and David Dodd's classic book "Security Analysis," there is very little information to guide aspiring investors.
His relatively small allocation to US equities makes any analysis on the history of his holdings that can be derived from the mandatory 13F filings incomplete.
Seth Klarman invests in many special situations that call for an in-depth knowledge in the areas concerned to invest successfully. Specifically, he invests in areas such as thrift conversions, financially distressed and bankrupt securities, other types of liquidations, etc. To follow such strategies, an individual investor would need to have specialized knowledge in the areas concerned. His homeruns in 2008 included investments such as CIT bonds, which were first bought at 65 cents to 75 cents on the dollar. For most investors, that trade is tricky to follow, let alone holding and buying more of it when it eventually fell to the low 40's.
Although his allocation to US equities is limited, studying the individual holdings over the years is enlightening for investors attempting to follow his philosophy/trades. Below is a look at his US holdings over the last three years: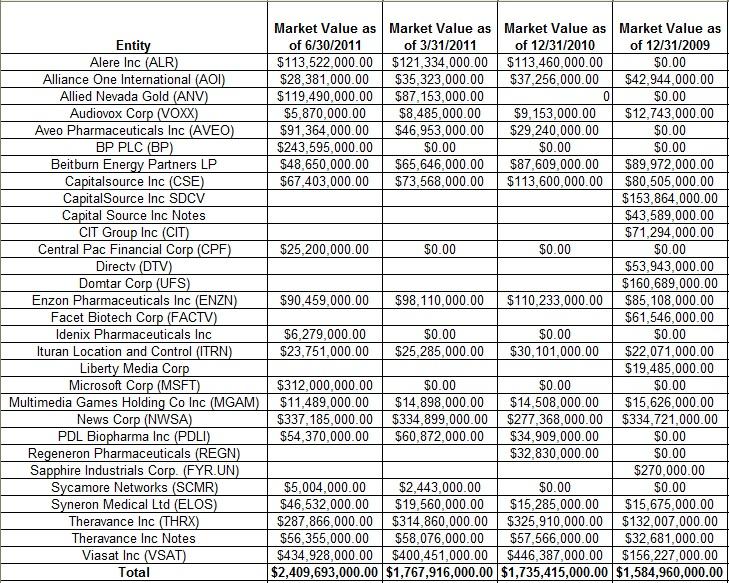 Click to enlarge
Disclosure: I am long BP.