ETF spotlight on Direxion Daily Gold Miners Bear 2x Shares (NYSEARCA:DUST), part of an ongoing series.
Assets: $9.4 million.
Objective: The Daily Gold Miners Bear 2x shares tries to reflect the 200% of the daily inverse, or opposite, performance of the NYSE Arca Gold Miners Index, which is comprised of companies engaged in the mining of gold and silver in the developed and emerging countries.
Holdings: The fund achieves its target exposure by holding total return swaps on the nonleveraged fund Market Vectors Gold Miners (NYSEARCA:GDX).
What You Should Know:
Direxion sponsors the ETF.
DUST has an expense ratio of 0.95%.
The fund is up 23.03% over the last month, down 1.5% over the past three months and down 7.53% year-to-date.
The ETF is targeted at sophisticated investors who understand the risks and is not designed for passive, long-term holdings.
Effective December 1, 2011, the Direxion Daily Gold Miners Bear 2x Shares will be reflect the daily exposure of -300% of its benchmark and will be renamed Direxion Daily Gold Miners Bear 3x Shares, according to a prospectus and statement of additional information sheet (pdf).
"Gold miners' market performance is inextricably tied to the trajectory of the prices of the underlying commodity," Morningstar Analyst Abraham Bailin said, "and so the fund provides investors an indirect play on gold."
"Gold miners have enormous fixed costs. That operating leverage can cause cash flows–which are the ultimate source of value–to gyrate wildly," Bailin added. "Thus, the price performance of miners can exhibit significant leverage to the price performance of the physical commodity."
Direxion Daily Gold Miners Bull 2x Shares (NYSEARCA:NUGT) is the bullish twin to the DUST fund and provides the leveraged long position.
The Latest News:
GDX rallied nearly 5% on Monday as gold miner stocks fell.
Investors are keeping an eye on gold stocks, looking to see if the recent run up in gold prices will help gold miners' third quarter earnings, according to The International Business Times.
"With gold reaching new all time records, profitability should be eye-popping. The key question is how the riches will be spent," JP Morgan equity research analyst John Bridges said. "The challenge here is that with the equities (in our opinion) implying $1200/oz gold, purchases that assume higher levels may be dilutive."
Gold observers are waiting on the precious metal to break through and hold the $1,685 an ounce level, reports Alix Steel for TheStreet.
"Gold for the moment continues to base build above the $1,650 level," James Moore, research analyst at FastMarkes.com, said, "as the metal remains underpinned by seasonally strong physical demand and retail investment interest."
Direxion Daily Gold Miners Bear 2x Shares
click to enlarge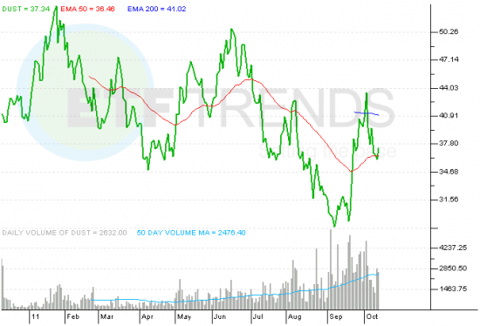 Max Chen contributed to this article.
Disclosure: None