TravelCenters of America LLC (NYSEMKT:TA) has navigated a tough road, while changing its cost structure and increasing competitiveness. As the result of shareholder litigation against the company's landlord, service manager, and several directors, TA reduced its lease payments by approximately $42 million, or $1.50 per share, per year, beginning in 2011. Additionally, over the last several years, consolidation within the travel center and truck stop industry has eliminated an irrational competitor, allowing fuel prices to stabilize at profitable levels. At the same time, management has been investing in facilities and reducing overhead to increase profitability. These dynamics have allowed TA to return to profitability during the first half of this year.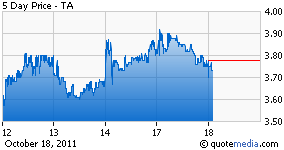 In September 2006, Hospitality Properties Trust (NYSE:HPT), a Maryland real estate investment trust, agreed to acquire TravelCenters of America, Inc. from a group of private investors. Within a month, HTP created TravelCenters of America LLC as a captive tenant. HPT subsequently spun off the LLC in order to keep its status as a real estate investment trust for tax purposes. HPT retained ownership of 146 travel centers and leased them to the newly formed entity. Moreover, TA retained the management services of Reit Management & Research LLC, a privately held company wholly owned by Barry M. Portnoy and his son Adam D. Portnoy. Barry M. Portnoy is also a director of TA, HPT, and RMR. TA's CEO and director, Thomas M. O'Brien, and three other directors are either employees, directors, or trustees of other entities controlled by Barry M. Portnoy.
Concerned with the web of interrelationships and apparent lack of independence, activist investor Alan R. Kahn brought suit on behalf of shareholders. The suit alleged that individual defendants were all beholden to Barry M. Portnoy for their livelihoods. Additionally, the suit alleged that the defendants continued to operate TA as a captive subsidiary of HPT without regard to their duties of loyalty, good faith, and care to the company. The court ruled in favor of Kahn's suit on January 31, 2011, paving the way for an amendment to the terms of the lease agreement. The minimum annual rent payable to HPT was reduced by $42 million, a scheduled $5 million increase in annual minimum rent was eliminated, a $2.5 million increase in rent due to increases in gross revenue was waived, and the due date for $150 million of deferred rent was rescheduled. The deferred rent was the result of an agreement TA entered into with HPT whereby TA was allowed to defer up to $5 million in monthly rent payments from July 1, 2008, through December 31, 2010, and the rent was to begin accruing interest at 1 percent per month beginning after January 1, 2010. Under the new repayment schedule, TA will pay $107.1 million on December 31, 2022, and $42.9 million payable on June 30, 2024, both interest free.
In July 2010, Flying J, a fully integrated oil company with operations in exploration, refining, transportation, wholesaling, and retailing of petroleum products, filed for bankruptcy. The Flying J Group operated approximately 240 retail distribution locations across the United States. In order to capture market share, it had been selling diesel and gasoline at prices that could not sustain independent travel centers. Subsequently, Flying J merged with Pilot to form the largest integrated network of travel centers in North America with over 550 locations. TA became the second largest travel center operator with 234 locations, including both the TravelCenters of America® and Petro Stopping Centers® brands.
Over the last two years, pricing has become more rational due to a near oligopolistic structure of the integrated North American travel center and truck stop industry. TA's gross margins from fuel revenue have been improving over the past year and current levels should continue for the foreseeable future. Throughout the economic downturn, TA has been able to keep its gross margin on a gallon of fuel sold above $0.10 (last quarter it was $0.14.) Even in times of lower fuel prices, such as 2009, TA was able to maintain gross margins above $0.12 per gallon. Fuel sales volumes have also been recovering after a steep decline during the beginning of the recession. For the quarter ending 06/30/2011, TA's fuel volumes were the highest since the beginning of 2008 at 530 million gallons or roughly $1.8 billion in fuel sales. Last year, the company sold 1.9 million gallons of fuel and at an average gross margin of $0.134 per gallon. As the industry continues to consolidate and economic growth returns, TA will be well positioned to profit from increased fuel sales.
As the industry consolidated, TA spent over $360 million ($125 million of which was funded by HPT) on capital expenditures to upgrade facilities in order to increase revenue from sources other than fuel and profitability. Under the lease agreement, HPT agreed to fund $25 million dollars annually for five years for improvements to leased facilities. TA accelerated the payments and by September 30, 2010, had received all of the funding. TA upgraded or built service bays offered throughout its network, enhanced building facades, expanded the square footage of travel and convenience stores, renovated showers and restrooms, and updated full service and quick service restaurants. These services give TA a competitive advantage over both small competitors and Pilot Flying J. TA's network has over 1,000 service bays at 221 facilities. Pilot Flying J has only 28 full service shops operated by a third party. Additionally, TA has 400 emergency vehicles under the RoadSquad® brand, while Pilot Flying J only has services provided by third parties. TA is a licensed technician for Daimler trucks. All but one of the company's travel centers will be authorized to provide warranty and non-warranty work through the Freightliner ServicePoint® and Western Star ServicePoint® programs by year end.
On average, TA has 191 parking spaces per location compared with 100 for Pilot Flying J. The company offers truckers fax services, check cashing services, wire transfers, wi-fi access, video game room, laundry area, private showers, theater area with comfortable seating, casino gaming, and exercise facilities. With superior facilities, truck service centers, vehicles, and certified technicians TA is poised to grow its nonfuel revenue more rapidly than its competitors. Nonfuel revenue currently accounts for approximately 20 percent of overall sales, but these nonfuel sales' gross margins make up 70 percent of the company's overall gross profit. Nonfuel revenue gross margin was 57 percent or $670 million last year. This represents a significant opportunity for TA to create long-term shareholder value.
TA has also been targeting cost reductions at both the store and corporate level throughout the economic crisis. In May 2007, TA acquired Petro Stopping Centers L.P. and consolidated the operations of the two businesses, eliminating costs associated with Petro's headquarters and creating one operating unit while adding 69 locations in 33 states. TA also cut costs at the site level. Since 2007, the company eliminated approximately 1,400 positions, roughly 9 percent of site level employees. Site level operating expense has been reduced by more than 2%, or approximately $58,000 per store, since 2008, with a corresponding improvement in the quality and quantity of services offered. With 188 company operated stores at the beginning of 2011, savings totaled $8 million a year.
The fact that there are a limited number of physical locations available in North America to develop travel centers is both a blessing and a curse for the industry. It limits organic growth and potential entrants. In the near- and long-term, we believe this is a plus for TA. Due to TA's' strong balance sheet—it currently has $137 million in cash plus unrestricted federal net operating loss carry forwards of approximately $168 million—deferred financing arrangements from HPT, and return to profitability, it is well positioned to acquire smaller and weaker competitors that may be in financial distress. In the first half of 2011, the company acquired eight travel centers. It plans to operate six as standalone travel centers, rebranded as either TravelCenters or Petro, and two as ancillary operations to existing travel centers. Whereas it can take $15 to $20 million to develop a new site, TA spent an average of $4.7 million for each acquired travel center this year and expects to spend an additional $2.5 million plus to upgrade these facilities. With 6,000 independent travel centers and truck stops in the U.S., there are plenty of opportunities for TA to acquire additional travel centers and integrate them into its vast geographic network.
Other growth opportunities for TA are through new site development and franchised centers. In January 2011, the company opened a new franchised center in Tennessee. The company owns eight additional land parcels that are suitable for development. Once the economy begins to experience more robust growth and new locations are capable of generating the required cash flows to justify the capital investments, TA may consider developing these sites. Due to the company's extensive network of travel centers with service bays and technicians, RoadSquad® roadside service, relationship with Daimler trucks, and strong reputation, other travel center operators may choose to affiliate with and operate under either the TravelCenters or Petro brands. TA earned approximately $13.5 million from franchise rents and royalties, or about $317,000 per store, in 2010. As of December 31, 2010, the company had 40 travel centers operating as franchisees - 18 as Petro Stopping Centers® and 22 as TravelCenters of America® - representing another meaningful growth opportunity.
The biggest risk to TA is fuel volatility, both in terms of volume and price. Yet, TA has shown that it is able to maintain fuel gross margins above $0.12 per gallon throughout recent challenging economic conditions. Further industry consolidation should lead to even more rational pricing behavior. While improving efficiency trends may mean trucks use less fuel per mile, the trucking industry under this scenario will become more competitive and consequently freight volumes moved by semis would likely increase. Under this scenario, travelers should spend more per visit on nonfuel goods and services due to savings realized by increased fuel efficiencies or falling fuel prices.
As the U.S. and global economies recover and growth returns, TA will be positioned to take advantage of opportunities to grow both its top and bottom line. In September, The American Trucking Association reported that seasonally adjusted tonnage shipped was up 5.2 percent in August from one year ago. TA's fuel volumes increased by over 4 percent in the second quarter year over year. Likewise, the dollar value of fuel sales and gross margins grew by 46.8 percent and 14.8 percent. Nonfuel revenue and gross margins grew by 9.7 percent and 7.0 percent in the second quarter, year over year. Due to higher revenue, reduced rents, and cost savings, TA's second quarter net income was $21.7 million compared with $1.2 million for the prior year. With 28 million shares outstanding, earnings per share were $0.78. TA has $4.89 per share in cash, yet the share price is currently under $4.00. TA has over $5.7 billion and $1.2 billion in annual fuel and nonfuel sales. TA's market capitalization is just over $80 million (price/sales of roughly 10%). The company has the potential to bring over $80 million annually to its bottom line. As economic activity picks up, TravelCenters of America LLC will grow its network through both acquisition and new franchising, allowing it to lever its fixed assets and consequently generate higher net income on increased sales.
Disclaimer: TA is owned by the contributor and clients of Milwaukee Private Wealth Management, Inc., an investment management firm owned by the contributor. Thus, the contributor has a financial interest in any future price increase of the security.