Investors traditionally have regarded healthcare as a defensive sector that stands to benefit over the long term from favorable demographic trends. Not only does demand for healthcare products and services remain relatively resilient when the economy weakens -- consumers tend to regard these purchases as non discretionary -- but an aging US population and rising household incomes in emerging markets also provide a growth booster.
True to form, the S&P 500 Health Care Index has outperformed thus far in 2011. Whereas the S&P 500 (NYSEARCA:SPY) has given up 5.2 percent through Sept. 27, the healthcare component of the index has posted a total return of 4.9 percent. (See "Healthy Return.")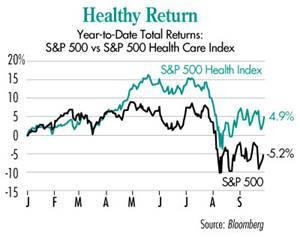 But the sector faces some formidable challenges. As you can see in the "Cost of Care" chart, first posted on our Facebook fanpage, healthcare costs -- including Medicare and Medicaid -- account for roughly 22.5 percent of the US federal government's $3.7 trillion budget.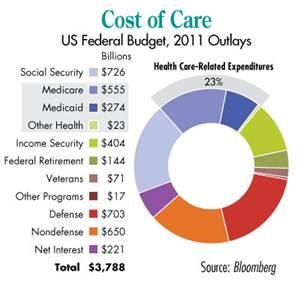 With lawmakers focused on reducing spending and paying down debt, Congress could move to slash healthcare-related costs by lowering the reimbursement rate for Medicare services. Questions also remain about the longer-term ramifications of President Obama's Patient Protection and Affordable Health Care Act of 2010. Check out John Bishop's interview with managing partner of OrbiMed Advisors, Sam Isley, for more tips on healthcare investing after President Obama's reforms.
My strategy balances blue-chip names that boast a diversified business mix and pay solid dividends with niche operators that should benefit as they introduce new drugs or find additional applications for their existing products. Considering the reasons mentioned above, I am boosting my allocation to healthcare stocks in my advisory service's Growth Portfolio.
One company that is navigating today's volatile political and financial climates with some success is Johnson & Johnson's (NYSE: JNJ). Johnson & Johnson's operations include consumer staples, pharmaceuticals and medical products, making the company one of the best-diversified and most defensive stocks in the healthcare sector. The firm is also one of a handful of companies that emerged from the ravages of the credit crunch and recession with an AAA credit rating from Standard & Poor's.
The conglomerate's medical devices and diagnostics segment, which accounted for about 40 percent of 2010 revenue, includes the DePuy line of artificial knees and hips, as well as products used to repair damaged bones and spines. This division also manufactures arterial stents, contact lenses and a variety of diagnostic devices.
About three-quarters of the unit's products hold the No. 1 or No. 2 position in their respective markets. Acquisitions and a commitment to innovation have enabled the healthcare giant to maintain and grow its market share in key product categories.
The pharmaceuticals segment (about 36 percent of 2010 revenue) boasts a portfolio of blockbuster drugs that includes Remicade for the treatment of immune inflammatory diseases, Concerta for attention deficit disorder and the antipsychotic drug, Risperdal.
A diversified portfolio of pharmaceuticals -- the company markets more than 100 drugs in 125 countries -- limits the damage associated with individual patent expirations. Meanwhile, Johnson & Johnson's ongoing investment in research and development has stocked the company's pipeline with promising treatments in late-stage trials.
Investors are likely most familiar with Johnson & Johnson's consumer products segment (about 24 percent of 2010 revenue), which includes Listerine, Sudafed, Neutrogena and other well-known brands. Demand for these products tends to remain relatively stable, even when the economy sours.
Manufacturing problems at Johnson & Johnson's McNeil Consumer Healthcare subsidiary in 2010 led to a major voluntary recall of Tylenol, Sudafed and other products. Management expects to have the vast majority of these products back on store shelves by the second half of 2012.
With a strong pipeline of new pharmaceuticals and ample free cash flow, Johnson & Johnson will continue to steadily grow its earnings and dividend.
Disclosure: I am long JNJ.