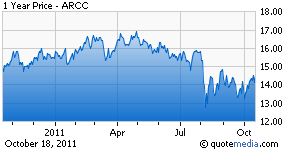 The breaking news du jour is that the leading Business Development company: Ares Capital (NASDAQ:ARCC) wants to become even bigger. The company has just filed for an equity offering of up to $2bn in new equity. Ares is not saying specifically what the proceeds will be used for. However, there is a strong suggestion that the company has a bead on an acquisition. Here's what the filing says:
"We believe the recent dislocation and illiquidity in the credit markets has increased the likelihood of further consolidation in our industry. To that end, we and our portfolio company IHAM are evaluating (and expect to continue to evaluate in the future) a number of potential strategic acquisition opportunities, including acquisitions of:

•asset portfolios; •contracts to manage CLO vehicles and other investment vehicles; •other private and public finance companies or asset managers; and •selected secondary market assets.

We and our portfolio company IHAM have been and from time to time engage in discussions with counterparties in respect of various potential strategic acquisition and investment transactions, including potential acquisitions of other finance companies. Some of these transactions could be material to our business and, if consummated, could be difficult to integrate, result in increased leverage or dilution and/or subject us to unexpected liabilities. However, none of these discussions has progressed to the point where the consummation of any such transaction could be deemed to be probable or reasonably certain as of the date of this prospectus. Consummation of any such transaction will be subject to completion of due diligence, finalization of key business and financial terms (including price) and negotiation of final definitive documentation as well as a number of other factors and conditions including, without limitation, the approval of our board of directors (after having determined that such transaction is in the best interest of our stockholders), any required third party consents and, in certain cases, the approval of our stockholders. We cannot predict how quickly the terms of any such transaction could be finalized, if at all. Accordingly, there can be no assurance that definitive documentation for any such transaction would be executed or even if executed, that any such transaction will be consummated. In connection with evaluating potential strategic acquisition and investment transactions, we have, and may in the future, incur significant expenses for the evaluation and due diligence investigation of these potential transactions."
TARGET: MCGC?
We have no idea who Ares could be in negotiations with. We'll pass along what many of our readers probably already know: the rumor that MCG Capital (NASDAQ:MCGC) could be on the shortlist. After all Ares was successful absorbing another large sized, troubled BDC with many equity assets on their books when they acquired Allied Capital. The stock price of MCGC has been moving violently in recent days, up 20% from $3.65 on October 3 to $4.54 last Friday, a 25% increase (albeit from a low base). MCGC's NAV is $6.93 so the stock price is at a 35% discount. MCGC would be a big fish to swallow, with just over $1bn in investment assets at cost and $849mn at fair market value, as of June. Still, assuming Ares was able to purchase the portfolio at a discount the total price would be in the $700mn-$750mn range, which is within Ares' ambit.
OTHER PROSPECTS
Besides MCGC there must be a host of other portfolios, including Collateralized Loan Obligations ("CLO") available for purchase. Three months ago, when prospects for the economy were uniformly positive and financing was readily available, most potential acquirers were complaining that sellers were not offering up sufficient, if any discounts, for purchases. Clearly the environment has changed and well capitalized, serious buyers like Ares are probably seeing a host of interesting deals. As the filing says, though, negotiating and closing are two different matters. What finally happens will probably have more to do with the broader macro environment than the micro details of a given portfolio.
ARES HAS BEEN VERY BUSY IN RECENT WEEKS
As Ares has not yet reported third quarter 2011 earnings, much of the filing is a reproduction of June 2011′s results. However, the company did reveal that the third quarter was a very, very busy one. Total commitments to new investments were equal to 30% of total investments at June. That's a huge number even if actual fundings were "only" $1.1bn, and repayments were also huge at $971mn.
PORTFOLIO CLEAN-UP?
There are numerous other interesting pieces of data contained in the filing, which give a sneak peek into the third quarter earnings report. Of the $971mn in repayments, 2% were of non-accruing loans, which suggests Ares continues its very successful campaign of cleaning up its balance sheet. That's another $19mn of non-performing loans off the books. One of the main goals has been to reduce the number of investments acquired in the Allied Capital transaction, especially the equity investments. The filing indicates that overall the third quarter was a good for overall Realized Gains on the sale of investments or $47mn. However, the company had -$16mn of Realized Losses on the sale of Allied Capital assets, which suggests there has been more dumping of under-performers from the acquisition.
YIELDS DOWN, THEN UP?
Also interesting is that the average yields on new loans booked were 10.0%, while loans being repaid were generating 10.2%. This suggests pressure on Ares' average portfolio yield. However, the company will benefit from higher loan spreads going forward so new assets should exceed paid-off assets, which is usually good for the company and shareholders if risk is unchanged. Moreover, the company will be generating higher returns from all the new loans booked by syndicating a portion of them, which helps return on assets and equity. Even in the more difficult environment we'd expect Ares to be able to find a home for these newly minted loans given that most are senior in the capital structure and from larger sized borrowers. Moreover, Ares continues to invest more capital in its JV with GE Capital and the structure of that deal is accretive to the aggregate yield. So we might have a slight drop in the average yield in the third quarter, but see a catch-up and an increase in future periods.
CONCLUSION
It's always a bold move for a BDC to raise equity at a discount to Net Asset Value, which is what will be happening here. (At the end of June, NAV was $15.28 and the latest stock price was a dollar lower). For shareholders deciding whether to be diluted or put more money out to buy additional stock there is the added factor that earnings data is several months old, market conditions have changed substantially with no update from management (this filing does not add much) and it's unclear on what the new capital will mostly spent on: adding new loans in the ordinary course of business or buying someone else's portfolio. Still, the discount should be relatively modest, and Ares is the cream of the crop amongst larger BDCs. Management has always indicated that they want to be able to take advantage of market dislocations (which seem to come along more and more frequently) and have been positioning themselves accordingly. That's why Ares has a laddered debt profile, plenty of availability under its Revolvers, and has been bulking up on lower risk-more liquid senior loans in recent months both on its balance sheet and with GE. For an existing investor who's stuck with Ares so far it's hard to make an argument as to why one would cut and run unless one believes that further economic troubles might generate even better investment opportunities and Ares should be more patient. Or maybe Ares is too optimistic about the ability of their capital structure and existing investment portfolio, with or without new equity, to withstand a potential new Great Recession should that come to pass in 2012, and an acquisition might be a case of going from the frying pan into the fryer. This story is just getting going.
Disclosure: I am long ARCC. No position in MCGC.