Exchange traded fund manager WisdomTree Investments (NASDAQ:WETF) has filed for a proposed offering of common stock of up to one million new shares.
The New York-based firm reports quarterly results later this month. The stock, which recently moved from the pink sheets to list on the Nasdaq, closed at $6.34 on Monday. The shares have fallen with the overall market after hitting a high of $9.60 over the summer. Small stocks are more volatile than blue chips.
WisdomTree shares are seen as a "pure play" on the ETF business. Its market cap is about $730 million.
BofA Merrill Lynch and Morgan Stanley are acting as joint book-running managers for the offering, WisdomTree said.
The firm oversees about $11.5 billion in ETF assets.
The company has a relatively high valuation based on second-quarter earnings, while the planned offering represents less than 1% of market cap, Mutual Fund Wire reports.
Due to WisdomTree's transparency, third-quarter net inflows are estimated at $185 million, or 5.7% annualized growth, according to Sterne Agee analysts.
"For the quarter, WisdomTree represented just under 1% of industry inflows into ETF's, below the company's 3-5% target. As a result of the transparency, the only real question from an earnings standpoint comes down to expense levels," they wrote in a research note earlier this month.
They cut their one-year price target on the stock by 75 cents to $8.50. In the final week of the third quarter, WisdomTree saw outflows of about $700 million by a single large client, according to Sterne Agee.
"While we were surprised by the magnitude of the outflow, and it points to greater concentration issues than we had previously appreciated, it also points to WisdomTree having leading positions in certain asset classes (emerging markets, currencies) and the products having the capacity and liquidity to handle sizable outflows without disruption," they wrote.
Gabelli & Co. analysts said the roughly $700 million outflow in the last week of September involved moves away from ETFs impacted by dollar appreciation and with exposure to emerging markets.
"The size and concentration of the outflows are a disappointment," they said in a note, but kept their buy rating on the stock.
"Despite a difficult quarter and a challenging outlook for global markets, we continue to believe WisdomTree is well positioned to benefit from the high secular growth rates of ETFs. We continue to recommend purchase."
WisdomTree's stock ETFs are different from funds that track market-cap-weighted indexes. Some of the firm's ETFs instead weight companies by earnings or dividends, for example. It also manages currency, bond and alternative ETFs.
WidsomTree listed its stock on the Nasdaq earlier this year. Former hedge fund manager Michael Steinhardt is the company's chairman.
WisdomTree Investments
click to enlarge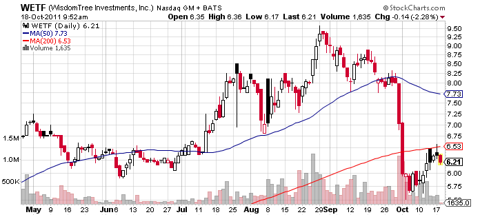 Disclosure: None